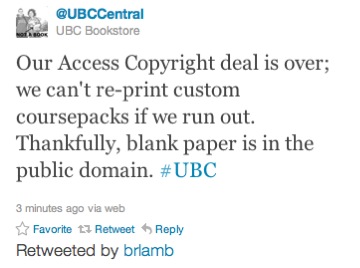 This may be the year…
The stars are aligning in interesting ways to start this academic year.
It will certainly be a year of big challenges. And with those challenges will come the potential for breakthrough risk :: reward scenarios.
One of the challenges alluded to by the tweet copied above will be how institutions and instructors manage access to published educational resources for their courses, given the decision by UBC and a growing number of Canadian universities to back away from Access Copyright agreements. The proposed tariff increase was rightly viewed as gouging, and so 26 post-secondary institutions have decided to explore other options.
The options include direct negotiation with authors and publishers, as well as increased exploration of emerging alternatives such as open textbooks and other open educational resources (OER). No doubt there are many instances where the best resource is a published textbook or authored work. So, institutions will directly negotiate those rights as required to provide the resources that instructors and students can use.
And yes, it may be painful initially to move away from the current method of acquiring course-pack licenses, but the opportunity horizon is optimal for a new economy based on open resources, collaboratively built and shared among educators using Creative Commons licenses. This scenario is the upside that will be catalyzed by the proposed Access Copyright (AC) tariff increase that many major institutions are emphatically rejecting.
This may be the year that open educational resources become a mainstream alternative.
Reprinted under Creative Commons license from David's blog: conviviality