At BCcampus, students can apply to B.C. colleges, institutes and universities, find post-secondary online and distance courses offered throughout the province, retrieve unofficial transcripts and view course-by-course transferability and acquire certificates or diplomas through collaborative programs – all online.
Faculty can contribute, license and access free teaching and learning resources (SOL*R); join a community of B.C. post-secondary educational practitioners focused on enhancing learning and teaching through technology (ETUG); dialogue with people who share an interest in educational research and practice (SCoPE); and access centralized information about people, events, opportunities, and quality teaching and learning resources for people in higher education (Learn Together Collaboratory) – again, all online.
This year, as BCcampus is celebrating its 10th anniversary, we may not be surprised by what we can do via the Internet. But in the decade before BCcampus was established, all of the technologies that we now take for granted were brand new.
Internet Basics: E-mail

The most common method of communication on the Internet is the exchange of electronic mail. With an Internet address, you can correspond with millions of people around the world. The first thing you need is an account on a computer that is an Internet host. Next, you need to familiarize yourself with the software that you will be using to send and receive e-mail….

Electronic mail is no longer restricted to the exchange of text messages. Many e-mail packages allow you to send and receive any type of file that you can store on your computer along with your text message (e.g., a colour graphic, a spreadsheet, a database file). These are called "attachments"….– From Contact@bc.ca, 1995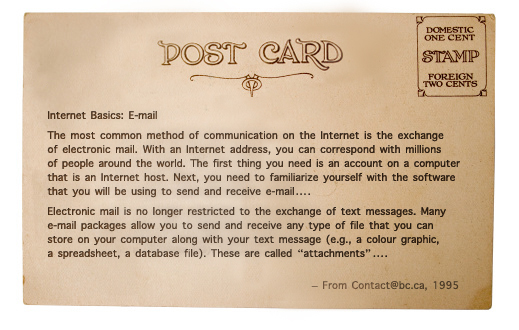 It was a very exciting time," says Randy Bruce, now Director of Student and Data Exchange Services and Chief Information Officer at BCcampus. "There was a huge interest across the post-secondary system in B.C. in just knowing what was going on around the world, and a great desire to share, collaborate and go down this new path together."
Considering all the possibilities was the Standing Committee on Educational Technology (SCOET), a B.C. college and institute system–wide group established in 1990. SCOET looked at the new educational technologies and proposed policy directions for the Ministry of Advanced Education, Training and Technology. It sponsored user groups focused on computer-mediated communications, multimedia, and interactive video conferencing – all of which came together as the Educational Technology Users Group (ETUG). It issued reports, started pilot projects, held workshops and conferences, and supported the development of software and of various local networks.
For Amanda Harby, who retired from BCcampus in 2008 but like Randy Bruce was part of SCOET from the beginning, it was a lot of fun, because it was all startup. "The arrival of the World Wide Web in the early to mid-1990s (depending on where in the province you were) was huge," she says. "We tried to prepare for it, and help faculty prepare for it, and it just kept coming, like a rolling freight train."
Lots of technologies blossomed and then failed. It was the Internet that took hold, and by 1997/98 it had become the dominant technology, with a large majority of colleges and faculty using it, and early versions of online teaching platforms like WebCT, which was developed at the University of British Columbia, already up and running.
In 2002, as the dust was beginning to settle, BCcampus was established, bringing together several threads: administrative services and collaborative online programs for students, and access to teaching resources and like minds for faculty.
And 10 years later, when it's hard to believe that none of this existed such a short time ago – that something as ubiquitous as e-mail had to be described in such basic terms (see postcard above) – it's also interesting to think about where we might be in another 10 years…
—–
BCcampus is ten years old in 2012. To commemorate, we're publishing a series of articles that illustrate some of our milestones and describe how we got here. This is the second article, featuring our "prehistory" – the education technology landscape prior to 2002.