In Spring 2011, I was hired at BCcampus as a Professional Learning and Communications Assistant through the Simon Fraser University's Co-op program. I applied for the position to enhance my writing skills and continue to explore my creative marketing side.
My experience at this office has far exceeded my expectations. There is no set schedule each day as the tasks change every week and it's a great learning experience. What was a 4-month co-op term at BCcampus eventually involved into a 16-month co-op, the plethora of projects that I worked on made working at BCcampus enjoyable and engaging.
A majority of my time in the office is working with my supervisor – Sylvia Currie the acting Director of Professional Learning.  As well as Leva Lee, the client services Manager of the ETUG community.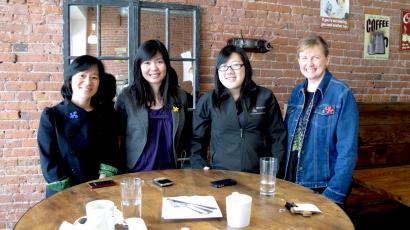 As they work remotely from other parts of British Columbia, we utilized a variety of different programs to communicate more effectively.  Eventually we settled on using Skype as our primary communication tool to share files and provide continuous updates on projects. Working independently gave me room to explore different ways of executing a project, while maintaining the integrity of the company.
My favorite project was the Demystifying the Student Prospective webinars where we would gather a panel of undergraduate students to bridge the gap between post-secondary instructors and undergraduate students. It was established in 2011 as we felt there are a lot of misconceptions about what students want. The webinars provided a better platform for discussion between instructors and students to share their experiences to improve teaching and learning. We were able to cover 2 hot topics – Social Media and online learning in relation to educational technology.
During larger events hosted by BCcampus, I would take photos, tweet, and blog when it is necessary. It's one of my favorite tasks because you get to see the impact of BCcampus in Higher Education. We then take those items and create an archive of all the resources so people can always go back to reflect.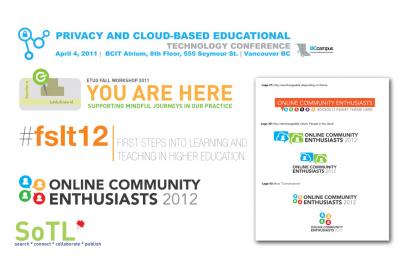 There is no project too small or too large to take on. It's always fun and I can bounce ideas off co-workers. We collaborate on projects often using our different backgrounds as an advantage, thus, the slogan – Connect, Collaborate and Innovate.
I have met an array of individuals in the e-learning community and was amazed by the evolution of classrooms from traditional teaching methods to more modern techniques that incorporate new tools and resources.
The co-op position allowed flexibility to continue taking courses, while working part-time. I was able to continue co-op without delaying my graduation.
Through working at BCcampus, the experiences from working alongside online learning and community of practice experts, I am able to apply the knowledge towards personal projects like my food blog – Foodology.ca to maintain and grow my base of followers.
As my co-op term has come to a close and I am graduating, I know for certain I will continue having an interest in digital marketing and new emerging technologies.
More from Diana's Website: http://diana-chan.com/projects/bccampus/