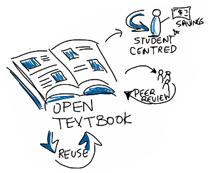 Open invitation to an open textbook webinar! Join Una Daly and Terrie McAloney for a one-hour orientation to open textbooks.
What: An orientation to open textbooks
When: Wednesday, November 21, 11:00 – 12:00 PST
Where: SCoPE Blackboard Collaborate room
There is no need to register for this webinar. If you are new to Blackboard Collaborate, check that your equipment is ready ahead of the session.
Missed the session? 
Blackboard Collaborate Recording
Recording via Blip.tv or subscribe to BCcampus via iTunes: http://blip.tv/bccampus/rss/itunes