In September 2012, UBC entered into an agreement with Coursera to deliver online web-based free courses as part of MOOCs.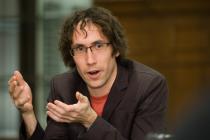 MOOCs stands for Massive Open Online Courses and has been characterized as the single most transformative and disruptive force in the global education industry of the millennium.
UBC is one of thirty-three highly ranked post-secondary institutions, including Stanford and Princeton to enter into an agreement with Coursera.
More than 2.4 million students around the globe are enrolled in more than the 200 free online classes provided by Coursera.
UBC has four non-credit and free online courses planned for 2013. They include: Useful Genetics, Introduction to Systematic Program Design, Climate Literacy: Navigating Climate Conversations and Game Theory.
The first course out the door is 'Game Theory,' which launched in early January.
It's an online course on 'mathematical modeling of strategic interaction' developed in tandem with two other professors from Stanford University. You can watch the introductory video on Youtube. In plain English: it's all about winning and losing and using mathematics to predict outcomes.
Over 130,000 students are enrolled in the course from 183 different countries.
Dr. Kevin Leyton-Brown notes that one of the students is living in the Faroe Islands. The Faroe Islands lie northwest of Scotland and halfway between Iceland and Norway.
Kevin says "It's pretty evident that a large number of students would not have been reached by traditional universities . . . MOOCs are the next generation of the textbook. This is the wave of the future."
The Game Theory course incorporates short video, interactive game plays to work out the concepts, online labs and discussion forums.
One of Kevin's favourite tools is screen side chats using Google + Hangouts.
Notable quotes:
"We're at 2.4 million students now. The biggest lesson I've learned on this is I underestimated the amount of impact this would have around the world. I really didn't envision this scale and this impact this quickly." -Daphne Koller, founder of Coursera
"What is exciting to me is that we are reaching a very different kind of student." -Dr. Kevin Leyton-Brown
For further reading: