This short list of events was circulated by Una Daly for the convenience of those in and around our time zone.
---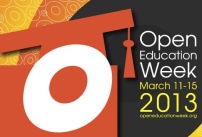 Open Education Week is a global celebration of open education and its impact on learning sponsored by the OpenCourseWare Consortium. There are project showcases, resources, and live local and online events.
Starting Sunday, March 10 
webinars and local events 
 are happening worldwide each day where you can learn the basics about open education or engage with experienced OER developers and practitioners. They are listed in GMT and will be recorded so you can listen later if they are not during your waking hours.
Here is the shortlist of best webinars to attend live for those in the Americas:
Monday, 9:00 am
 (Pacific)  
Designing OER with Diversity In Mind
Monday, 10:00 am
 (Pacific)  
Driving Adoptions of OER Through Communities of Practice 
 with College Open Textbook grantees.
Monday, 10:30 am
 (Pacific) 
Khan Academy: Personalized learning experiences
Monday, 12:00
 (Pacific) 
Using MERLOT to Find High Quality Open Educational Resources
Tuesday, 8:00 am
 (Pacific) 
Xpert Search Engine and the Xpert Image Attribution Service
Tuesday, 10:00 am
 (Pacific) 
Collaborative Boldly Confronts Licensing Issues
Wednesday, 9:00 am (Pacific) 
Open Policy Network: seeking community input
Wednesday, 12:00 noon (Pacific)
How Community Colleges are Innovating with Open Educational Resources
Wednesday, 3:00 pm ( Pacific) 
P2PU: A Showcase of Open Peer Learning
Thursday, 11:00 am (Pacific), 
Validating the Learning Obtained through Open Educational Resources
Thursday, 1:00 pm (Pacific), 
OER and Alternative Certification Models: An Analysis Framework
Friday, 8:00 am (Pacific
),  
Re-thinking Developmental Education: Creating a STEM Bridge in the National STEM Consortium
Friday, 9:00 am (Pacific), 
Using OER to Reduce Student Costs and Improve Student Learning at College of the Canyons
Friday, 10:00 am (Pacific),
OpenStax College Textbooks: Remixable by Design
 Friday, 12:00 noon (Pacific),
An OER Editor for the Rest of Us