Times have changed—post-secondary institutions like Royal Roads University are making it their mandate to create an inspiring and relevant curriculum that helps students find jobs. A key element of this new curriculum is that it provides students with an authentic learning and assessment experience.

AUTHENTIC LEARNING GIVES STUDENTS MARKETABLE SKILLS
The authentic learning and assessment model isn't lecture based—it's collaborative and intentional. Authentic learning asks instructors to develop courses around the following:
Are my students focusing on the relevance of what they are learning?
Can they put themselves into the shoes of a professional in the same field they are learning?
Are the learning tasks and contexts sufficiently complex enough to mirror a meaningful real-life application?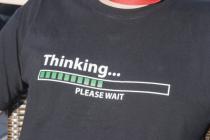 RRU's Dr. Doug Hamilton and Sandra Rogers are leaders in this field— working with faculty members to design high-quality programs and courses and develop effective and engaging online learning environments.
"Most of the problems we deal with in real life are complex, ill defined and messy," says Hamilton, an associate professor at RRU's school of education and technology and chair of the university's curriculum committee. "Authentic learning and assessment uses tasks that mirror that messiness whether its done in the classroom, community or online. It could be the real life application itself or one that simulates it."
CONNECTING STUDIES TO THE REAL WORLD
Authentic learning strategies include co-ops, use of real-data sets, portfolios that promote reflection and self-assessment, and performance tasks consistent with professional applications (e.g. write newspaper article, prepare and submit bid, develop design proposal, etc.). The "assessment" activity is a natural fit with the task (e.g. rubrics, peer assessments, research portfolios).
The resources are available online and in the classroom. "So if you're working on a case study you have real data to work with; you have access to experts, professionals and information and technology provides all of that," says Rogers, an instructional designer at RRU's centre for teaching and educational technologies.
These are not new strategies, but they have gained popularity and luster thanks to advances in technology.
PASSIVE LEARNERS NEED NOT APPLY
According to Hamilton, RRU students have embraced this type of learning. "Instead of being a passive learner, authentic learning allows you to own the experience. It gives students an opportunity to make the connection between their studies and real life applications. And then of course there is the value of learning transferrable skills—if you've had a chance to practice them during your course then you are in a much more marketable position."
Notable Quotes
I like to think of it as standing in the shoes of a professional. It's not just about doing what a professional would do; it's also about having the mindset about what they do. The difference, for example as psychologist Jerome Bruner once wrote, is like studying physics versus thinking like a physicist. And what authentic learning activities allow you to do is think more like someone who is in that profession. – Dr. Doug Hamilton
Instead of being a passive learner, authentic learning allows you to own the experience. It gives students an opportunity to make the connection between their studies and real life applications. And then of course there is the value of learning transferrable skills—if you've had a chance to practice them during your course then you are in a much more marketable position. – Dr. Doug Hamilton
Students are able to construct their own knowledge not just but what they are learning in the classroom, but also with their own past experiences and what they are learning now. That includes their values and expertise so you might be feeding back something quite different from what the instructor intended and the instructor has to be open to that to make it really effective. – Sandra Rogers
To explore and learn more:
photo credit: karola riegler photography via photopin; cc