Did you know that there's a system that makes it possible to take an online class, even if you're in the middle of nowhere with no power or internet access? It's called the Classroom-Without-Walls, and it's tiny and inexpensive—small enough to fit in your backpack with a price tag of $120.
The Commonwealth of Learning designed the CWW to help post-secondary students in developing countries—where access to reliable network services and electricity can never be taken for granted—continue their studies despite the infrastructure challenges.
It all started with just three small devices.
Co-developed by COL's Knowledge Services Manager Ricky Cheng and its Technology and Knowledge Management Director Dr. Venkataraman Balaji, the initial Classroom-Without-Walls configuration consisted of a Google Nexus 7 tablet, a wireless router and a battery pack.
The tablet was re-configured to run on the open source Ubuntu 13.04 operating system, with both Moodle 2.4 and WordPress 3.5 installed on the device. COL also set up a cloud-based installation of the open source Learning Management System (LMS), Canvas, which interacted with the server tablet.
Offline and off-grid learning.
Using these three small devices—the wireless router, battery pack and tablet—COL created an interactive, wireless computing environment that was completely independent of internet or electricity. With these devices in place, learners could interact with content hosted on the server's Moodle, WordPress or Canvas applications using their own tablets.
The second generation CWW costs less than $120.
Following the success of this initial configuration, the CWW is now undergoing second-generation trials that make use of a "mini PC-TV dongle" device rather than a tablet as a server. The three devices that make up the CWW cost just under C$ 120 together.
Earlier this year, BCcampus Executive Director David Porter brought a CWW with him when he visited Mongolia as part of this work for the International Development Research Centre of Canada. He thought that people there would be interested in how the technology could help them with their rural educational challenges. And they were "thrilled" by it. But they also saw that there were some urban adaptions for the Classroom-Without-Walls.
"So much of the technologies we use in schools and institutions is controlled at macro level by information technology specialists," says Porter.  "But rather than giving teachers and students the technology and saying, 'here's what we think you should do with it,' let's find out how teachers and students can find interesting ways of using the technology in their context. It's that opportunity that I see as a real potential and benefit of Classroom-Without-Walls."
The Commonwealth of Learning, which has offices in Vancouver and New Delhi, encourages the development and sharing of open learning and distance education knowledge, resources and technologies. The Commonwealth comprises 54 countries – most of which are developing nations – and one-quarter of the world's population.
The COL's Classroom-Without-Walls.
Photo credit: Commonwealth of Learning
Other voices:
The lack of infrastructure in classrooms has been a serious limiting factor to expanding the reach of online learning. But that can be overcome now. Even in isolated situations, a small number of teachers or facilitators can implement a local version of interactive online learning at a fraction of the normal costs. It will not be necessary to have technical support locally because we are using consumer-friendly devices.
Dr. Venkataraman Balaji, director, Technology & Knowledge Management, Commonwealth of Learning
More uses for the Classroom-Without-Walls
Teachers who are teaching a number of different grades in a single classroom can load up course materials and exercises for different grades into the CWW and give the students access. All of the learners will be engaged at the same time, even if they belong to different grades.
Learners in post-secondary situations could set up own bulletin boards on their tablets and let others browse and download materials using the CWW.
Rural farmers could send photos from their fields to agricultural agencies and receive back information on procedures specific to the outbreak of a new disease/pest in their areas.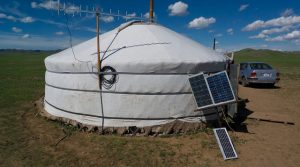 This Mongolian ger is part of a field biology research project supported by the International Development Research Centre of Canada. The project uses mobile devices to collect and send data to regional centres via SMS text messages to better inform weather forecast data and projections.
Photo credit: David Porter
Learn and explore:
Posted by BCcampus Editorial Staff