Say you're a post-secondary educator and you want to develop an online course. Where do you go for help?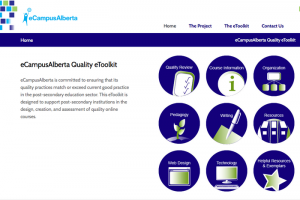 Well, eCampusAlberta has just the thing. Its Quality eToolkit is a free user-friendly online tool that includes all the resources you need to support the design, development, and assessment of your course.
More than just best practices
This eToolkit of essential quality standards outlines 27 requirements in seven categories — Web Design, Course Information, Organization, Pedagogy, Writing, Resources and Technology.
Public post-secondary institutions in Alberta are one of the key user groups of the eToolkit, which makes sense. All online courses offered by the eCampusAlberta consortium are required to meet the 27 essential quality standards outlined in the toolkit. And, eCampusAlberta actively reviews all online courses prior to their launch.
Part of a suite of eToolkits
eCampusAlberta's Quality Toolkit is part larger suite. The suite also contains the Community Toolkit, which helps facilitators assist adult learners with accessing learning opportunities in their communities; and the eLearning and Policy Toolkits designed to support effective online learning practice and policies.
The three kits are being used as part of the Open Educational Resource University (OERu), which opened its "virtual" doors in November 2013. The OERu is an independent, not-for-profit network of more than 30 international universities, polytechnics and community colleges, committed to widening access to educational opportunities.
Licensed under creative commons
Just last month eCampusAlberta licensed the toolkit under Creative Commons, allowing it to be freely shared and adapted to meet user needs.
Learn more: