Sue Doner has thought a lot about how disabled students access online learning. She is now an Instructional Designer at Camosun College's Centre of Excellence for Teaching and Learning, but previously she worked at University of Victoria.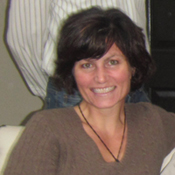 There she helped pioneer FAIR UVic: Facilitating Accessible Instruction and Resources. FAIR provides information and resources for instructors looking to produce accessible and usable content and learning experiences for students. 
1. What was the impetus behind FAIR UVIC?
The motivator behind it was the UVic model of funding the Resource Centre for Students with a Disability (RCSD); RCSD's funding was solely based on for-credit students, whereas Continuing Studies had many non-credit students. That created a significant gap in what resources were available versus what a significant number of students needed. I teamed up with some talented colleagues (RCSD manager Laurie Keenan and assistive technology expert Darryl Gorrie) to create a resource primarily targeted at Continuing Studies and the non-credit student body at UVic.
We wanted to address the panic amongst instructors that comes from "I don't know what I don't know. Maybe if no one asks I don't have to worry about it." We wanted to provide a proactive answer to a gap in services.
2. Why was it important to license the materials on the site as Creative Commons-Attribution-Share Alike (CC-BY-SA)?
This project was exciting because this was the first time I was able to do a project and license it openly. I had worked on a BCcampus-funded project before (which required Creative Commons licensing), but this was our own initiative. Our thinking was: we're not the only ones that have a gap in services for students, and we're presenting information everybody can make use of. In the spirit of accessibility it felt contrary to make FAIR UVic something that was locked down by the university.
I was at the EdMedia conference last year and met others with the same issues. We formed an informal Community of Practice around accessibility. There is interest everywhere in making online learning accessible, so there was no point in making our resources locked down. Plus, our project referenced some external resources that were already open and some that were used with permission and credited.
You can say to an instructor "Is your course accessible?" but that's such an open-ended question, it can be an overwhelming thing. We just wanted to create something for people to be proactive when thinking about the components of their course and how accessible they are.
3. When you say "diverse student body" [on the FAIR site] do you mean simply students with disabilities, or others: race, gender, culture, etc.?
The initial impetus was primarily supporting students with physical barriers. As we got into our needs assessment, we realized accessibility can also be affected by English language bias and therefore the English-as-a-second-language population in Continuing Studies needed support.
There is diversity within populations of students with physical disabilities, too. For instance, with an aging student population, someone might be hard of hearing rather than completely deaf, or have limited sight rather than being completely blind. Because of this range of cultures and abilities, it's better to thoughtfully design the course at the beginning rather than being caught out further into the course.
4. What kinds of things were you seeing instructors do that were making it tough for students with disabilities to access the course material?
"I'll wait until someone asks me and then I'll do something about it," is the most common error. No one deliberately tries to leave anyone out, but it happens often enough. We invite teachers to stop to think about someone who can't hear your presentation, and who may not feel comfortable saying something about their difficulties. This is better than reactively trying to cobble something together after the fact.
An example: most online course material is text-intensive. As course designers, we may suggest adding more media components, including video and audio, to help animate the content for students. But when providing a video or audio resource, we have to make sure there is a transcript and/or captions for those with limited hearing or sight. We're just trying to bring instructors' awareness to these issues; put them in the shoes of someone with different abilities.
5. What are the three top pieces of advice you want instructors to keep in mind when they're designing a course for a diverse class?
It seems self evident but first is: put yourself in all of your students' shoes. Is this course material supportable for a range of abilities? Am I leaving anyone out by not providing an alternate method? Turn on the empathy switch.
Second is fundamental course design – what reason does this element have to be on your course? Can you provide it in different formats?
Third, test the materials on different types of learners before you teach the course, if you have the opportunity. Many institutions have potential testers available in the student population. It's eye opening!
I was at a NAWeb conference back in 1999 or so. There was someone there from the SNOW project (in Ontario) – longtime leaders in accessibility. The presenter took a screen reader through a web site so we could hear it rather than see it. It was a revelation to be cut off from your own method of learning.
I'm not an expert in assistive technology and FAIR UVic is not intended to make anyone experts in technology, it's just intended to bring awareness to the things you should be thinking about all the time. Don't be overwhelmed, but start to become familiar with the fundamental questions and build from that. Just start asking some questions.
(Bonus question): You now work at Camosun College. Will you be instituting a similar program there?
I'm meeting with the director of the Disability Resource Centre and his team here soon to find out more about what they do and identify if there are any gaps. Camosun is doing more and more blended and online courses, so we might run a workshop in the spring. At UVic, our FAIR project took three years to bring everything together because we were all doing it off the sides of our desks. It was certainly worth it! And now, at Camosun, I certainly have the option to re-use those resources because of the Creative Commons license on the materials already developed.
Notable Quotes:
"We wanted to address the panic amongst instructors that comes from 'I don't know what I don't know. Maybe if no one asks I don't have to worry about it.' We wanted to provide a proactive answer to a gap in services." – Sue Doner
"It seems self evident but first is: put yourself in all of your students' shoes. Is this course material supportable for a range of abilities? Am I leaving anyone out by not providing an alternate method? Turn on the empathy switch." – Sue Doner
Learn More: