Ross McKerlich is an education technology coordinator at Okanagan College. Hired in January 2012, Ross was part of the team that implemented Moodle for the college and continues to assist faculty with effective use of Moodle and other emerging education technologies in their teaching. As part of his role, he created the college's inaugural online course quality awards.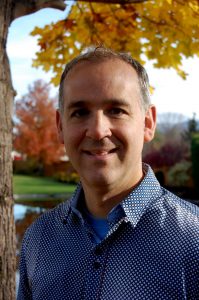 1. What gave you the idea to create an award for Okanagan College?
One of my roles as education technology coordinator is training faculty members on our learning management system (LMS). Training is especially important when implementing a new system. After our first year on this new platform, I wanted to encourage faculty members to move beyond "how do I use this system" to "how do I use our system well." Creating a quality award was one strategy to encourage this shift.
The 2013 award winner is Sofia Sookachoff, an instructor in our foundational program; the topic was computer fundamentals and the students were adults returning to school for upgrading purposes.
Our online quality awards created many benefits. The college now has a set of clear online learning quality standards. And, our students also win because future online courses will be of good quality.
2. What are the best practices for creating an online course? 
At Okanagan College we had a team of 12 faculty from across our campuses review three existing and well-regarded quality models: the Chico ROI, Quality Matters and Sloan C Scorecard. It was clear that all three rubrics contained common standards and elements.
To ensure widespread use among faculty, we created our own based on the three quality models we reviewed. Having ownership over our own standards creates greater engagement. We developed five standards and 20 criteria. They are:
learner support
solid instructional design
assessment and evaluation
Innovative teaching with technology
fit and finish
Fit and finish recognizes the importance of aesthetics and design, something that our millennial learners expect to see.
3. What are some of the challenges with online courses?
Online courses are in the adoption stage and, collectively, we are all still learning how to create a good quality online course. It takes time to create a good quality online course.
Challenges of providing quality control for online courses include time, money and resources. These can be overcome by building processes in online course development.
There are, in fact, many standards – including our very own for B.C. As Dr. Tony Bates has commented there is no shortage of standards – the crucial question is "who uses the standards provided?"
A direct benefit of an online quality award is – that standards are used and applied. Additionally, their peers recognize (and validate) winners.
4. Which institutions are considered leaders in online course development and implementation? 
In B.C., Royal Roads University has a good system of quality review before a course comes online.
5. What's next for Okanagan College and online learning? 
Dr. Beverlie Dietze will join Okanagan College in late January as its new Director of Learning and Teaching. We look forward to her leadership. And, the college will be holding its second online quality awards in the summer. Our goal is to continue building a culture of quality and support for faculty.
Notable Quote:
Our online quality awards created many benefits. The college now has a set of clear online learning quality standards. And, our students also win because future online courses will be of good quality. – Ross McKerlich, education technology coordinator at Okanagan College
Learn more: