Our two-day open textbook summit takes place on April 16 and 17 at Simon Fraser University's Harbour Centre in downtown Vancouver, B.C.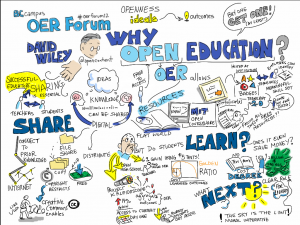 While registration for this event is now closed, we will be sharing our insights and key observations from the summit online.
Dr. David Wiley and Kim Thanos, the two co-founders of Lumen Learning, will be giving this year's keynote address.
Regular readers of our blog have probably noticed that we reference Dr. David Wiley's work and thinking quite a bit – with good reason. He's considered the "grandfather" of Open Educational Resources (OER) and the "4Rs." The BCcampus Open Textbook Project is based on the same four guiding principles.
David Wiley – Revise, Remix, Reuse and Redistribute  
OER are educational materials available for free that come with four important copyright permissions, known as the "4Rs":
Revise: You have permission to change an OER in any way you need: translate it into Spanish, make an audiobook version, replace the urban examples with examples your rural students will understand, and so on.
Remix: You have permission to combine an OER with other OER to make new OER.
Reuse: You have permission to use the original, revised, and remixed OER in any context (e.g., online, in the classroom, etc.).
Redistribute: You have permission to copy and share the original, revised, or remixed OER with anyone and everyone.
Kim Thanos – Transforming education through technology and partnerships
Kim Thanos is the heart, mind and soul behind the Kaleidoscope Project , which is funded through a Next Generation Learning Challenges grant. The project creates and implements open general education courses, with a specific focus on improving success of at-risk students.
Kaleidoscope uses OER to improve student success, working together with partner institutions to:
Eliminate textbook cost as a barrier. Faculty members across institutions collaboratively create open course frameworks that use the best existing OER, and reduce required textbook costs to $0.
Drive assessment-driven enhancement of open course frameworks. Project resources analyze assessment, activity and success data to guide faculty members in continually improving the effectiveness of the open resources.
Create a collaborative community to share learning and investment. The project emphasizes institutional engagement, allowing institutional leaders and faculty members to benefit from sharing and collaboration within and across institutions.
Notable Quotes
This is never an initiative that's going to be driven from the top down. That's just not the way you work with the faculty. This is always going to be a coalition of the willing — folks who are interested in improving learning outcomes and improving affordability for students, and who are willing to try new things. –David Wiley
You give this kid a $4 or $5 book [and] let them use it to their heart's content. And then you go back at the end of year with teachers, see what students struggle on, and revise and improve the book. Each year, the text gets better. –David Wiley
Open textbooks increase local control. Teachers can have books that are exactly aligned with what they are teaching. –David Wiley
I received an email where someone characterized me as "in the trenches" of open education. When I started down this path, "the trenches" was not my desired destination. I'm not sure how I ended up here. –Kim Thanos
Initially, when we started thinking about what we were trying to accomplish with the use of open textbooks, we really felt like we really did focus on a textbook replacement and went through a process with a group of faculty members, with a small set of courses, of helping them identify a replacement for a textbook. –Kim Thanos
If we're going to stop and make a fundamental change from a traditional textbook, evaluate new digital materials, whether it's packaged neatly into an open textbook or whether it's a range of resources, that it's a tremendous opportunity to rethink the instructional materials, the instructional process, the learning and engagement opportunities. –Kim Thanos
To learn more about David Wiley:
To learn more about Kim Thanos:
To join the conversation online, be sure to follow us on Twitter @BCcampus and use #OTSummit
Illustration by Giulia Forsyth, available under a Creative Commons license.