Faculty who adopt, modify and create open textbooks and other Open Educational Resources are essential in order for OER to thrive. However, an OER champion in the senior administration can bring OER out from the confines of a few good practitioners to widespread acceptance throughout an institution and throughout the higher education system.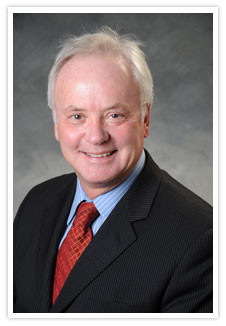 Dr. Alan Davis, the President of Kwantlen Polytechnic University (KPU), serves on the BCcampus Strategic Council, our Open Textbook Project sub-committee, and is a thoughtful, knowledgeable, and outspoken advocate for OER and the work we do at BCcampus to bring institutions together to make educational technology work better for the entire B.C. higher education system.
Born in Reading, England, Dr. Davis is a graduate of Simon Fraser University where he received MSc and PhD degrees in Chemistry. His long academic career has taken him to Fraser Valley College (now University of the Fraser Valley), the B.C. Open Learning Agency, Athabasca University, Niagara College, Vancouver Community College, and State University of New York – Empire State College.
Distance learning, prior learning and assessment recognition (PLAR), and OER have been central interests of Dr. Davis throughout his career. He is widely published in key areas of higher education. In September 2011, he was a keynote speaker at the 14th International Cambridge Conference on Open and Distance Education, and co-wrote a chapter in the collection Game Changers, published in 2012 by EDUCAUSE.
Aside from his extraordinary academic contributions through publications and presentations, Dr. Davis is also a published playwright. His plays for young people have been performed across Canada.
We are very pleased Dr. Davis took some time from his busy schedule to answer a few questions for BCcampus.ca.
What got a chemist interested in scholarship into PLAR, OER, and online learning?
My father was an alternative student and adult learner – it's an interesting story – he was an apprentice pipe fitter before the war, because his family couldn't afford to send him to post-secondary education. Then he joined the army during WW II and ended up in a POW camp. While there, he formed a study group with other prisoners – all very educated people. After the war he was freed, and wrote his senior matriculation. There was a shortage of teachers and he was admitted to teachers college, and became a math teacher. He was a brilliant man, a wonderful teacher.
His direction in life changed by being given the opportunity to get his education via a completely alternative format. 
Years later when I was a traditional research chemist, I realized my teaching was much better than my research, and I managed to get a job at Fraser Valley College. For quite a long time, I could help all sorts of people who were struggling with chemistry; I taught adults in an evening course, for instance, and science programs for teachers and children, which was fantastic. Rather than staying in the classroom, I went beyond it, and at Fraser Valley we had no restrictions – we were forced to learn how to work across all disciplines to create learning and teaching opportunities.
Out of the blue a position came up – Director of Programming the Open Learning Institute (which was transitioning to Open Learning University). I had a bit of administration experience, so I applied. I don't know what they were impressed with! But I got the job and I morphed into academic administration in a natural way. At the time the internet was just emerging, and distance education was transforming to online. That's where I met David Porter [BCcampus' Executive Director] for the first time.
The notion of Prior Learning and Assessment Recognition is the most natural thing in the world. It's continuous, you're always learning. If you think about it, all hiring is a PLAR process, it's got nothing to do with grade point average or anything like that. My experience as a teacher, in community theatre, as a soccer coach with my kids' teams, on the school board in Chilliwack, my public service, it all contributed to parlay into skills as a higher education administrator.
I've been in more traditional and in more open institutions, but the fact is – increasingly the silos are breaking down. Blended, alternative, flexible learning – everyone is looking at various aspects of open education now. But it's hard to lay it on across the institution all at once. At KPU, we're thinking of creating an Open Studies department where we experiment with various forms of flexible learning and hope it infects and translates into other parts of the campus. We want to extend the reach of what we do by creating access and flexibility.
You have written "There is a real hunger throughout the world for educational approaches that we so often have to defend right here at home." What do you mean by that?
Necessity is the mother of invention. In Africa there is very little landline technology but mobile has taken off like the wind. Half the people there have a cell phone; it's so much easier to build the infrastructure to serve more people over a wider area. It's all low voltage stuff, you don't need a lot of power: a solar panel and a charger are all you need in order to communicate. Public education starts off with basic things around health, clean water, the fundamentals, and then educators can leverage that to support schools that use internet connectivity.
For instance, in Bangladesh an architect has built floating schoolrooms boats with solar panels that power the computers and the internet connection. It's an internet classroom that has enough power to show movies for the entire community at the end of the school day. This has brought education to communities that are suffering because of global warming – the changing landscape means water is rising, and boats are continuing source of support to communities.
In Africa and Bangladesh they look at online education and say "of course," and you'd think that was the case here, but it's not.
The majority of our students are part time. We are a commuter campus. Our students are not just sitting in lounges here, they're busy and engaged on campus and off campus, and they're all walking around with a smartphone. We can leverage that more.
KPU is 46 kilometres from westernmost to easternmost campus. That doesn't seem like much, but the drive is hell! More robust and affordable technologies can reduce the need to go back and forth. With broadband videoconference systems we could do a lot of work between the campuses.
Face to face experiences are still going to be very important – but they take on a whole special meaning once you've done the easy stuff online – open textbooks, online forums, discussions, etc. You're ready to really hit the ground running – enhanced by technology.
You're a champion of open educational resources. Where does OER fit into your vision for education?
At some point we all stand on the shoulders of giants. Most of the time when we in higher education develop resources, we're paid by somebody to produce this stuff.
Let me just say that I am a member of Access Copyright – I've written some plays and such. I believe in protection for intellectual property of creative workers. Somebody somewhere has to create original work; and self-employed artists deserve every protection we can find. If there's a way we can use their work and bring it to the attention to students – if we can provide them some compensation – that's fine. However, as teachers by and large we add the magic – the special thing that we do – and we're paid to do it.
Creative Commons has provided a lovely framework for people to set the types of access to their work. It's easy to license things and protect your interest in it, without stifling sharing.
As educators, we enter into a fundamental agreement that we do publish and we do share, and it should be open and accessible to everyone else. If we didn't do that, the system wouldn't actually work. Educational resources created by those of us supported by the system should be openly accessible. It makes sense, it's the right thing to do. I shouldn't be making money by writing a textbook and assigning it to my students to buy.
How are you championing OER at Kwantlen? Are you putting in place an "Open" team?
I'm hoping my team will form organically. I don't have a big budget to hire project managers or consultants, rather there are some people already doing open education, and there's a lot of interest here. I want to work with my champions, give them support and gradually build them up.
No one's come to me saying, "you're crazy, this is stupid;" OER really resonates with people, so I'm just going to persist. I'll advocate to government, telling them "I've got something interesting and unique, please give me seed money to use it as a transformative endeavour." OER needs to become integrated into the core – but we need initial money to try to get those big ideas seeded. Luckily our ministry is hungry for big ideas and for change: the Open Textbook Project is a case in point. It maintains B.C. on the vanguard of teaching and learning innovation.
Further reading: