The 2014 Canadian Network for Innovation in Education Conference takes places on May 13 – 16 at Thompson Rivers University in Kamloops, B.C. The theme for this year's conference: Confluences –  Spaces, Place and Cultures for Innovative Learning.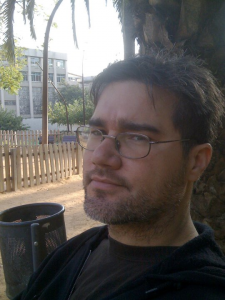 There's still time to register! And, to whet your appetite BCcampus will be featuring some of the keynote speakers for this event, beginning with today's blog post on Brian Lamb.
Brian Lamb is Director of Innovation at Thompson Rivers University (TRU), focusing on collaboration and publishing platforms and open education. Brian has been a Research Fellow at Utah State University's Center for Open and Sustainable Learning (COSL), and a Visiting Researcher at Barcelona's Open University of Catalonia. Brian also serves as a member of the Creative Commons Canada Advisory Board. He mutters ill-tempered observations on his blog.
When BCcampus interviewed Brian to ask him about what's been on his mind, he pointed us to his recent blog post: Wrong About the LMS.
Brian, it turns out, has a complicated relationship with learning management systems. They are primarily, as Lamb states, "an administrative tool for higher education institutions."
Lamb will be using his time at the podium to explore the inherent tension these learning management systems create for both intuitions and the students who use them. LMS, he says, are "awkward, clunky and not user-friendly. They are not learning enhancement systems."
He will be sharing his observations, on-going research/collaboration with Jim Groom, and lessons learned. And, most importantly, Lamb will ask us to think and share our observations about the values of digital literacy and the impacts of our educational technology choices.
How are digital tools changing the way we think and live?
How do the platforms we choose enhance or constrain students' performance?
What does it mean to be digitally literate?
Notable Quotes:
The saddest ill effects of the LMS on higher education are all the missed learning opportunities. ~ Brian Lamb
We live in an era where it is widely believed that we face an epochal challenge to guide our students into an information age of immense complexity, promise, and peril. ~ Brian Lamb
We expect our students to spend countless hours working on computers. Yet we push their hands-on online engagement into a virtual environment that does nothing to equip them with practical and transferable web skills. ~ Brian Lamb
The best educational technology implementations I've seen usually involve a certain amount of relinquishing control on the part of the instructor.  ~ Brian Lamb
Learn more: