Over the past two years senior math lecturer Jamie Mulholland has been experimenting with a 'flipped classroom' teaching approach. His calculus students watch lectures on his YouTube channel and then spend classroom time solving problems with his help.
Flipped classrooms are just one example of flexible education, and SFU's Task Force on Flexible Education (TFFE) is looking for more examples, more ideas and more engagement with students and the academic community to help define a bold future for learning at SFU.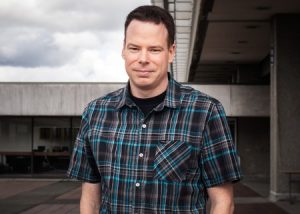 "With student demographics changing, and competition growing in the post-secondary sector, SFU wants to become the leader in delivering responsive, flexible learning that will meet students' changing needs," says task force leader Bill Krane, special advisor to the vp academic.
"We're already getting good feedback," says David Porter, executive director of BCcampus, who has been seconded to the SFU project.
"There's a lot of considered thought about integrating work and study, better options for class scheduling, better learning experiences in the classroom, how to make learning more convivial. Some people are also questioning whether 13 weeks is an optimal length for a course, or whether 300 people in a classroom is the optimal way to take your education."
The TFFE, which began its work three months ago, is tasked with figuring out how to add more dimension and flexibility to the student experience while also aligning the university's educational strategies with its strategic plan.
"Higher education is becoming a very crowded space and there's a need to differentiate the SFU learning experience from others," says Porter, "We're trying to operationalize that strategy."
The TFFE wants to hear about what is already happening at SFU to make flexible education options available to students, and what more could be done.
"Go to our website and answer our quiz, tell us what you think, sign up for a focus group, and come out to the Town Hall meetings," urges Porter, "Help us identify innovative examples of flexible programming that exist at SFU, and tell how programs at SFU could become even more flexible in future."
Seven questions and answers: Task Force on Flexible Education
Q: What is the task force's mandate?
The task force has been asked to "make recommendations on the future directions that the university should take in developing and sustaining flexible education opportunities for its students and instructors."
Online and technology-supported learning will be an important focus, but the initiative will also consider other themes such as learn-at-your-own-speed instructional formats and support structures for students and instructors engaged in flexible learning.
Q: Why is the task force necessary now?
SFU has provided distinct educational opportunities since its inception. Now, at a time when post-secondary institutions are facing pressures from many directions, the university believes that the best strategy for success is to be a leader in delivering responsive, flexible learning experiences that meet the needs of a changing student population. The task force is an opportunity for the SFU academic community to articulate a vision that is bold, innovative and distinct.
Q: What is flexible education anyway?
The term has been defined in many ways. One of the first tasks of the project team will be to develop a definition for the SFU context by surveying the literature, identifying examples of flexible education within the university, and engaging the SFU community in a dialogue about the term. One definition that resonates with many is provided by the Higher Education Academy:
"… Flexible [education] focuses on giving students choice in the pace, place and mode of their learning; and all three aspects can be assisted and promoted through appropriate pedagogical practice, practice that can itself be supported and enhanced through e-learning."
Q: How will the task force operate?
During summer 2014, members of the project team will survey the literature (academic papers, institutional reports, strategic plans) and examine approaches at other post-secondary institutions. They will also identify examples of flexible education at SFU. Finally, they will conduct a broad consultation with the SFU academic community, including faculty members, students and staff, to identify needs, wishes and priorities.
In fall 2014, working groups will be established to address key themes identified by the task force. The working groups will include representatives from all segments of the SFU academic community.
In spring 2015, the task force will use the findings of the working groups to produce a report and implementation plan for the vp academic. The final report and strategic plan will be presented to senate in June 2015.
Q: Who is on the task force?
The task force includes a wide cross-section of SFU's academic community, including four deans, the chief information officer, the directors of the Centre for Online and Distance Education and the Teaching and Learning Centre, and faculty and student representatives. It is chaired by Bill Krane, special advisor to the vp academic.
Q: How can the SFU community participate in the work of the task force?
The project team is eager to speak with all interested members of the academic community. The community engagement process will offer multiple opportunities to participate through focus groups, surveys, town halls and other formats. The team also invites inquiries and direct contact, especially by instructors and units with examples of flexible education to share.
 Q: How can I find out more about the task force?
The task force has set up a website at http://www.sfu.ca/flexed with a timeline, schedule, background documents, contact information and more.
This post, and accompanying image, is copyright SFU News – Simon Fraser University, and republished with permission. See original. 
Further Reading: