BEtreat workshops are designed for leaders in social learning, communities of practice and networks. Participants bring their projects and challenges that most closely represent their work experiences to a workshop. During an intensive four days they develop their capabilities in leadership and facilitation for communities of practice and professional networks. There are two types of workshops, and early bird registration ends August 30.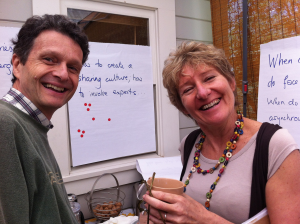 State of the art
October 7 – 10, 2014 
This workshop is for people who want a systematic overview and firm grasp of current principles and practice applied to their context. Participants will explore best practices and work together to review and apply established models, approaches and techniques to their challenges – from starting up, to cultivating, and to monitoring the value.
Cutting edge
October 14 – 17, 2014 
This workshop is for people who are familiar with existing models and practice and want to develop more pioneering aspects of the field. Participants will explore emerging issues in social learning – as it applies to their particular context – as well as models and approaches still in development.
Facilitators
Workshop attendance is limited to 10-15 people, either in-person (in Penticton) or online, and they are facilitated by Beverly and Etienne Wenger-Trayner. Together, they are furthering the theory and practice of social learning leadership worldwide.
Beverly is a learning theorist and consultant specializing in communities of practice and social learning systems. Her expertise encompasses both the design of learning architectures and the facilitation of processes, activities, and use of new technologies. Etienne is a globally-recognized thought leader and consultant in the field of social learning and communities of practice. He has authored and co-authored seminal articles and books on the topic, including Situated Learning, where the term "community of practice" was coined.
Scholarships
BCcampus awarded two $600 scholarships toward tuition for the workshop.
Daniel Iwama is a student-practitioner and the Community of Practice Coordinator at UBC's Centre for Teaching, Learning, and Technology. He is intimately involved in the development, continued support, and transitioning of 14 active communities of practice (CoPs). Reoccurring questions that have underpinned his recent work include: What are the best online tools for supporting "digital communities"? What are effective approaches to scheduling and facilitating online CoP meetings? When impetus for a CoP comes from outside the membership itself, how can active participation be encouraged and core membership developed?
Melissa Jakubec is the Provost's Fellow for Blended and Innovative Learning at Thompson Rivers University. She is part of TRU's Center for Student Engagement and Learning Innovation, and tasked with increasing faculty participation and adoption of blended learning strategies, as well as other innovative approaches to teaching and learning. She has worked with individual faculty members to enhance their teaching, as well as larger projects to transform programs from entirely face-to-face offerings to a blended format.
Notable quotes:
"As a student-practitioner, I have recently completed the requirements towards my Master's in community planning here at UBC … I find my need for professional development ramping up just as my formal education winds down.I hope to not only to draw from the strategies and successes of others, but also to share the methods and approaches that have worked well in my own practice." Daniel Iwama, Community of Practice Coordinator, UBC Centre for Teaching, Learning, and Technology.
"I believe the strategies in these workshops would be beneficial to my work with individuals and smaller groups of faculty. In the coming year, I intend to start a community of practice around blended learning at TRU, including faculty from both our TRU and Williams Lake campus. The BETreat workshop will give me additional skills and models to achieve this goal." – Melissa Jakubec, Provost's Fellow for Blended and Innovative Learning, Thompson Rivers University.
Further reading: