What does it look like when educators ask deeper questions about teaching and learning practice in higher education? How does one go about stepping back from the everyday, and investigate the fundamental building blocks of academic instruction?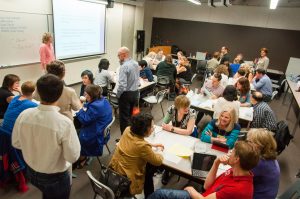 Session proposals needed
Registration is open now for the November 14 Symposium, held at the SFU Harbour Centre in downtown Vancouver, but for the moment Dr. Arthur, along with the organizing committee, is interested in receiving proposals from faculty interested in presenting at the Symposium.
The longer sessions will feature two strands: "active or completed inquiry" presentations: investigation questions, literature overview, methodology, data analysis and summary of findings; and "teaching and learning with technology" presentations, which investigate the utility and impact of technologies for teaching and learning.
The Symposium organizers are also looking for shorter, round-table format proposals in two strands: pitches for new inquiries, and innovative approaches to data gathering and analysis.
Symposium organizers are planning the longer sessions to be presentations plus engagement of the symposium attendees, but if someone is fairly new to scholarly inquiry activities, the pitch session is a great opportunity to flesh out a potential project.
Further information:
Notable quotes:
"The Symposium is an opportunity for people to learn from others who are at different stages of research. Someone might be doing a really cool research methodology, and someone else may be able to connect with them and offer support, or replicate their research at their own institution." – Dr. Peter Arthur, Director, Centre for Teaching and Learning, UBC Okanagan
"How is teaching and learning scholarship making an impact at our institutions? For instance, two-stage exams are being used more and more because there is research to show they're effective. We want to encourage innovation, measure impact, and disseminate the knowledge." – Dr. Peter Arthur, Director, Centre for Teaching and Learning, UBC Okanagan
"We have never had an organized network of research practitioners on teaching and learning for the province. This Symposium will provide an opportunity for face-to-face discussion as well as set the stage for ongoing dialogue." – Gary Hunt, Co-ordinator, Centre for Teaching and Learning, Thompson Rivers University