Attendees at the annual ETUG fall workshop November 13 will experience a unique conference format with sessions delivered through collaboration, creativity, and peer-led learning.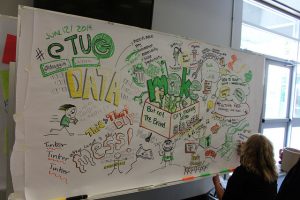 The unconference model is a participant-driven event that uses open space and flexible presentations to dig into the concerns of the attendees. The origin of the unconference name is attributed to Lenn Pryor, based on his write-up of the 2004 BloggerCon, and popularized by Dave Winer, the organizer of the event.
The Educational Technology Users Group (ETUG) is B.C.'s community of post-secondary educational practitioners sharing and collaborating on ways to use technology to enhance the learning and teaching space. Due to the focus on cross-communication and open access, the unconference model is ideal for the ETUG workshop.
"We're a group that likes to try new things, and while this may be risky, we want to open the space to get conversations going and create opportunities for challenges to be addressed and solutions uncovered," said BCcampus Manager of Professional Learning, Leva Lee, who is co-ordinating the event. "A lot can be completed in just a few hours with the right people."
The unconference concept itself isn't particularly new: originally introduced by Harrison Owen in the 1980s in his work within Open Space Technology, the model has become a popular presentation method for distributing knowledge amongst specific niches.
A typical unconference begins with prospective presenters sharing their idea with the audience through a five-minute pitch, then the attendees self-organize around the pitches and topics they're most interested in. Once the sessions have been selected, the participants break out to the various available rooms to discuss and collaborate in the selected sessions.
An important component of the unconference model is the widespread application of the Law of Two Feet, attributed to Owen, "If at any time during our time together you find yourself in any situation where you are neither learning nor contributing, use your two feet; go someplace else."
Pitches are limited to five minutes and a maximum of one slide, and will be closely timed to ensure everyone has an opportunity to present.
To encourage diversity in the 40-minute unconference sessions, ETUG has compiled a list of ideas:
Show and Tell: demonstrate a great app, project, or anything you think people ought to see.
Group Discussion: share a juicy topic that matters.
My Big (or Little) Question: invite others to help you answer it.
Mini-hack Session: present a problem, invite others to generate hands-on solutions
Ed Tech Speed-dating: facilitate a fast-paced, round-robin "speed dating"-type session to allow participants to connect with many others in a short period of time – perhaps sharing strategies or technologies used in practice.
Case Study: show an example of innovation in your work or at your institution.
Thinking Session: brainstorm solutions to challenges you've dealt with, or are dealing with, in your practice. Invite participants to design or create something together; e.g., assignment, grading rubric, policy, process strategy, etc.
World Cafe: try a new spin on the group discussion by hosting a mini-World Cafe.
The sessions pitched thus far include:
Changing the practice of education with open pedagogy,
Open badges and the gamification of learning,
Mozilla's Hive Learning Community,
DIY media,
A live research project on how students use technology.
Prospective presenters can submit their pitch topics in advance (Google doc), but posting them prior to the event is not mandatory.
Registration for the Fall Workshop is still open.
Notable Quotes
"Open Space runs on two fundamentals: passion and responsibility. Passion engages the people in the room. Responsibility ensures things get done. A focusing theme or question provides the framework for the event. The art of the question lies in saying just enough to evoke attention, while leaving sufficient open space for the imagination to run wild." ~Harrison Owen
"The idea for an unconference came while sitting in the audience of a panel discussion at a conference, waiting for someone to say something intelligent, or not self-serving, or not mind-numbingly boring. The idea came while listening to someone drone endlessly through PowerPoint slides, nodding off, or (in later years) checking email, or posting something to my blog, wondering if it had to be so mind-numbingly boring." ~Dave Winer, BloggerCon organizer
"There is no 'right way' to lead a session. However there is a bias towards interaction and discussion." ~ Kaliya Hamlin from Unconference.net
Learn More