In the recent Symposium on Scholarly Inquiry into Teaching and Learning Practice, Dr. Maureen Wideman presented a case study that explored the application of Universal Design for Learning on a technology-enhanced health sciences program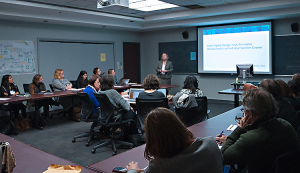 During the recent Symposium on Scholarly Inquiry into Teaching and Learning Practice, Dr. Maureen Wideman presented a recently published paper, co-authored with Kari Kumar of the University of Manitoba, that focused on the impact of incorporating universal design principles and elements into a first-year science course.
The term "universal design" was originally applied to the field of architecture and attributed to Ron Mace, an American architect and founder of the Center for Universal Design in Raleigh, North Carolina. "Universal design seeks to encourage attractive, marketable products that are more usable by everyone. It is designed for the built environment and consumer products for a very broad definition of user."
Within the field of education, Universal Design for Leaning (UDL) is often described as a mindset or guiding principles for curriculum development, intended to better understand the what, how, and why of learning.
"UDL is a framework used to make education more accessible or inclusive of the needs of our students," said Dr. Kari Kumar, Academic Specialist with the Access and Aboriginal Focus Programs at the University of Manitoba. "There are various sets of guidelines that can act like a checklist in terms of how to make your courses more accessible to the needs of your students."
"What we know now, if you make slight adjustments to the curriculum, more people can access the learning," said Dr. Maureen Wideman, University of the Fraser Valley, Office of the Provost. "Students are students – it's the curriculum that's inflexible in its design, and we need to free up our thinking around what it means to learn as well as how people learn."
Principles of UDL
There are three tenets to Universal Design in Learning
Multiple means of representation
Multiple means of expression
Multiple means of engagement
Creating different ways to deliver the content, demonstrate competence, and generate discussion, and sharing this information with the students ahead of time, was the approach used by Dr. Kumar in her four-year program.
The case study looks at the fall academic session of a technology-enhanced, face-to-face health sciences course, RPN to BScN, with 50 students: 45 female and 5 male. This course was designed to provide foundational science background required for subsequent courses within the nursing program. Students were involved in the program evaluation and completion process, choosing the weighting applied to the final exam, project delivery models, and group or individual assignments. At the end of the course, students were invited to participate in the study.
The positive response from the students indicated the UDL approach provided increased flexibility, improved social presence, reduced stress, and enhanced success, and the instructor communicated that she was more engaged through the new approach and discovered new ways to explain core concepts. The development and sharing of multiple resources regarding assessment resulted in a decrease in feedback requirements about course assessment and an increase in the instructor's ability to touch base with her students to gain a clear understanding of how they understood the course material.
Notable Quotes
"3 key points: 1. Support learning, don't penalize errors 2. Social interaction is key 3. Control = freedom = less stress #UDL #BCcampus" @LisaDgnfly [Lisa Lewis]
"This study was conducted to contribute to the growing literature base on UDL in higher education, by exploring how UDL might be practically achieved and how students respond to UDL-inspired course attributes." Dr. Maureen Wideman and Dr. Kari Kumar
Learn More
---
---