On January 23rd, Hewlett Foundation's TJ Bliss will be featured in a livestreamed event: An Open Conversation about Openness in Higher Education. Bliss will be sharing his perspective on the worldwide OER and open textbooks movements, participant perceptions of OER, and examples of effective application of OER in higher education.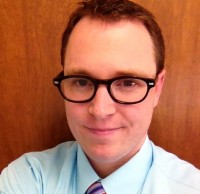 The University of Northern British Columbia will be hosting a livestream event to connect TJ Bliss, Program Officer at the William and Flora Hewlett Foundation, with the people throughout the province interested in Open Educational Resources (OER), such as the Open Textbook project at BCcampus. Bliss will be discussing the projects funded by the Hewlett Foundation, background on the worldwide OER movement, student and faculty perceptions about OER, efforts within the Open Textbook campaign, and examples of open educational practice within higher education.
"Our Centre is a strong advocate for open educational practices," said Grant Potter, UNBC Centre for Teaching, Learning, and Technology. "We look forward to presenting thought-leaders from outside of our local context, willing to share their perspective and message about improving access and opportunities for students globally and locally."
Bliss oversees the Open Educational Resources Portfolio at the Hewlett Foundation, supporting OER-related projects with over $110 million USD in grants since 2001.
Event details:
An Open Conversation about Openness in Higher Education
Presenter: TJ Bliss
Date: January 23rd
Time: 10:30am (PST)
Location: UNBC Livestream. This live event is now over.
Via his blog, Bliss shares, "I advocate for open education because I see how it can break down potential barriers to student success and create opportunities for learning at every level of society in nearly every society on the planet."
Backchannel Chat
To ensure Bliss has the opportunity to answer the questions of the livestream audience, the online seminar has allocated a significant amount of time for questions and answers. Participants are invited to be part of the conversation on twitter via #UNBC. There will be members of UNBC actively watching the twitterstream and presenting questions to Bliss as needed.
Notable Quotes
"Education is not free. Those who want a credential should probably always be expected to pay something for it. But why should they continue to spend money on components of the educational enterprise that no longer cost much at all, like the copying and distribution of educational content?" ~TJ Bliss
"The reasons for switching to an open textbook vary from instructor to instructor, but in every case, the benefits to students have been evident: more and more students are gaining access to, persisting at, and succeeding in college." Grant Potter, UNBC
Learn More
Image source: http://tjbliss.org/wp-content/uploads/2012/08/image-e1378265483700.jpg