On February 23- 24, 2015, 12 Culinary Arts Instructors from across British Columbia gathered at Vancouver Community College to adapt and create questions for the Cook exam bank. Instructors represented the Pacific Culinary Institute, Camosun College, Vancouver Island University, Thompson Rivers University, University of the Fraser Valley, Vancouver Community College, North Island College, and Northern Lights College. The event was organized by Dennis Green of GO2HR, who is working with Amanda Coolidge (BCcampus) in  the creation of  seven Culinary Arts Open Textbooks. The Cook exam bank will be an open educational ancillary resource made available to all Culinary Arts Programmes, in British Columbia and elsewhere.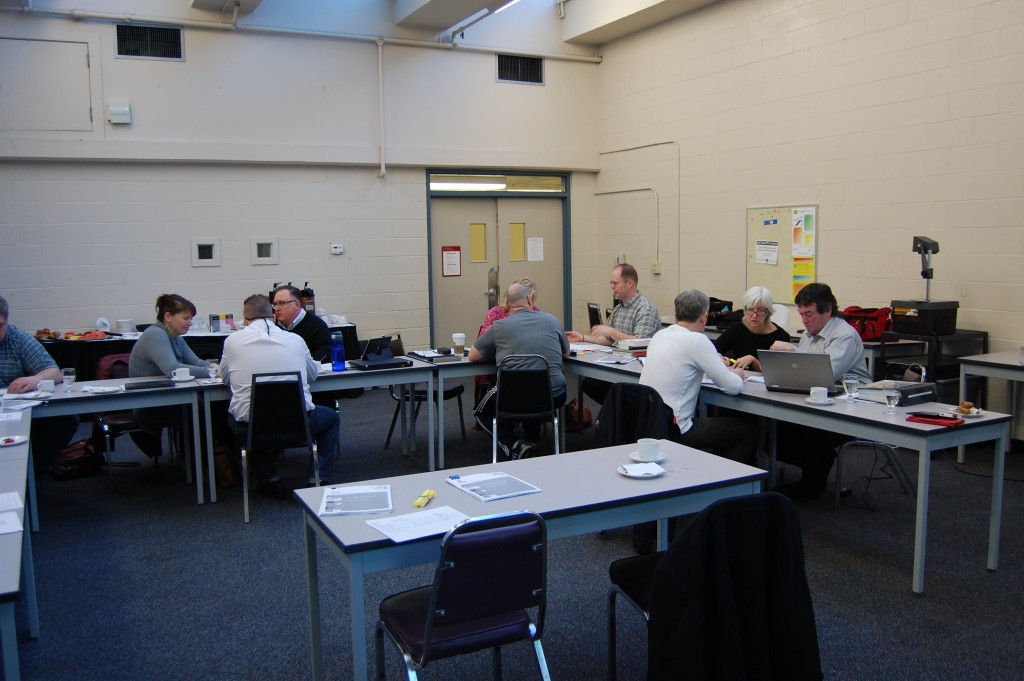 The instructors were divided into four groups of three for the sprint. Each group reviewed, adapted, and created a series of exam questions. Questions for the Cook exam range from Poultry, Seafood, Sauces and Stocks to Baking, Beverages, Meats; and much more. After the first day, instructors had adapted and created 989 questions. And at the end of second day the instructors achieved an incredible adaptation and creation of 2,255 questions for the Cook exam bank.
All of the questions will be imported into Respondus, the exam management system that allows users to import questions into Blackboard, ANGEL, Desire2Learn, Pearson eCollege, Canvas, Moodle, and other learning systems. The questions will also be made available in Word and Rich Text Format (RTF).
BCcampus loves sprinting!
Since May 2014, the BCcampus Open Textbook team has completed three sprints in support of Open Textbooks. It started with the OER Librarian Hackfest where librarians from across BC got together to create a number of Open Educational Resources on finding & using Open Educational Resources.
That was followed by the Geography Open Textbook Sprint where faculty from a number of Geography departments from across BC created a 1st year regional Geography open textbook in just 4 days.
In July, 20 Psychology faculty from post-secondary institutions in BC convened in Chilliwack for the Great Psychology Testbank Sprint. The goal for this group of Psychology instructors was to create a testbank of 1000 multiple choice questions to support the introductory Psychology open textbooks in the BC open textbook collection.