Simon Fraser University's new Bachelor of Environment degree employs an interdisciplinary approach to provide students with a comprehensive understanding of environmental concerns through integrated curriculum, experiential learning courses, and a holistic, ecological perspective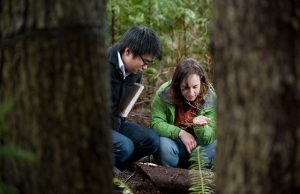 Simon Fraser University has recently begun offering a Bachelor of Environment degree (BEnv), the first new undergraduate credential offered by the institution since 1992. The new BEnv programs were designed through the lens of interdisciplinary study: finding a balance between sciences and social sciences and employing experiential learning approaches, including problem-based curriculum and team projects, to ensure students are prepared to succeed within today's rapidly evolving environmental and sustainability professions.
"The Bachelor of Environment credential began from the idea that environmental issues are complex and interdisciplinary," shared Dan Burns, Manager, Curriculum and Academic Planning within the Faculty of Environment at Simon Fraser University. "We wanted to augment our existing programs with new types of degree programs, going beyond the singular focus by drawing upon a number of departments, within the Faculty of Environment as well as outside of the Faculty, to realize the balance of the biophysical and social sciences and the interdisciplinarity of content within its majors."
What is a BEnv?
The Faculty of Environment (FENV) team consulted with employers, faculty, and students to get a better understanding about the current need within environment and sustainability fields: where are the jobs, what are the current and future challenges, and what can be done to prepare students for a career in these areas? Based on the feedback, the Bachelor of Environment was created.
The BEnv majors are designed to inform and educate the environmental leaders of tomorrow. The core competencies of all BEnv programs include:
The Environmental Sciences
Earth systems
Biology
Ecology
The Social Sciences
The human role in nature
The social and built environments
Stewardship and governance
The global scale
Methodology, Practice and Communication
Quantitative, Geospatial and Qualitative Analysis
Research methods and their application in the field, laboratory, or models
Communicating environmental information on temporal, spatial and comparative scales.
Experience applying knowledge and skills (e.g. capstone courses, field courses)
And will also include additional Graduation Competencies, including:
Complexity and Controversy
Decision Making Methodologies
Systems and Organizational Function and Change
Sustainability concepts and strategies
Beyond the core competencies, students can choose to specialize in one of three majors:
Global Environmental Systems – creating a global scope to explore biophysical and social systems, and develop an understanding of global systems, including climate change, and their consequences.
Environmental Resource Management – building on the capacity of SFU's School of Resource and Environmental Management to focus on resource management and gain a comprehensive understanding of the critical factors behind effective resource management.
Joint Major in Sustainable Business – Collaborating with the Beedie School of Business, this major provides a solid grounding in business and environment and prepares graduates for careers in the private, non-profit, and public sectors, in areas such as green entrepreneurship and innovation, supply chain management, accounting related to environment and sustainability, environmental impact assessment and mitigation, energy and materials management, and management within resource and environmental companies.
Each of the majors includes a capstone course in the senior year, enabling students to bring together the skills and knowledge they've acquired over the four-year program.
Why use an interdisciplinary approach?
One of the criticisms of broad environmental programs has been that knowledge is spread too thinly, and often doesn't provide an analytical approach to solve the current issues.
"The trick is in balancing the depth and breadth of the programs – providing students with sufficient knowledge to bring something to the table for their future employer, while having enough context to ensure a good understanding of complex environment issues," said Mr. Burns. "Employers consulted were not looking for students with only an unfocused environmental background, they're looking for learners who have analytical tools and an understanding of environmental processes and the social, political, and institutional frameworks in which environmental issues are considered."
Notable Quotes
"When we spoke to organizations about how to entrench sustainability within their companies, we talked very often about it being a portfolio of activities in the same way that companies need to look at their portfolio of products and services they offer or the portfolio of risks they have as an organization." ~Dr. Stephanie Bertels, FENV: Building Corporate Cultures that Support Sustainability
"The perfect synergy arrives when we weave together a variety of different subjects to create interdisciplinary learning. This approach is more effective and an intrinsic part of a quality environmental education program." ~Jason Morris, naturebridge.org
"In environmental research, broad interdisciplinarity usually means interaction across the more deeply-rooted conceptual and cultural boundaries between the districts of natural and social/human sciences. It is evident that the distance between the participating fields has a profound effect on the nature of interaction." ~ Huutoniemi, K. (2010): "Interdisciplinary environmental research." Frameworks for Interdisciplinary Environmental Analysis (FIDEA), Helsinki. www.fidea.fi
Learn More