Just one year after initially exploring the possibilities of greater collaboration and resource sharing through the formation of a group of leaders, the British Columbia Teaching and Learning Council (BC-TLC) Executive will hold its first General Meeting early this June.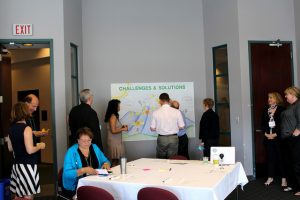 In March 2015, a call for nominations went out to the BC-TLC membership. Responses indicated an election was unnecessary and the following individuals were elected by acclamation for the Council's first year.
Co-Chairs: Stephanie Chu (Simon Fraser University), Liesel Knaack (Vancouver Island University),
Chair-Elect: Susie Findlay (Vancouver Community College)
Past-Chair: Peter Arthur (University of British Columbia – Okanagan)
The BC-TLC defines its mission and purpose as: "A community of leaders from British Columbia's public post-secondary education system with a mission to provide local, provincial and national leadership on issues, challenges and directions around teaching, learning technologies, scholarly practice, student learning, and related topics to facilitate the enhancement of high quality teaching and learning cultures across the BC system."
How the BC-TLC was formed
In June 2014, BCcampus held a one-day Leadership Summit at Simon Fraser University Harbour Centre, bringing together 20 leaders of BC's Teaching Learning and Technology centres. There was strong support for the initiative and by October of 2014, an eight member Ad Hoc Governance Committee of volunteer leaders from across BC's publicly funded post-secondary institutions, had completed a draft of the BC-TLC Constitution. The committee members were: Maureen Wideman UFV, Theresa Southam Selkirk, Stephanie Chu SFU, Liesel Knaack VIU, Heather Smith UNBC, Peter Arthur UBC, Teresa Dawson UVIC, and Grant Gregson ECU.
In February 2015 the BC-TLC membership was confirmed and in March 2015 the Executive officers were elected. Their first General Meeting is early this June.
Notable Quotes
"We are grateful for the commitment of these individuals to provide leadership in this inaugural year. Among them, we have representation from colleges and universities, members of RUC-BC, BCAIU, and BC Colleges, as well as some geographic diversity of our province: the lower mainland, Vancouver Island, and the Interior/Okanagan. Combined with the fact that the BC-TLC membership comes from all publicly-funded post-secondary institutions appointed by your Vice Presidents, Academic (or equivalent), we are confident and excited about the potential of this group to advance teaching, learning, and learning technologies in the province." Tracy Kelly Manager, Professional Learning BCcampus
"BCcampus provided excellent support to the nomination process and it was the enabling support to get the new council off the ground. The ad-hoc committee established the momentum, and BCcampus' coordination and resources ensured that the process moved along. They helped the process be transparent and efficient and inclusive of the whole TLC community." Sybil Harrison, Director Learning Services, Camosun College
Learn More