The Open Textbook Project is contributing to the development of an open future by making higher education resources accessible and affordable.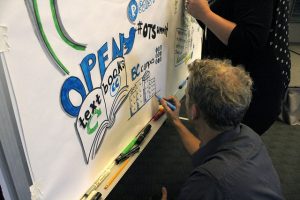 It was October 2012 when the BC Ministry of Advanced Education first announced its support for the creation of the open textbook project. Today we have 146 adoptions of open textbooks that are being used throughout 14 institutions in BC.
The resulting student savings on textbooks is between $475 K and – $700 K. The Open Textbook Project, coordinated by BCcampus, provides flexible and affordable access to higher education resources in B.C. Open digital version textbooks are available free for use by both B.C. faculty and students. Printed copies are also available at a low cost. The project's Accessibility Toolkit ensures textbooks are accessible to students with disabilities.
Open Textbook Summit
Two and one half years after its creation, the Open Textbook Project is inviting faculty, students, librarians, government officials, and policy makers, to participate in the 3rd Open Textbook Summit.
The Open Textbook Summit will be held May 28-29 2015 at Simon Fraser University – Harbour Centre, Fletcher Challenge Canada Theatre in Vancouver, BC.
Registration closes May 14, 2015.
Notable Quotes:
"I am thrilled to see the diversity and quality of the presentations for the Summit this year. It will be an excellent opportunity for anyone who wants to learn more about Open Textbooks from faculty and students actively participating in this innovative way of enabling learning." Mary Burgess
"In just a few short years, the Open Textbook Summit has become globally recognized as one of the key events to attend for open educators. One of the pieces I am most excited about is the student keynote panel on day two featuring three of the most articulate student open textbook advocates in Western Canada." Clint Lalonde
Learn More: