BCcampus is hosting the 3rd Annual Open Textbook summit in Vancouver, B.C., this month and plans to attend another in Santa Fe, New Mexico in June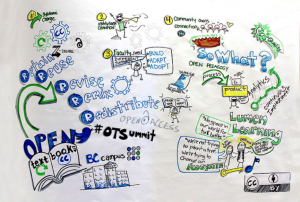 The summer of summits is underway, with our 3rd Annual Open Textbook Summit scheduled for May 28th – 29th, 2015, in Vancouver, and the WCET Connect Leadership Summit planned for June 10th – 11th in Santa Fe, New Mexico.
WCET Connect Leadership Summit
This year's WCET Leadership Summit, Adaptive Learning in Higher Ed: Improving Outcomes Dynamically, will build on topics from previous events, focusing on competencies, data analytics and digital content. The event, held in Santa Fe, New Mexico, will challenge attendees to learn more about selecting and applying an adaptive learning approach for remedial, undergraduate, graduate, and professional education environments.
Scheduled topics include:
Using Adaptive Learning to Improve Outcomes
Policies, Structures, Business Models, and more
True Innovation in Postsecondary education
In addition to the scheduled presentations, there are a number of small group conversations and concurrent sessions, such as:
The Provost's Perspective: Another Technology Innovation?
Kill the Lecture, Engage Students, and See the Results
Institutional Models for Developing, Supporting, and Evaluating Adaptive Learning
Early bird registration is available until May 18th
We'll publish a follow-up article after the summit to share our experiences at the conference and the other attendees.
3rd Annual Open Textbook Summit
The Open Textbook Summit will bring together leaders in the Open Textbook field, including the faculty who are reviewing, adopting, and developing Open Textbooks, student advocates working towards increased adoption, librarians, administrators, government officials, and policy staff.
There will be a series of 30-minute sessions focusing on:
Faculty experiences with open textbooks
Student advocates
Peer review
Research initiatives
Innovative pedagogical activities
And more.
Registration closes on May 25th, so if you don't have your tickets yet – act quickly.
Follow #OTSummit to keep up with the conversation.