The BEST program at Camosun College's School of Access is a major stepping-stone for those who are making career transitions of every kind.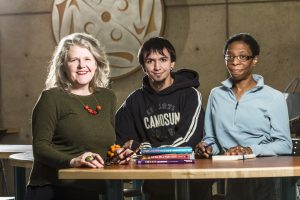 Adopted 40 years ago from Vancouver Community College BEST, a province-wide program, continues to offer its eight-week session four times a year with 20 students in each class. In addition, BEST modules are taught at different community learning partnership locations in the Greater Victoria district. BEST provides adult learners guidance in finding their path not only to education but also to work and life.
We had the pleasure of speaking with Diane Gilliland, an instructor of the Camosun College BEST program. With a Masters degree in Educational Psychology and Counseling and ten years with Bridges Employment Training for Women, she is well positioned to support the students in her program. A warm and personable woman, Diane Gilliland is passionate about access to education and building a civil society and loves working in an environment that believes in these goals.
She is also tremendously inspired by her students. "I admire the courage of our students coming to classes and taking that chance to meet with others with similar goals and dreams," said Ms Gilliland. "I love to see how students transform their lives."
There is a remarkable diversity among applicants to the BEST program. Learners include those who haven't had the opportunity to finish high school through to graduates of post secondary institutions. Indigenous people, parents returning to work when their children have grown up and left home, newcomers to Canada, people referred through social service agencies, people in recovery and word of mouth referrals among neighbours and families – some of whom enroll together – the BEST program is accessible to everyone.
This widely diverse group of students works with each other in a class of twenty. We asked Diane Gilliland about that dynamic. "The common humanity among our students is that they are in transition – life transition, and they are coming together and working together for the same reasons," she said.
"There is a strong social element to learning and students get to know each other well and inspire each other in this environment. Our focus is on respectful teamwork, career research, strengthening communication skills, life long learning and innovative work search strategies. Overall, we are working together and building skills like listening and learning to have respect for each other."
Ms Gilliland spoke about the environment and culture at Camosun. "Camosun College core values are about building community that contributes to a full and healthy life and a strong province too. It's a warm and friendly environment where people get to know each other."
"Approximately one third of the Camosun College graduates come through the School of Access," she added, "and BEST brings people from all stations in life together with the goal of building a civil society."
BEST is an upbeat program that supports different learning styles, respects students' life experience and knowledge and strengthens personal leadership in navigating career – life transitions. Graduates transform their lives in inspiring ways moving, for example, from retail to engineering, from full-time parenting to accounting, from addiction recovery to heavy-duty mechanics and international business development.
"BEST is a program that works." Linda Edmonds, retired BEST instructor
Notable Quotes
"Approximately one third of the Camosun College graduates come through the School of Access and BEST brings people from all stations in life together with the goal of building a civil society." Diane Gilliland, BEST Instructor
"BEST is a program that works." Linda Edmonds, retired BEST instructor
Learn More
Image attribution: BEST students at Camosun by Camosun College Audio Visual