The 12th annual Open Education Conference is co-presented by BCcampus and Lumen Learning. This is the 3rd time that the Open Education Conference has been held in Vancouver, B.C., and this year it will convene at the historic Fairmont Hotel Vancouver.
At the 2012 Open Education Conference, the B.C. Minister of Advanced Education announced the launch of the B.C. Open Textbook Project
An initiative that has saved B.C. students over 1 million dollars to date.
Keynotes are better in 2s
This year's keynote addresses will come in pairs. These paired keynotes will provide a range of perspectives on timely topics of critical importance to the field of Open Education.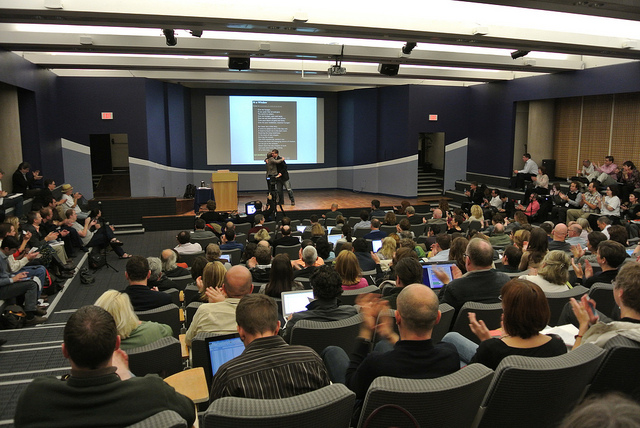 Keynote Pairing 1: Openness and the Future of Post-Secondary Education:
• Michael Feldstein is an educational technology consultant and a lifelong educator.
• Phil Hill is an educational technology consultant and analyst who has spent the last 10 years advising in online education and educational technology markets.
Phil Hill and Michael Feldstein will analyze the use of technology in Higher Education, share predictions for current trends, and the future direction of Open Education.
Keynote Pairing 2: Supporting Open Textbook Adoption in British Columbia:
• Mary Burgess is the Executive Director of BCcampus, an organization that supports the work of the BC post-secondary system in the areas of teaching, learning and educational technology.
• David Porter is Associate Vice-President – Education Support and Innovation, BCIT.
Our current and past Executive Directors are pairing up to revisit the history of OER in BC, the current state, and where things need to go from here.
Keeping accessibility top of mind
Accessibility is at the forefront of this year's conference and we have an assortment of presentations and workstations set up to showcase inclusive design and accessibility. Working together with the Center for Applied Special Technology (CAST), the Centre for Accessible Post-Secondary Resources (CAPER-BC), and the Inclusive Design Research Centre (IDRC), we will be presenting the BC Open Textbook Accessibility Toolkit as well as allowing participants to engage with a variety of assistive technologies to user test their own open educational materials.
"The open education community has a mandate to ensure that all students have access to education and we want to ensure that we are truly making educational materials that are ACCESSIBLE to ALL students."- Amanda Coolidge, Senior Manager, Open Education
Engaging in the digital world
Knowing that not everyone can attend this year's conference, we've set up tools and opportunities for you to connect from wherever you are. Virtual participation will be encouraged through Google Hangouts, directly after the keynote addresses where you will have 15 minutes to ask the keynotes a question. Also, the BCOER Librarians plan to do some post session interviews using Periscope with presenters from the OpenEd15 library stream.
Keep your eyes on our social media channels for more of the activities we have planned during #OpenEd15.
Registration reminder
The numbers that we saw for the Early Bird registration were incredible, with 331 folks registering before the deadline and we wanted to say thank you. For those of you who haven't registered yet, don't worry, there is still time. Speakers, that includes you – Please remember to purchase your tickets before they sell out!
Don't forget to book a room at the beautiful Fairmont Hotel Vancouver at the special #OpenEd15 rate online.
Things to do in Vancouver
Vancouver consistently ranks as one the most beautiful cities in the world, and scores an A+ as one of the best places in North America (and for good reason too!). From the friendly people to the world-class food, shopping, and mild climate – there are countless reasons why people flock here by the dozens. With all this in mind, it can be a bit overwhelming when trying to decide where to eat and drink, which is why we've come up with a list of tried and true favourites, from a few helpful locals. Bon Appétit!
Find out more about #OpenEd15:
---
Join us at an upcoming event:
---
---