We are thrilled to see – and support – the adoption of Liberating Structures among our colleagues in B.C. higher education.  At BCcampus, we are also using Liberating Structures to support conversations, collaboration, and innovation within our organization.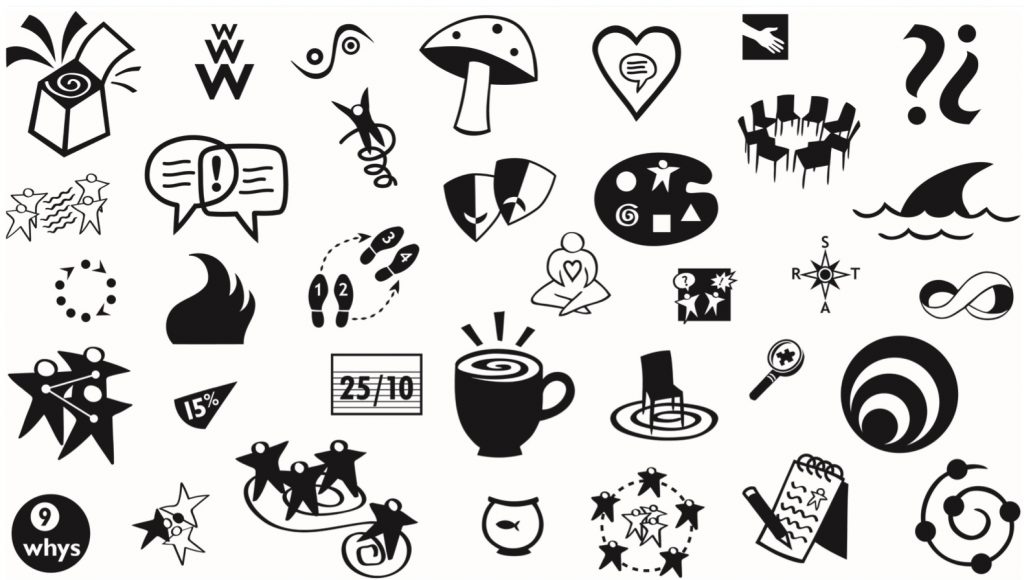 Back in 2013, (thanks to Nancy White ) we discovered these powerful approaches to facilitation. Then in early 2015, we supported some of our staff to attend a Liberating Structures intensive with LS co-founder Keith McCandless as professional development. We were so excited about the power and simplicity of these methods, we hosted an intensive with LS co-founder Keith McCandless as professional development. We were so excited about the power and simplicity of these methods, we hosted a two-and-a-half-day intensive for members of the B.C. higher education community in early 2016.
Now, we regularly use Liberating Structures internally to support team conversations, planning, and processes. We have monthly conversations across the organization, which provides a regular venue for our staff to practice facilitating with Liberating Structures on topics that matter to us.
Liberating Structures are about "unleashing and including everyone".  This is a powerful and important idea for us as an organization, for our colleagues in the system and for students in classrooms.  We are pursuing ways to support all of them.
Notable quotes
"Openness is a core value for us at BCcampus. By sharing our work and using the work generously shared by others, we are part of the construction of a broader knowledge base that supports learning and teaching in B.C. and in other jurisdictions." – Mary Burgess, Executive Director, BCcampus 

"Liberating Structures is a powerful approach to engaging with teams, and having access to all of the tools through the Liberating Structures website enables us along with our colleagues in B.C.'s post-secondary system to continue with open practice and sharing." – Denise Goudy, Director, BCcampus
We invite you to join us on Tuesday, June 7 for a series of Liberating Structures sessions at the Festival of Learning.  In these sessions, you will experience a number of Liberating Structures and learn how to choose, facilitate, and sequence them for your individual facilitation challenges and contexts.
Whether you are new or experienced with Liberating Structures, we promise you a fun and active day of learning with folks from various institutions and roles who share an interest in adding impactful facilitation tools to our toolkits.
In addition to the workshops, we hope to simply create a space for Liberating Structures practitioners and enthusiasts to connect with each other, share lessons learned and build our network so we can give and get help from each other going forward.
Want to learn more about Liberating Structures and how you can implement them in your classrooms, presentations, and life?
On Tuesday, June 7, join us for 1, 2 or all four sessions at the Festival of Learning:
All of these sessions are limited to 60 participants, so please get there early to secure your seat.
→ Register today for the Festival of Learning
Learn more:
---
Join us at an upcoming event:
---
Stay informed with BCcampus by signing up for our newsletter, visiting our calendar and following @BCcampus on Twitter.
---