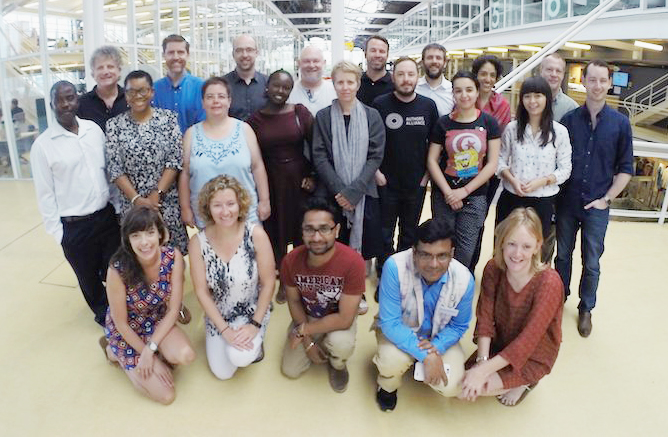 Earlier this year, Daniel DeMarte of Tidewater Community College and Amanda Coolidge of BCcampus attended the Institute for Open Leadership in Cape Town, South Africa. The Institute, developed by Creative Commons, is an opportunity to train new leaders in education, science, and public policy fields on the values and implementation of openness in licensing, policies, and practices. It was at this Institute that Daniel and Amanda began the development of a tool to generate open educational resource policies at colleges and universities.
We are incredibly pleased to introduce the OER Policy Development Tool. The purpose of the OER Policy Development Tool is to promote the use of OER and scale efforts to full OER programs. It is written primarily for governance officials at public two-year colleges in the U.S. and colleges and universities in Canada. The contents of the policy guide are not intended to be prescriptive; contents are intended to be adapted for use according to a college's culture. The OER Policy Development Tool is organized into three sections including:
The components of the OER policy section include the following topics that we think decision-makers should consider when developing an institutional OER policy, or when integrating these components into an existing institutional policy:
OER Purpose
OER Policy Statement
Intellectual Property and Licensing OER Content
OER Procedures and Responsibilities
OER Training and Professional Development
OER Course Design
OER Content Development
Sharing OER Content
OER Technical Format
OER Sustainability (college-wide capacity, funding model, tenure)
OER Quality Assurance
For each component, we provide an explanation of why the component is needed, sample policy statements, sample resources, and a recommended action checklist.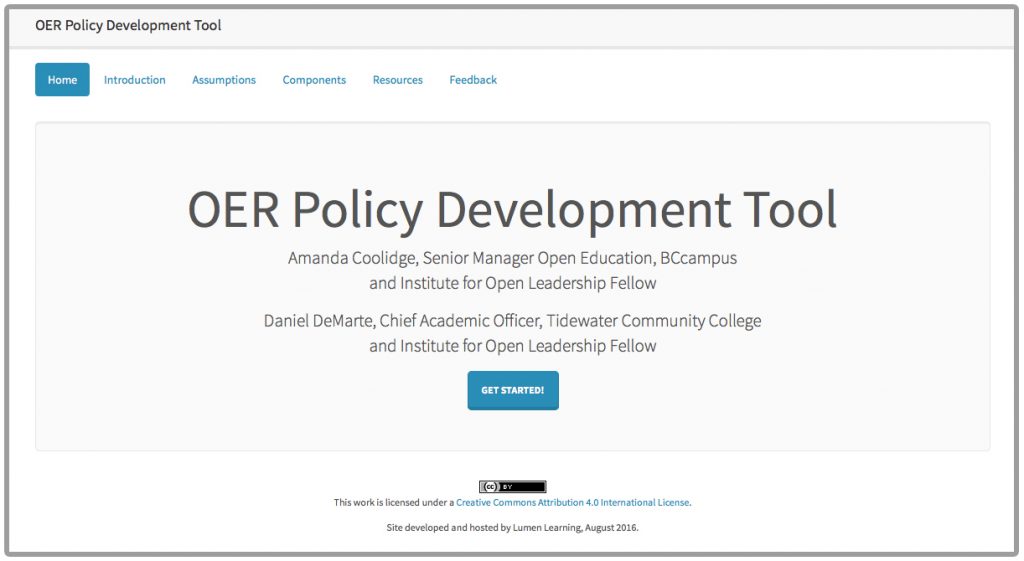 "I believe one reason why we are not seeing the full potential of OER is because our CEO's and governance officials are not engaged. An OER Policy is the simplest way for our leaders to demonstrate their support; the OER Policy Development Tool is designed for this purpose." – Daniel DeMarte, Vice President for Academics Affairs & Chief Academic Officer,Tidewater Community College
"Faculty, staff, and students at B.C. post-secondary institutions are making great strides in developing open educational materials, so much so that we have seen a nearly $2 million savings for students as a result of using OER in classrooms across the Province. To ensure the sustainability and continual support of OER it is important that administrators are well versed in OER strategy and more importantly on open policy development. By co-developing the OER Policy Guide, I'm able to help B.C. administrators understand what OER policy is, how to write an OER policy statement, and how to implement an OER policy to ensure effective change in their institution in support of Open Education." Amanda Coolidge, Senior Manager, Open Education, BCcampus
Please stay tuned for continued updates on the status of the OER policy guide by subscribing to the BCcampus newsletter and following us on Twitter, LinkedIn and Facebook.
---
If you are an administrator at a post-secondary institution, please join us for:
The Open Education Strategy Forum for Administrators 
When: October 6, 2016, from 10:00 am – 3:00 pm
Where: BCIT Atrium
Presenters: Amanda Coolidge and Rosario Passos, BCcampus, Cable Green, Creative Commons and Daniel DeMarte, Tidewater Community College
Pre-registration is required: https://goo.gl/forms/AB7AdR89tUeUK9Ro2