Information technology is changing the way health care professionals collect, manage, and act on patient information. Electronic health records (EHR) systems are now used throughout health care environments to make patient care decisions. Post-secondary students studying in disciplines such as nursing, pharmacy, and medicine need to develop competencies with EHR systems to be effective in their workplaces.
Post by Dave Shaykewich, Manager, DevOps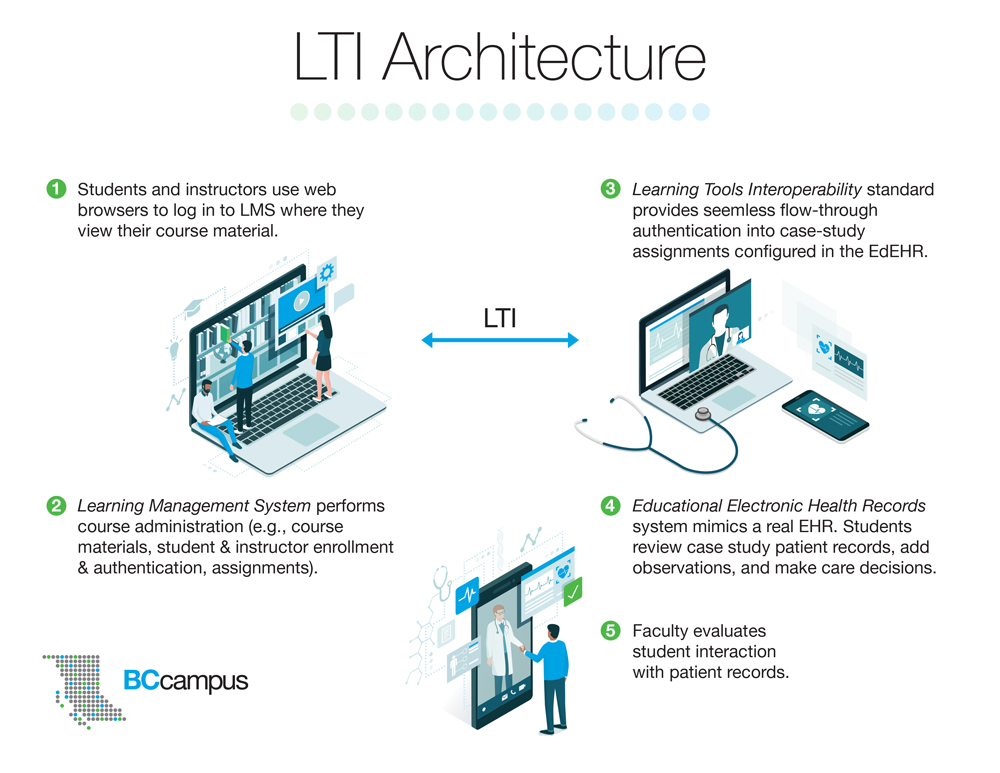 Between 2014-2018, a group of engaged faculty and staff from across B.C. institutions researched opportunities for building these competencies. A 2018 environmental scan report recommended the development of an open-source, student-focused Educational Electronic Health Record (EdEHR) system.
A project steering committee that includes members from the Ministry of Advanced Education, Skills & Training, the Ministry of Health, faculty representing diverse health care disciplines, and BCcampus is leading a project to produce and test an EdEHR prototype for use in B.C. post-secondary institutions.
Guided by project goals, the implementation team has developed a technical architecture for an open-source product that leverages learning management systems.
Open Source
To meet the goal that the tool may be further developed, customized, and freely shared, the team is applying an 'Open' license to the code. Institutions and instructors will be free to adopt and adapt the system in ways that meet their needs.
Leveraging Learning Management Systems
With a mind to the EdEHR being deployed in B.C. post-secondary learning environments, the EdEHR is built to delegate course administration tasks to learning management systems (LMS). Post-secondary institutions in B.C. use a variety of LMSs to administer, enrol, track, report, and deliver course materials to students. The EdEHR leverages the Learning Tools Interoperability (LTI) standard to integrate with LMS courseware.
The LTI standard opens up the EdEHR learning tool to any LMS that supports the LTI standard. Douglas College uses Blackboard, UBC uses Canvas, BCIT uses Desire2Learn, and UVic uses Moodle; each school can connect their LMS courses to assignments in the EdEHR.
The LTI standard allows for many post-pilot operational deployment options:
Single LMS, single EdEHR. One institution could host the EdEHR ecosystem for the whole province by deploying and administering an LMS and the EdEHR for students from all institutions.
Single EdEHR, distributed LMSs. One institution could host the EdEHR and allow each institution to connect via its own, self-administered LMS.
Distributed EdEHR, distributed LMSs. Each institution hosts its own instance of the EdEHR and LMS.
EdEHR Pilot Testing
BCcampus will coordinate the pilot testing of the prototype EdEHR system in Spring 2019. It will be tested with instructors and students representing four target disciplines including nursing, pharmaceutical, allied health, and physicians. The testing will be configured such that students and instructors will use the tool as they might in a classroom or simulation lab: instructors will deliver a lesson plan, students will complete assigned work in the tool, and the instructor will evaluate their submissions.
Informed by the pilot testing, BCcampus will develop a planning document outlining options for long-term hosting and operation of the system. The sustainability report will outline options and recommendations for system hosting, operation, governance, maintenance, and feature development.