Canadian fans of OpenStax's hard-bound books no longer need to worry about international shipping and duty fees; OpenStax print textbooks are now for sale in Canada.
Post by Lauri Aesoph, Manager, Open Education [original date: Oct. 18, 2019] updated Jan. 14, 2020.
Thanks to a partnership between Vretta, a Toronto-based education technology company, and OpenStax, a Rice University-based nonprofit that publishes openly licensed college textbooks, print copies of OpenStax books will now officially be distributed in Canada. Canadian instructors and students who use OpenStax textbooks–and the bookstores that stock them–can now order these high-quality, full colour textbooks more easily, faster, and for less money through Vretta's order form page. Prices (in Canadian dollars) are posted on the page, and bookstores – and others – that order 10 textbooks or more receive a 20% discount.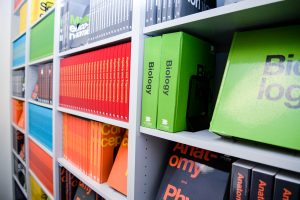 Like other open textbooks, OpenStax books are still free online through the B.C. Open Textbook Collection or directly from the OpenStax catalogue.
Update
Two more options are now available for anyone in Canada wishing to buy a hard-back copy of an OpenStax open textbook. In addition to the Vretta order form page, these books are now available through Amazon Canada either by going directly to Amazon.ca (look for Vretta as the distributor) or by visiting individual OpenStax books posted in the B.C. Open Textbook Collection. These hard-cover books are available for 13 of the 33 OpenStax textbooks posted in the B.C. collection. Since October, faculty and post-secondary bookstores in British Columbia and across Canada have purchased 20% of Vretta's initial OpenStax inventory. A refund policy has also been posted to the Vretta ordering page.
"Vretta is proud to deliver OpenStax hardcover textbooks across Canada. The initial response has been nothing short of great and it is very encouraging to know that there is a real demand for these resources. As demand continues to grow, we will strive to ensure that we meet the needs of students and institutions by continuing to restock our shelves with various titles." says Shoeb Mozammel, Account Manager for Vretta.
BCcampus and Vretta continue to meet monthly to oversee this endeavour. Feedback and questions are welcome at opentext@bccampus.ca.
Learn more: