In response to requests for online learning materials to provide students with practical experience without sacrificing personal safety, BCcampus has curated a substantial list of free resources designed to support remote science education.
Post by BCcampus' editorial team
The migration to online learning in the era of COVID-19 had some bumpy patches, but overall, students and educators across the province did a remarkable job of adapting to an online learning environment. As institutions plan for the fall intake, inquiring minds are looking for ways to bring practical experience to the online classroom. We saw this as an opportunity to bring more value to the learning community and compiled a list of resources offering alternatives to face-to-face labs.
A Starting Point
We began by collecting and collating a list of online resources and virtual labs organized by discipline, then shared via a Google Doc to allow for simultaneous edits.
"I started compiling the list based on repositories shared by some of my colleagues," explained Arianna Cheveldave, coordinator, open education at BCcampus. "My goal was to create a list with as many resources as possible, so the subject matter experts could pick and choose the labs that best fit their needs. We sent a call out to the British Columbia Council on Admissions and Transfer (BCCAT) to share with their articulation committees, and their response and contributions were indispensable."
"Arianna did a brilliant job of compiling the information," shared Mary Burgess, executive director at BCcampus. "We quickly learned that there are many options available, and because we lack the expertise to effectively evaluate the online and virtual labs ourselves, we invited local educators to rank and review our findings, helping us pare down the massive collection into manageable components. The response was phenomenal, and the results are fantastic."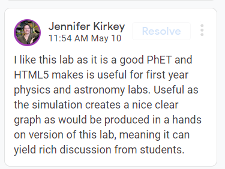 Peer Review
We asked the reviewers to look at the resources within their specialty to see if the material was appropriate for students in B.C. and to identify the resources they liked and might use.
"It was clear that the people who gathered these resources did an amazing job of scouring the internet to find them," shared Derek Turner, an instructor at Douglas College. "I was able to go through the list to see what would be a good fit for my discipline, earth sciences. While few were a perfect match, many from other disciplines were highly applicable, allowing students to play with little nuggets of ideas to form a better understanding of our field."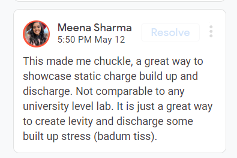 "This wasn't about creating new resources," said Derek. "It's about finding and organizing what's available to give instructors a starting point to create a learning experience."
Having the materials reviewed by local educators helped ensure the content is relevant and applicable.
"Many of the resources online were created in the U.S. or developed for a particular jurisdiction," explained Mike Winsemann, BCCAT director of transfer and technology. "Getting feedback from people teaching here in B.C. was important, so local instructors can have confidence in the recommendations."
Adoption and Adaptation
"It will be great to see instructors pick up these labs and resources and use them in their classrooms," said Mike. "All of the resources are free, and most have a CC BY licence, which means instructors can modify them to fit their particular context. Wherever possible, if you can offer these labs and resources online, we'd love to see them used for the benefit of students."
The Virtual Lab and Science Resource Directory is now available, featuring virtual labs and online activities for:
Biology
Chemistry
Earth Science
Engineering
Environmental Science
Math
Physics and Astronomy
Each resource includes a brief description and a direct link to the material. Openly licensed resources are noted with their licensing information linked.
Notable Quotes
"While some institutions are doing a great job of configuring their on-campus labs to ensure there's sufficient space between learners, their efforts are jeopardized as soon as the students leave the labs and enter the crowded hallways. Maintaining smaller class sizes in the lab isn't a foolproof solution. Online labs provide a safe and valuable learning experience."


—Mary Burgess, executive director, BCcampus
"The key purpose that BCcampus and BCCAT are driving toward is minimizing the amount of disruption to student learning. It's important for our organizations to work together, acting as a conduit and gateway to the institutions so they know that they can come to us if they have questions, and we can make sure students are treated equitably."


—Mike Winsemann, director, transfer and technology, British Columbia Council on Admissions and Transfer
Learn More: