Beyond printing: A practical approach to PoD services that logs open education on campus and improves student accessibility
By Lauri Aesoph, Manager, Open Education
Most open textbooks are available online or in other digital formats. However, there are times when a student or instructor needs or wants a printed version. There are times when screen-only reading creates a barrier, and the printed page is the window to learning.
The newly expanded and completed BCcampus Open Education Print-on-Demand Guide provides an overview for post-secondary institutions interested in offering on-demand and pre-order printing services for open textbooks. Print on demand (PoD) is a service or process by which individual copies of a textbook or other OER can be printed upon request.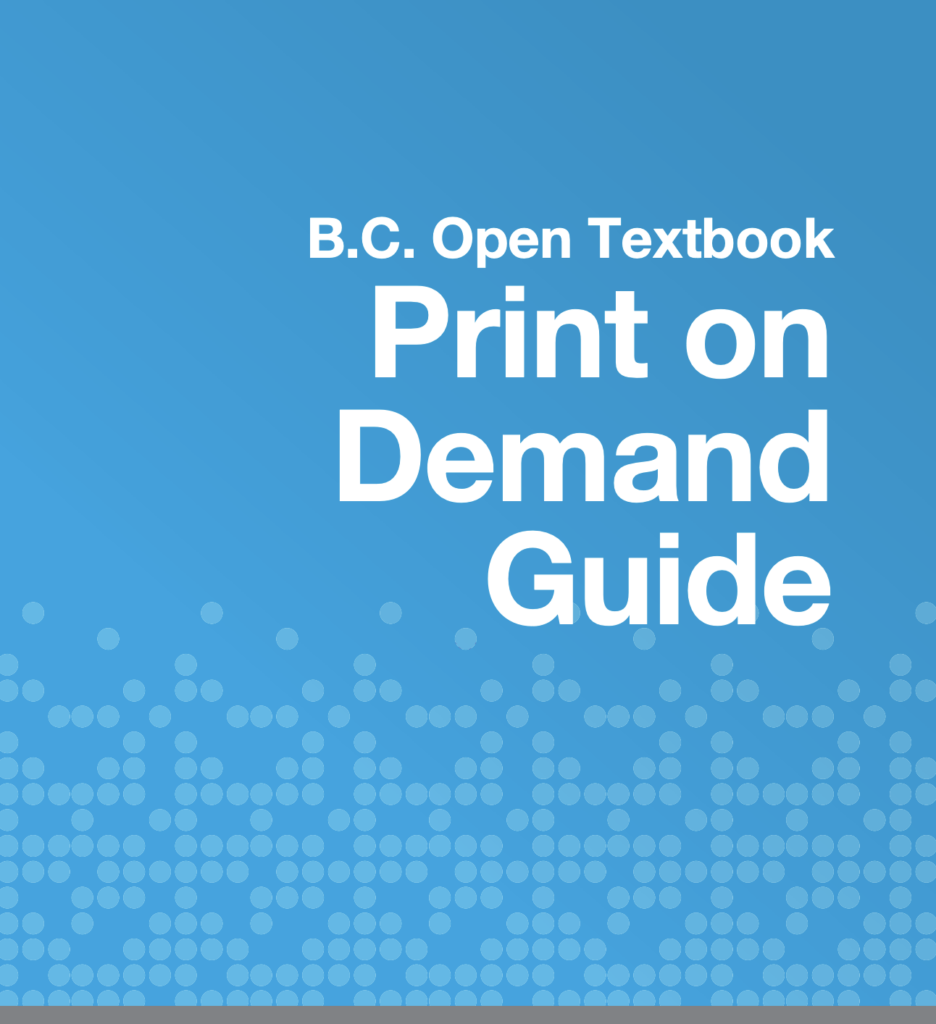 While the newly updated Print-on-Demand Guide can be used as an instruction manual for setting up a print-on-demand service, its emphasis on broad institutional participation during evaluation also makes it a tool for taking inventory of open educational activity and interest on campus.
This guide, laid out in four parts, begins by describing the history behind print on demand and explaining why open textbooks are ideal print candidates for instructors interested in customizable classrooms. It describes how open textbook permissions allow copies to be made and legalizes their sale. NonCommercial (CC BY-NC) licences are also covered.
The second section contains situations in which the printing of open textbooks is warranted, such as personal preference, limited computer and internet availability, learning needs, literacy, and accessibility. The third part looks at the benefits of an on-campus print-on-demand service, and the fourth includes suggestions, considerations, and templates that can be used to set up this service.
Chapter content in the Print-on-Demand Guide incorporates research, real-life examples, input from B.C. post-secondary representatives who answered a print-on-demand survey designed for this guide, and quotes from bookstores, printshops, and libraries across the province.