The Pulling Together Fall Indigenous Series was a six-week BCcampus workshop that took place from October 1 to November 5. Facilitators Jewell Gillies and Marlene Erickson led this journey, which was deeply rooted in traditional Indigenous knowledge transfer: the power of storytelling. The series invited participants to take up the paddle and travel along with Chetwood, Kahkah, Leloo, and Sammon: four modules found in the Leaders and Administrators Guide of the Pulling Together handbook, which was a guiding resource for this workshop series. During the sessions, participants were encouraged to embrace reconciliation and create equitable space for Indigenous peoples in educational institutions by examining their own roles in the post-secondary sphere and particular ways of gathering knowledge and sharing it within their communities.
Post by Jaime Caldwell, coordinator, marketing and communications at BCcampus
Michelle Buchholz, a graphic recorder of Wet'suwet'en heritage, was brought in to witness the synchronous sessions and capture visually the key concepts, themes, and challenges that stood out week to week. The resulting images are equally stunning, engaging, and thought provoking. The illustrations were well received by participants, who described the artwork as "enlightening," "reflective learning at its best," and "invaluable, as it allowed me to see our discussions in a different way, especially when reflecting on conversations from the previous week." Each recording tells its own story, pulling the viewer in, and connecting them on a deeper level with the emotion felt during the series.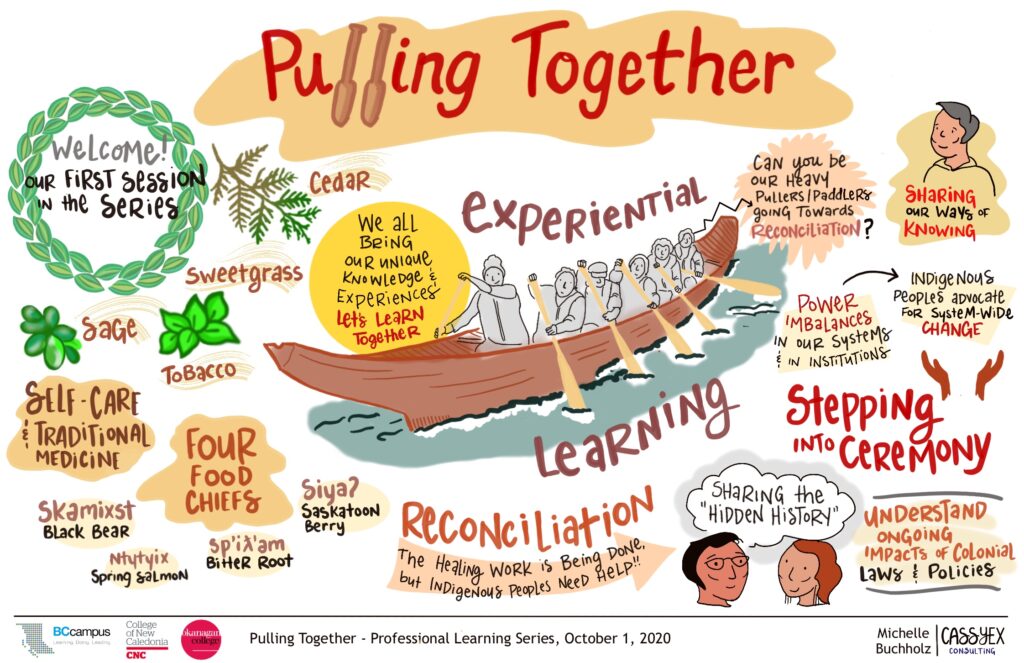 "We wanted to really draw people's hearts and minds into a conversation, a dialogue," said Marlene Erickson. "The participants' willingness to put aside traditional notions of education systems and immerse themselves in Indigenous history, ways of knowing, and learning was heartwarming and exceptional. Michelle's illustrations were beautiful and one of the best examples of Indigenous methodologies."
The connection between the head and the heart is touched on in Jewell Gillies' takeaway on the series.
"I was absolutely blown away by the response from our participants in this series," Jewell said, "the number of folx who were interested in attending and the level of engagement we had during the six weeks was unexpected. Historically, the Indigenous perspective … has never been properly acknowledged or respected. When we look at colonial systems of education, we think of colonial validation systems — can it be objectively critiqued and analyzed and proven true by a colonial framework?
"With this series, we moved entirely away from that system of knowledge transfer. Instead, we stepped into ceremony, and with no objection, each participant stepped into that ceremony with us. It was with deep emotions that we concluded our series: there were more than a few tears shed by many folx in our last session, and conversations had already begun amongst the participants on how to keep this momentum going, how to collaborate as a community to move the needle on the Indigenization scale in the right direction for all of their respective institutions."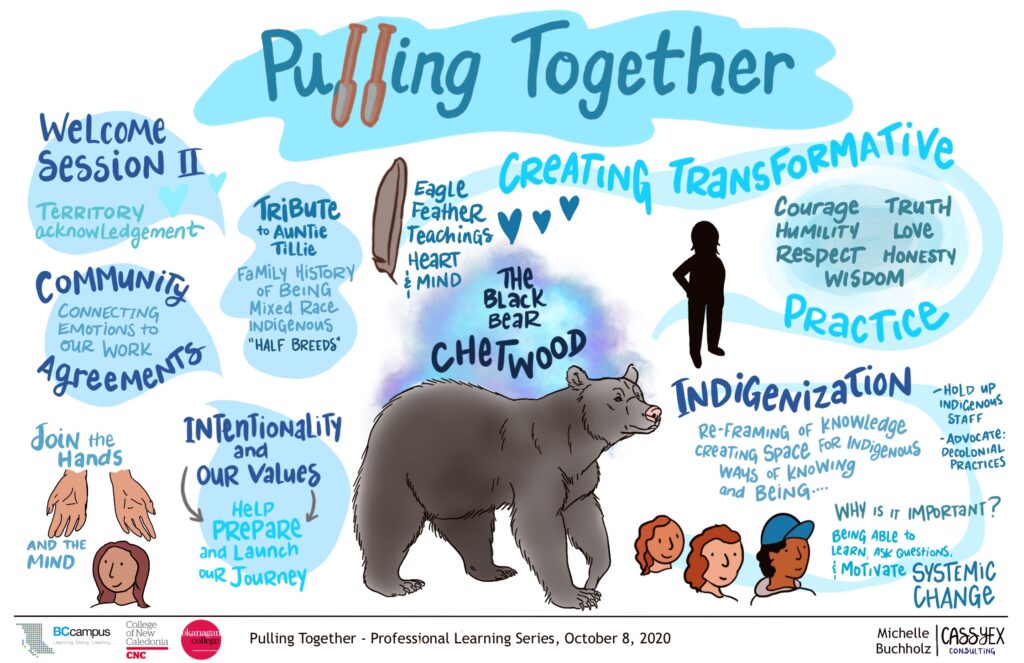 The expectation of trust and emotional vulnerability afforded by the facilitators resonated with several participants. One participant reflected, "I loved that we were able to learn from one another, make mistakes, and really share. The vulnerable leadership of Jewell and Marlene was exceptional."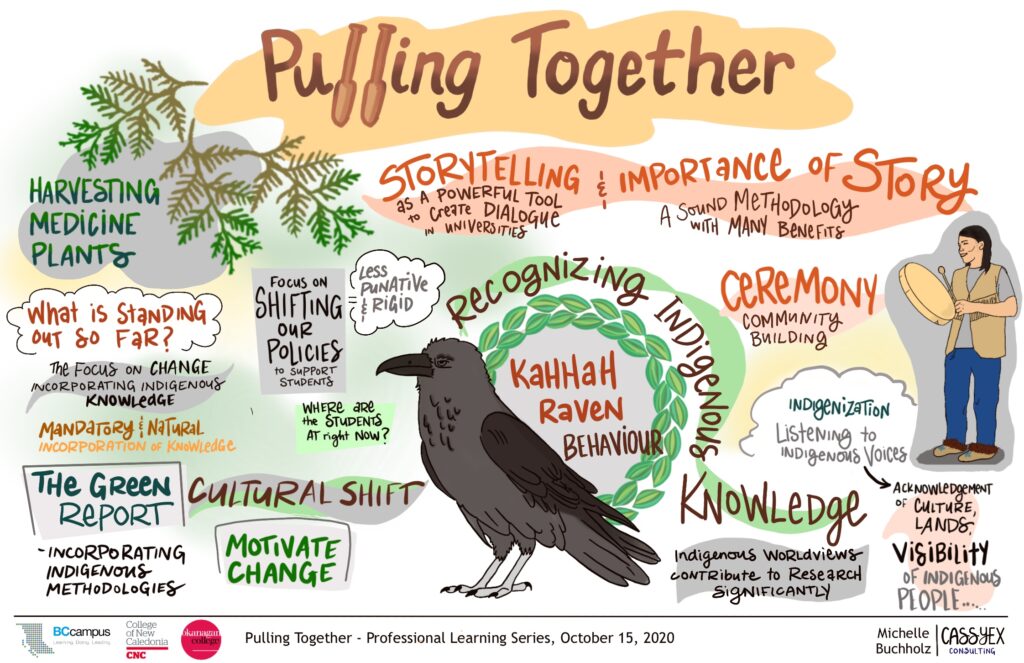 While participants received weekly pre-readings and resources, it was in the synchronous sessions that this vulnerability really came into play.
"The introductory speakers at each session were informative, relevant, and engaging," said one participant. "The break-out sessions — while terrifying because there was no way to 'hide in the crowd' — were, in the end, very valuable. I was so impressed with the input from my student colleagues. In fact, their insights gave me specific ideas for action in my position to bring Indigenization efforts forward. I initially thought, 'What can I do? I have no authority or leadership role,' but the full-group sessions and the break-out sessions gave me ideas for opportunities where I myself could have an impact. Very empowering."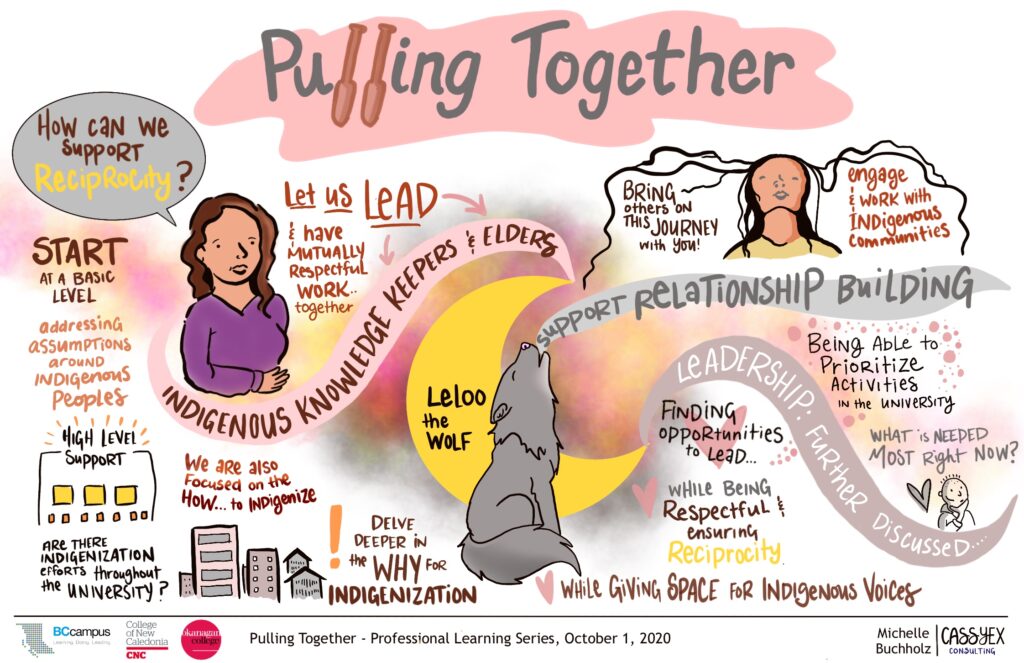 A sense of community inevitably developed during the sessions, which one participant described as "crucial" for a course with content such as this. The deep dive into the Pulling Together handbook, described as a "beautifully structured metaphorical journey" by one participant, was welcomed, even by those who had become familiar with the content beforehand.
Said one participant, "The difference between reading these guides on my own — which I had done when they originally came out — and now has been a night and day experience. When I originally went through them, I approached it like an academic paper and skimmed, looking for noteworthy, quotable pieces, but not actually distilling the information or adding my own experiences to it. Having weekly sessions with real stories and shared experiences on the content from the chapters really help to ground the learning. One thing that I have taken out is the vulnerability and emotional labour, as it takes time to process, and I usually have a tissue in hand five minutes into each session. Turning off all the notifications and being fully and authentically present each week is really hard for me when I'm so used to multitasking and keeping all the plates spinning, but it is so worth it."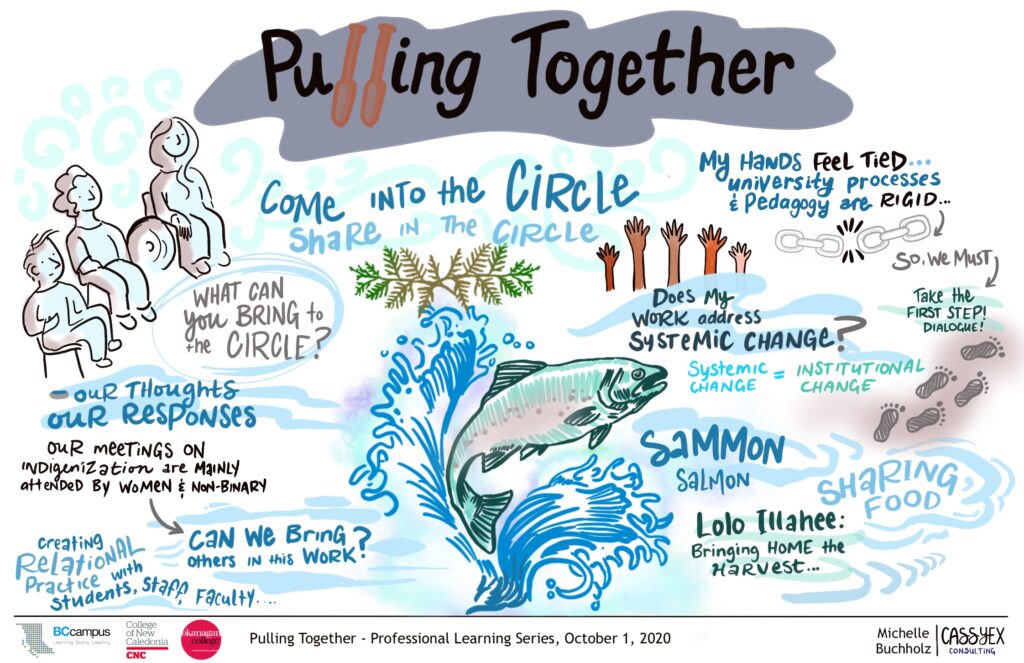 Next Steps
BCcampus recently held a follow-up session with attendees of the series. A strong desire emerged in the meeting for the group to continue to exchange knowledge and resources on how they can work to develop Indigenized structures at their institutions from the qualities they had gained in the community of trust established over the series. BCcampus is currently exploring what a community with this group would look like and what our role will be going forward.
BCcampus will be hosting another session related to the Pulling Together guides in January. The two-part series Pulling Together: An Introduction to the Curriculum Developers Guide for Indigenization will be led by Carmen Rodriguez de France. The sessions will achieve the following:
Introduce participants to the Pulling Together guides published by BCcampus
Exchange views of what constitutes decolonization within disciplines
Explore and actively engage with practical examples of Indigenization
BCcampus is committed to the ongoing journey of having Indigenization be at the core of what we do.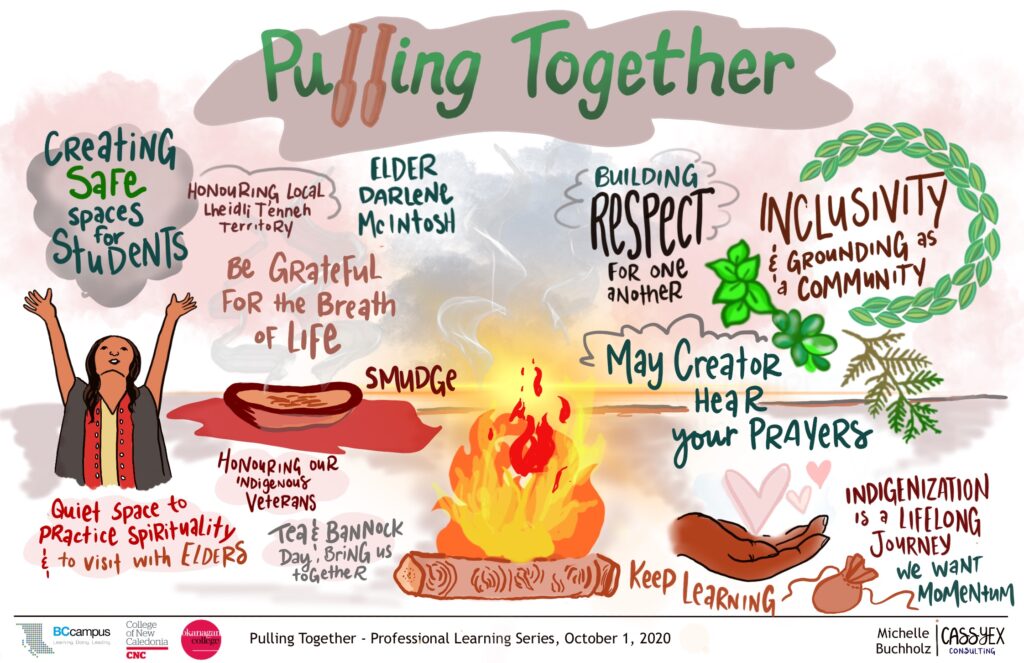 Notable Quotes
"The Fall Indigenous Series showed thoughtful implementation of an Indigenous process, which provoked insight to Indigenous ways of knowing and being. We were able to create rapport and build a community using an online platform, which shows that it is possible to not only stay connected online, but to also generate meaningful pathways for Indigenous involvement within movements across universities. The facilitators were knowledgeable and inspiring, and the support team was excellent. The initiative was properly resourced, which showed in the way that participants also enjoyed the experience."

—Michelle Buchholz, graphic recorder and principal owner, Cassyex Consulting
"I am grateful for all the people who chose to journey with Chetwood, Kahkah, Leloo, Sammon, Jewell, and me. Thank you to the BCcampus team — all your hard work to support our work was excellent and made the facilitation so much richer, because we could focus on the teachings without worrying about the next slide or about getting folx into the break-out rooms! Nenachalhya — you (all) have honoured us."

—Marlene Erickson, executive director, Aboriginal Education, College of New Caledonia
Learn more: