The BCcampus Research Fellows program is designed to pursue our central goal of improving students' learning and experiences. Our research framework guides our activities and has four priority areas: Indigenous engagement; open educational practices; student access, accessibility and engagement; and learning and teaching online. (See full size image pdf)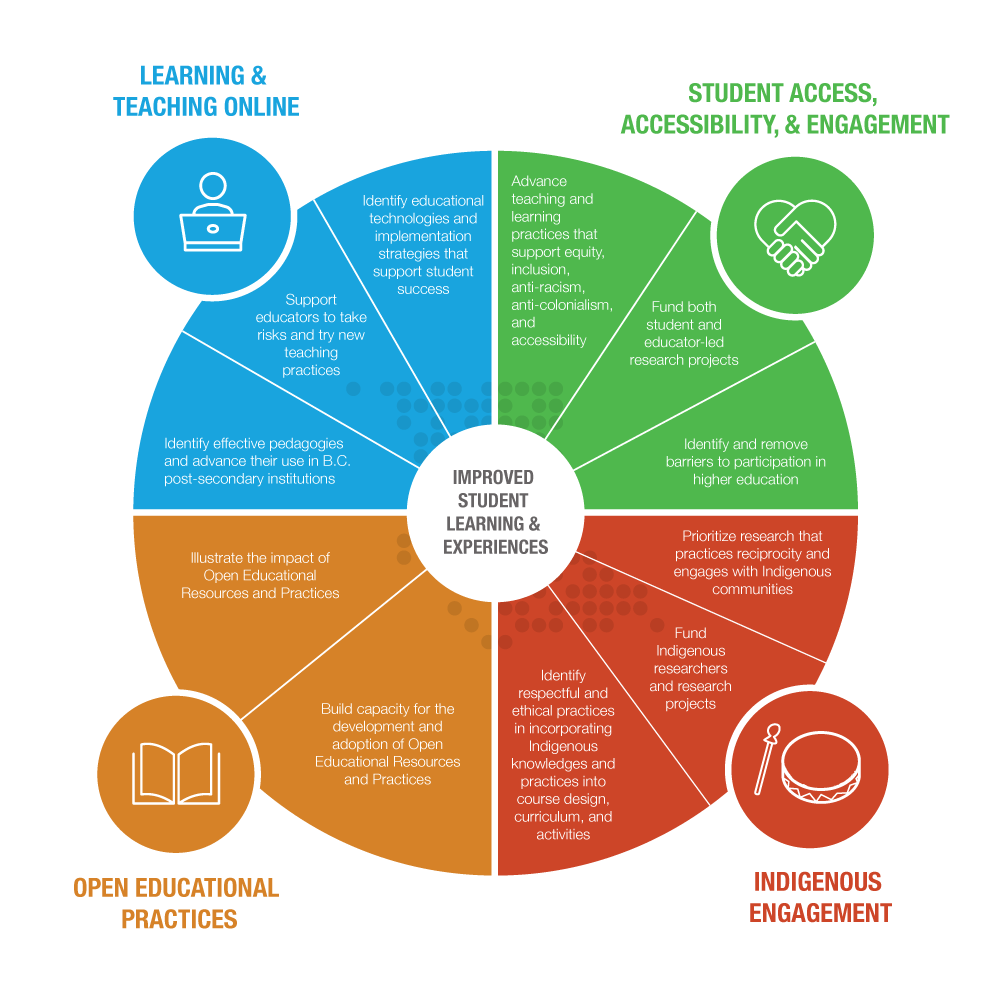 Post by BCcampus' editorial team
In December, we launched a call for research fellows that required projects to have an Indigenous lead and/or be designed around equitable and reciprocal partnerships with Indigenous peoples or communities.
"This call for Indigenous researchers came about because we saw a lack of Indigenous researchers applying for and being accepted to the program," explained Rebecca Shortt, coordinator on the learning + teaching team at BCcampus. "We looked at our previous research fellows and saw that some of the voices we knew about weren't being represented. We wanted Indigenous researchers, academics, and students to be the ones writing and researching about topics they were experiencing, including decolonization and decolonizing the curriculum, but we also wanted to hear about Indigenous people working on open textbooks, open ed, educational technologies, online courses, and other topics we work on every day."
"We know that the way to achieve our best work is to bring more people and perspectives together," said Tracy Roberts, director of learning + teaching at BCcampus. "Through this call, our goal is to fund Indigenous researchers to advance knowledge around teaching and learning in B.C. higher education."
Who Are We Missing?
"In the creation of our research framework, we didn't know who we were leaving out," shared Rebecca. "Once we recognized the lack of Indigenous researchers or projects about — or with — Indigenous peoples in the first set of proposals for our research fellows, we decided to do another call with a specific requirement: Indigenous involvement. We acknowledge that we'll need to come back regularly to adapt the framework to reflect our learnings. We don't know what we don't know, and as we learn, we have to take action. It's all about being prepared to react."
"We always want to be asking questions that help educators learn about learning for all students," said Tracy. "Our fellows program supports educators who want to explore theories, ideas, and approaches to teaching and learning or open education through research. By taking an iterative approach to our research framework, we can consistently improve our knowledge and understanding, then proactively attract people who can help the teaching and learning community of B.C. thrive and grow."
The deadline for the call is February 14, 2021.
Notable Quote
"Through this call, our goal is to fund Indigenous researchers to advance knowledge around teaching and learning in B.C. higher education."

—Tracy Roberts, director, learning + teaching, BCcampus
Learn More:
---
Image Descriptions:
Figure 1.1 image description:
A large circle diagram that resembles an orange sliced in half or a wheel separated by spokes. In the center of the circle, the text reads: Improved Student Learning and Experiences. The circle is divided into 4 quadrants that are each broken into smaller segments. The four quadrants are: Learning & Teaching Online; Student Access, Accessibility, and Engagement; Indigenous Engagement; and Open Educational Practices. The segments contain additional text that is provided in the following list:
Learning & Teaching Online

Identify effective pedagogies and advance their use in B.C. post-secondary institutions;
Support educators to take risks and try new teaching practices;
Identify educational technologies and implementation strategies that support student success.

Student Access, Accessibility, and Engagement

Advance teaching and learning practices that support equity, inclusion, anti-racism, anti-colonialism and accessibility;
Fund both student and educator-led research projects;
Identify and remove barriers to participation in higher education.

Indigenous Engagement

Prioritize research that practices reciprocity and engages with indigenous communities;
Fund Indigenous researchers and research projects.
Identify respectful and ethical practices of incorporating Indigenous knowledges and practices into course design, curriculum, and activities.

Open Educational Practices.

Build capacity for the development and adoption of Open Educational Resources and Practices;
Illustrate the impact of Open Educational Resources and Practices. [Return to Fig.1.1]