The final installment of the BCcampus Indigenization guide project is now available to help researchers across the province — whether they're students or instructors — to incorporate Indigenous methodologies.
Post by the BCcampus editorial team
"Nothing about us without us" is a powerful statement, and one that hasn't been honoured. The sixth and final installment of the BCcampus Indigenization guide project provides vital knowledge to help researchers conduct ethical and respectful data collection.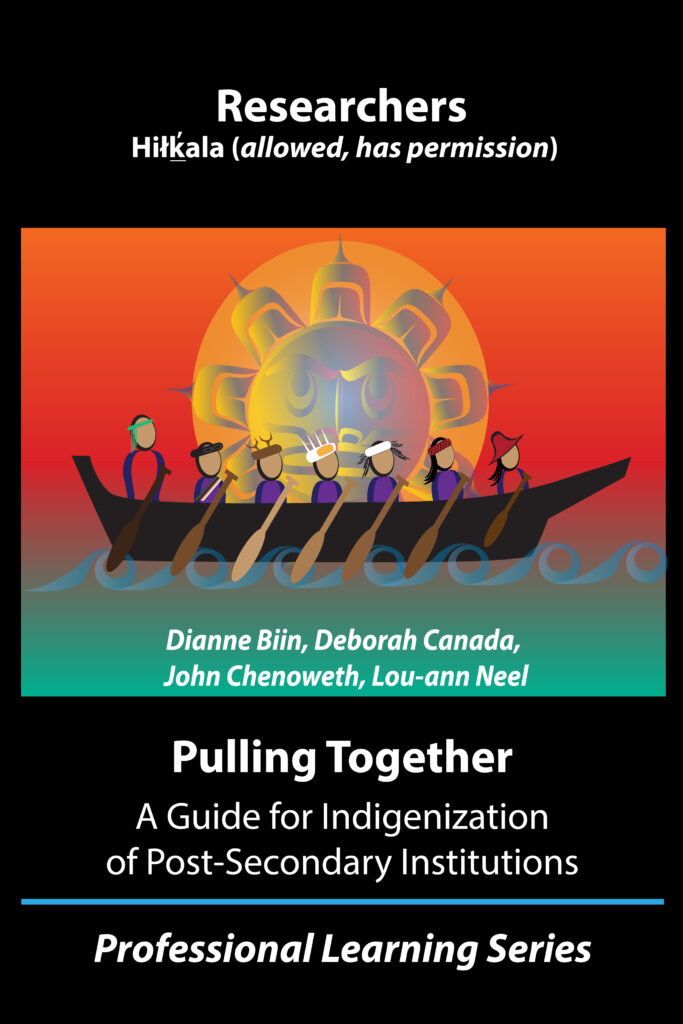 "This guide is meant to help find the ethical space between Indigenous knowledge and institutional research," shared Gabrielle Lamontagne, coordinator for Indigenization and Collaborative Projects at BCcampus. "Historically, much of the research into North America's Indigenous communities has been done by outsiders, and there have been a lot of issues with ethical practices, which is sometimes called 'drive-by research.'
"Indigenized research is based on place, relationships, and shared values," continued Gabrielle. "Each research methodology requires a different way of knowing, being, and doing. The Pulling Together Researchers Guide can help researchers of all levels respectfully and accurately conduct their research: researching with rather than on Indigenous Peoples."
The new research guide states, "In a Western research approach, action and participatory research come forward as critical research approaches that involve the participant, yet the researcher maintains control of the depth and type of interaction and manages data gathering and analysis. In an Indigenous research approach, participants guide and embody the research process and results. Ownership, control, access, and protection of the data is held by the community, not the researcher."
Beyond Doctorates
The guide is designed to be useful for:
Indigenous researchers who work in post-secondary and Indigenous communities
Non-Indigenous researchers who work with Indigenous communities and participants
Post-secondary research departments, teaching faculty, and those who work in community partnership roles that involve the development and sharing of knowledge and research
We want to break down the hierarchy and see students working with their professors and administrators, so we can see what a learning journey looks like for the entire institution instead of just one department.
Distribution
In addition to the online repository, where anyone can access the current digital versions of each guide, we are also creating physical version of the guides and will be distributing them to the Vice-President Academic and Research offices of the 25 post-secondary institutions we work with in B.C. The resources will be made available to a wide range of people throughout each campus, in places like the Native Studies department or Aboriginal Student Services.
Dedicated to Deborah Canada
The sixth installment of the Indigenization guides is dedicated to Dr. Deborah Canada, a Métis–Swampy Cree researcher and educator and dean of Academic Programs at Nicola Valley Institute of Technology. Dr. Canada was an essential contributor to the entire Pulling Together series. While she is no longer with us, her spirit can be found on the pages, in the examples, and in the ideas we are sharing and promoting.
The guide was also authored by:
Dr. John Chenoweth, a Syilx educator and dean of Community Education and Applied Programs at Nicola Valley Institute of Technology
Dianne Biin, a Tsilhqot'in educator with Camosun College and project manager for the BCcampus Indigenization guides project
Lou-ann Neel, a Kwakwa̱ka̱'wakw artist and advocate and director of Indigenous Education at North Island College
Indigenization Series: Pulling Together
The Pulling Together professional learning series introduces faculty, staff, and students across B.C. to resources to help decolonize our thinking and actions. The series was created under the leadership of a steering committee of Indigenous education leaders in B.C.'s post-secondary system, as well as the First Nations Education Steering Committee, the Indigenous Adult and Higher Learning Association, and Métis Nation BC, and it was authored by teams of Indigenous and ally writers from across the province.
The six-part series features resources to help faculty, staff, and students support the systemic change occurring across post-secondary institutions through Indigenization, decolonization, and reconciliation.
The guides are as follows:
Teachers and Instructors Guide – Learn how to build new relationships with Indigenous pedagogy and knowledge.
Leaders and Administrators Guide – Review the leadership demonstrated at Camosun College in advancing Indigenization.
Front-Line Staff, Student Services, and Advisors Guide – Explore the relationships between institutions, students, and Indigenous communities.
Foundations Guide – Investigate Indigenous-Canadian relationships from contact to the present.
Curriculum Developers Guide – Increase awareness and enhance knowledge of Indigenous People, histories, decolonization, and reconciliation.
Researchers Guide – Discover holistic research practices and processes with Indigenous Peoples and knowledge.
Notable Quote(s):
"We would like to see this provide a more holistic methodology to the research being conducted in and about Indigenous communities, such as exploring oral histories and cultural ideologies instead of the scientific method that's typically used by institutions conducting research. The goal is to reduce the cultural anxiety that non-Indigenous researchers may have when working with Indigenous communities, and vice versa."

– Gabrielle Lamontagne, coordinator, Collaborative Projects and Indigenous Engagement at BCcampus
"The Indigenization Guides are powerful open educational resources that are helping us transform learning experiences to include Indigenous perspectives and pedagogies. We are grateful to everyone for pulling together to help us move our collective canoe in the right direction: creating these guides to support the Indigenization, decolonization and reconciliation within the post-secondary institutions of B.C. While this research guide is the final component in the series, it is far from the end of the Indigenization work we are doing at BCcampus."

– Valerie Cross, director, Collaborative Projects and Indigenous Engagement at BCcampus
Learn More:
If you would like a copy of the above guide or any of the guides in the Pulling Together series, please visit the BCcampus Open Textbook Collection.