Grab your paddle and join us in our canoe again! In this six-week series, Dianne Biin and John Chenoweth will provide an overview of the BCcampus Pulling Together: A Guide for Researchers resource, which aims to find the ethical space between Indigenous knowledge and institutional research.
This guide and series will look at systemic change of research by exploring practices and processes with Indigenous Peoples and knowledges. This change rests with researchers and teachers of these methods in post-secondary education. The Kwaḱwala term hiłḱala means "one who is allowed or has permission" and is the overarching theme for this journey. The term reflects a researcher's responsibility and ongoing role. It takes a person a lifetime to develop into this, and it is not done alone: there are helpers, guides, and teachers along the way.
This series aims to:
Provide a grounding in Indigenization, decolonization, and reconciliation approaches to research
Give space to practice how to place yourself as an ally or supporter of Indigenous revitalization through research practice
Work with others to discuss how to Indigenize research paradigms to support reconciliation pathways in your post-secondary institution and community
The guide is designed to be useful for:
Indigenous researchers who work in post-secondary and Indigenous communities
Non-Indigenous researchers who work with Indigenous communities and participants
Post-secondary research departments, teaching faculty, and individuals who work in community partnership roles that involve the development and sharing of knowledge and research
Graduate students and community-based researchers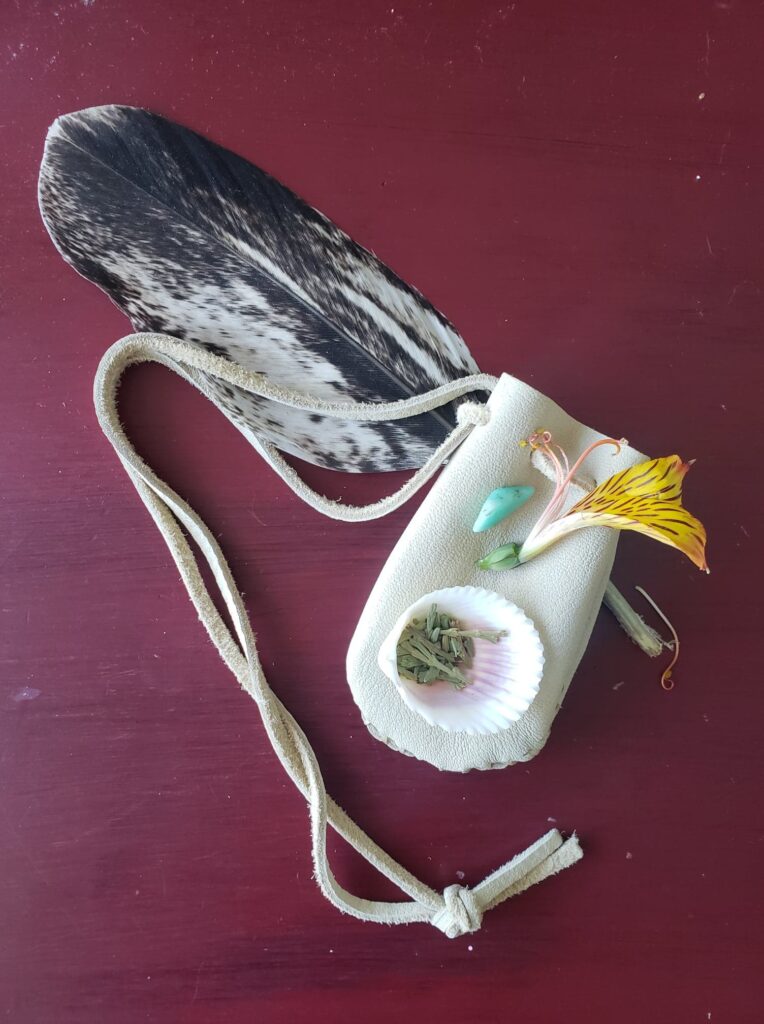 Series Overview
This series requires a commitment of one to two hours of asynchronous study and self-reflection, along with a two-hour synchronous session every Thursday for six weeks. We strongly advise participants to make time to attend every session in the series. If you are not able to attend the entire series, please consider making space for others as we cap our registration at 50 persons. Session dates and times are as follows:
Week 1: Wednesday, November 10 (12–2 p.m. PT)
Week 2: Thursday, November 18 (12–2 p.m. PT)
Week 3: Thursday, November 25 (12–2 p.m. PT)
Week 4: Thursday, December 2 (12–2 p.m. PT)
Week 5: Thursday, December 9 (12–2 p.m. PT)
Week 6: Thursday, December 16 (12–2 p.m. PT)
The series will be facilitated using a variety of methods. We will host guest speakers that include an Indigenous graduate and PhD student panel and renowned Indigenous and non-Indigenous researchers, academics, and community-members, including Shawn Wilson. Participants will collaborate with one another in weekly breakout rooms. Each participant will be mailed their own medicine pouch kit and instructed how to assemble it during one of the synchronous sessions.
This communal activity is a unique aspect of the series and provides a way for participants to hold space for themselves and their own self-care during the workshop. We will also be joined by graphic recorders Michelle Buchholz and Tiare Jung, who will capture the essence of each session with a succinct visual image (see example below) that will be shared with participants. Graphic recording is a modern take on the witnessing ceremony, and we are honoured to have Michelle and Tiare with us to witness this community work.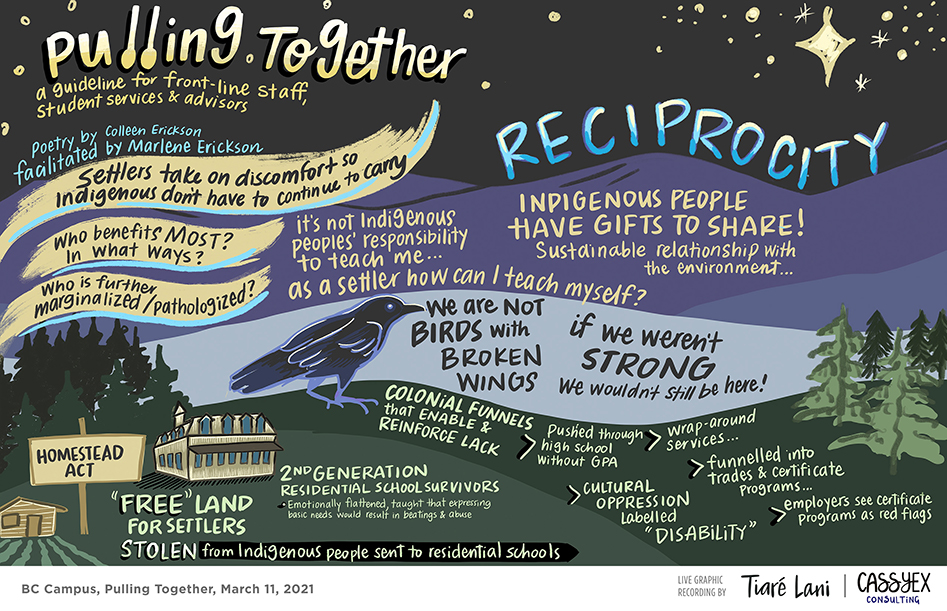 Themes to guide the conversation are as follows:
Setting the context

Research with rather than research on Indigenous Peoples
Indigenous research approaches
Shifting practices

Ways to Indigenize

Q&A with Indigenous graduate and PhD students
Copyright and intellectual property
Appropriation versus engagement
Planning collaborative and respectful research

Ethical processes

Indigenous ethics and values
Incorporating protocols and meeting expectations

Reciprocal research process

Community-led language revitalization
Reconciliation with institutions and Indigenous communities
Building Indigenous community engagement models
By no means will you be an expert on Indigenous history, culture, or reconciliation after participating in this series, but the facilitators reassure us that no one currently is or can be. For one thing, too many different Indigenous groups and diverse representations of Indigenous peoples exist across our province and country. In reality, we will never be finished, so this is why we focus on the journey. A saying in traditional paddle communities is, "It's the journey, not the destination." This holds true for all work done in the anti-oppression arena. We look forward to the journey ahead with each of you.
About Our Facilitators
Dianne Biin
Dianne is from the Tsi Del Del community in Tsilhqot'in territory. She holds a bachelor of arts from Simon Fraser University (1994) and a master of education from the University of British Columbia (2016). Dianne has worked as a community development and revitalization consultant, Indigenous event planner, and facilitator and educator. She worked at Camosun College from 2011 to 2020 as an Indigenous faculty member and Indigenization coordinator. Dianne was also the project manager for the BCcampus open textbook series Pulling Together: Guides for Indigenization. She is currently the manager for Indigenous education and engagement at Selkirk College.
John Chenoweth
John Chenoweth is a member of the Upper Nicola Indian Band within the Okanagan Nation. John is a UBC native Indian Teacher Education program graduate, former elementary school teacher and principal, and district principal for First Nations Education. His teaching career began in 1994. He transitioned to the post-secondary level in 2007. He is a member of the Upper Nicola Indian Band in the Nicola Valley and has been involved in First Nations education at both the K–12 and post-secondary levels for his entire career. His research interests include marginalized people within education and Indigenous education. John has been married for 30 years and is the father to two sons.
Dedicated to Deborah Canada
The sixth installment of the Indigenization guides is dedicated to Dr. Deborah Canada, a Métis–Swampy Cree researcher and educator and dean of Academic Programs at Nicola Valley Institute of Technology. Dr. Canada was an essential contributor to the entire Pulling Together series. While she is no longer with us, her spirit can be found on the pages, in the examples, and in the ideas we are sharing and promoting.
The guide was also authored by:
Dr. John Chenoweth, a Syilx educator and dean of Community Education and Applied Programs at Nicola Valley Institute of Technology
Dianne Biin, a Tsilhqot'in educator with Camosun College and project manager for the BCcampus Indigenization guides project
Lou-ann Neel, a Kwakwa̱ka̱'wakw artist and advocate, and curator of Indigenous collections at the Royal BC Museum