You have to be ready to really listen to the messages you get from the Creator.

— Katie Alexander, Tsawwassen First Nation Health and Social Services manager
In this op-ed post by BCcampus' own Jonathan Orr, we learn about his time spent recently on Tsawwassen lands and the personal learning that came out of this incredible experience.
Decolonization.
Ooof. It's a lot, hey?
Even for someone like myself who has been guided toward the process of decolonization, who has been helped to recognize the legacy of harm done in my name, who sees how my White settler privilege is a direct result of that harm, and who now works alongside Indigenous colleagues to dismantle those systems of oppression, hearing the word decolonization can still make me feel —
Well.
Small.
It's too big. It's too complex. I don't know where to start or what to say. How can I possibly make meaningful change?
But perhaps these thoughts illustrate the colonial patterns of thinking that got us to this point in the first place: the belief that we can immediately dive in and "solve" a problem permanently so we can check a box and then proceed to ignore the actual people the problem affected. The paternalistic idea that it is up to me as an individual to do this and the arrogance to even consider that. The perfectionist instinct to read, gather facts, and assemble arguments so I can dominate the conversation while emphasizing a sense of urgency and crisis that deliberately makes it difficult to be inclusive or to engage in thoughtful decision-making. The need to be comfortable. To absolve myself.
And perhaps the most dangerous: attempting to do the work of decolonization without having a personal and intimate connection to the lands and people for whom the violence of colonization is real in their bodies each day.
In Leanne Betasamosake Simpson's powerful 2017 book As We Have Always Done, she speaks of storytelling in Nishnnabeg culture and how stories work within that culture as a force for personal transformation:
I am using stories here in the same way they are used within Nishnnabeg intelligence, as a theoretical anchor whose layered and diverse meanings are revealed over time and space within individual and collective Nishnnabeg consciousness. A "theory" in its simplest form is an explanation of a phenomenon, and Nishnnabeg stories in this way form part of the theoretical basis of our intelligence. But theory also works a little differently within Nishnnabeg thought. Theory is generated and re-generated continually through embodied practice and within each family, community, and generation of people. Theory isn't just an intellectual pursuit. It is woven within kinetics, spiritual presence, and emotion. It is contextual and relational. It is intimate and personal with individuals themselves holding the responsibilities for finding and generating meaning within their own lives. (p. 151)
This is the work now for me: to make intimate and personal the theories of decolonization.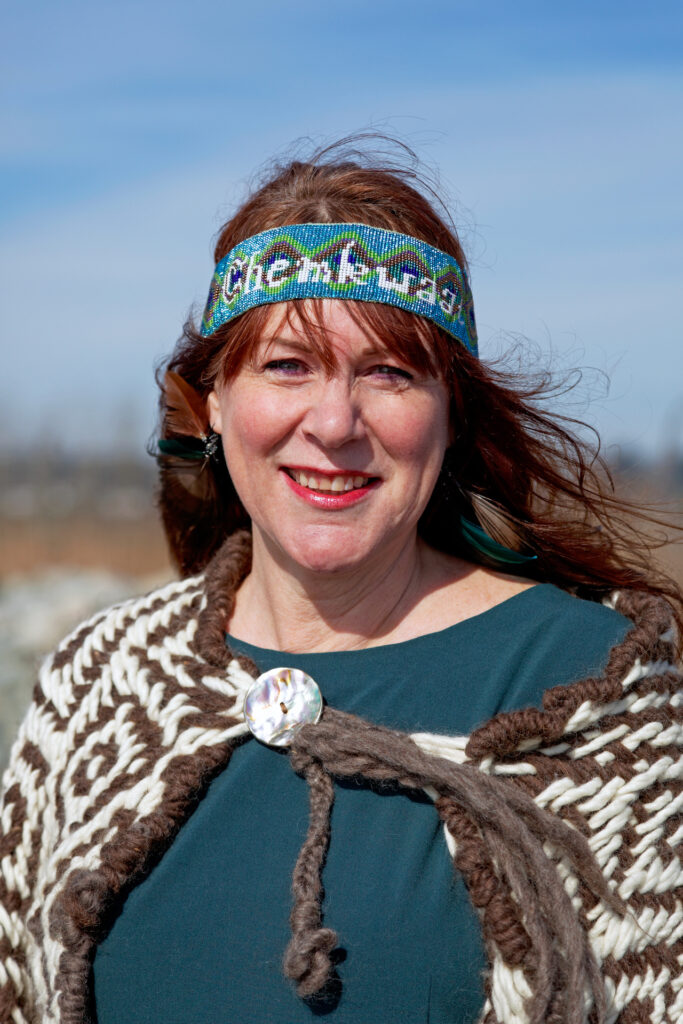 At BCcampus the conversations around decolonization are real and often raw. We are encouraged to grapple with ideas in an open and vulnerable way, and we are offered real support as we do that work, often in the form of colleagues offering to walk alongside us on our journey. Often the support takes the form of us telling each other our stories.
My boss at BCcampus is Valerie Cross, director of Collaborative Projects and Indigenous Engagement. Valerie is a proud Tsawwassen member who was raised on the former Tsawwassen reserve by her grandparents Isaac Williams, former Chief of Tsawwassen, and Pearl Williams (née White), whose family ties come from the Squamish First Nation. Valerie supported me through the recent public launch of the provincial peer-support worker training curriculum project. As we continued to have many rich conversations about Indigenous engagement, she saw the potential of the Peer Connect BC training curriculum as a powerful resource for her Nation's Health and Social Services department. She offered to have me as a guest on the Tsawwassen lands to talk shop and to learn about her Nation firsthand.
I met Valerie and Katie Alexander, Tsawwassen First Nation Health and Social Services manager, at the Nation office on a perfect late-summer day. We sat at a sun-faded picnic table outside the Tsawwassen Nation office and talked while looking out over the bay at the busy highway, where they told me the longhouse once stood before it was destroyed to make way for access to the BC Ferries terminal. We told one another our stories and talked about how we might work together. I spoke about how the Tsawwassen lands were an important place of healing for me in the past, and as we chatted a heron glided above us, heading out to the ocean on its own time.
Valerie drove me through the community. She and Katie proudly pointed out all the things the Nation was most proud of: the stunning new youth centre with gorgeous local carvings supported by salvaged old-growth crossbeams, the industrial and commercial lands redeveloped under the Nation's own rules, and the farm school that teaches community members how to grow food for their Nation. As we drove, Valerie and Katie called out the car window to friends and family as folks in their yards picked garlic and listened to music in the sunshine. Everyone knew each other's names. We saw new housing developments built by the Nation, but we also saw older homes still owned and managed by the Canada Mortgage and Housing Corporation (CMHC) through its On-Reserve Non-Profit Housing Program, which charges market rents to members, who often struggle to pay these prices or afford the upkeep on the houses.
Then Valerie took us across the highway to Tsawassen Heights, where she was raised by her grandmother before being moved into foster care. She spoke of how this highway was an impassable barrier for her as a child, one that kept her from her land, culture, and family — a highway built by settlers without permission from the Tsawassen Nation to allow people like me to more easily visit other unceded colonized lands. It was a highway I drove many times without realizing I was travelling an open wound.
Yet over and over again, Valerie gently emphasized that more important than old wounds was the sense of triumph of the "little nation that could": one that rebuilt a world on these lands on their own terms after signing a treaty she helped negotiate and ratify in 2007 that allowed the Tsawwassen Nation to "get out from underneath the Indian Act."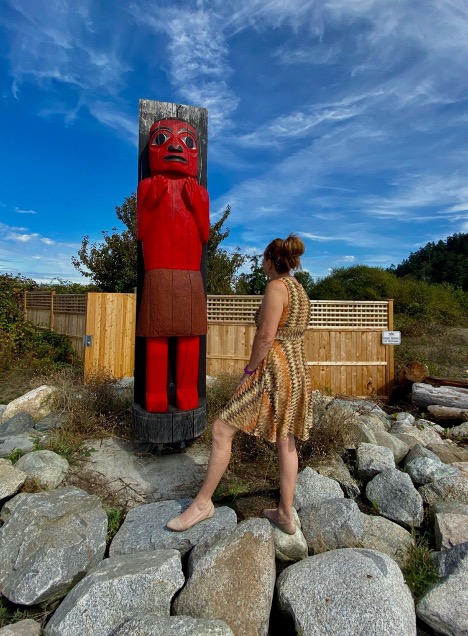 We finished our tour at sməqʷəʔelə (which translates to Blue Heron Nest) park, which hugs the bay on the south side of the highway. The park is a quiet waterfront sanctuary for Nation members where memorial ceremonies are often held. As we wandered in the August sunshine, Valerie told me how she used to gather clams and crabs in the bay before the BC Ferries terminal forever altered the flow of water. We came upon an apple tree, and Valerie picked one and offered it to me. I ate happily, lost in thought.
So here are those impossible things made real.
Here are the remnants of the Indian Act, still present on the lands of a Treaty Nation living in houses on Tsawwassen Nation lands owned by the CHMC, not by the Tsawwassen members who inhabit them.
But also here are treaties signed, honoured, and manifest in a thriving Nation governing and guiding its people and lands on its own terms.
Here is colonial violence in the disappeared longhouse now known only by an emptiness on the horizon.
Here also is possibility in "the little nation that could," whose land is bounded by new house posts carved by Tsawassen artists. All these impossible things are now alive as an experience in me.
We can no longer afford to be strangers in this country that we now share.

— Dr. Marie Wilson
The colonizing mission always depended on the idea of the territory we call Canada being seen not as it truly was but rather as terra nullius: nobody's land, an empty map to be marked, cut apart, and owned. Now for me this land is no longer terra nullius. It is "terra known," filled with places and people I know. It is land marked in memory by the taste of a warm apple. It is marked by stories of shared struggle and uplift.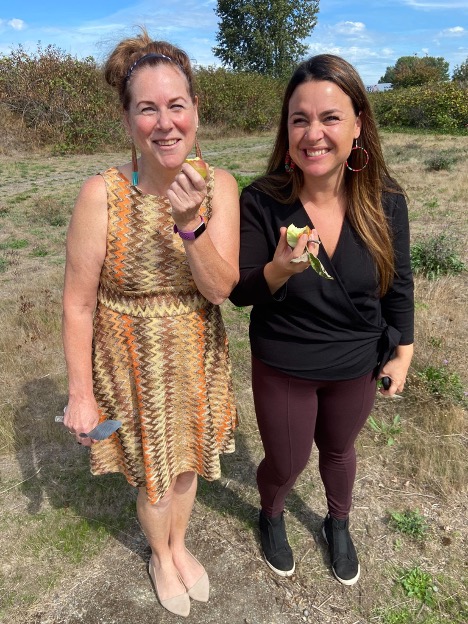 In Becoming an Ally: Breaking the Cycle of Oppression in People, author Ann Bishop says, "Guilt means taking on all the weight of history as an individual; responsibility means accepting your share of the challenge of changing the situation" (1997, p. 114-115)
I had needed not to just to listen to Indigenous stories but also to do the work to connect them to my own experiences so I could know and accept that share of the challenge.
If I am to make decolonization intimate and personal, I need to also share my story, as Valerie did with me.
In 2011, I was living in the Salvation Army's Belkin House after leaving residential treatment for substance-use disorder. A big part of my recovery journey was cycling. I rode everywhere, but I was always drawn to the Tsawwassen lands. I have a profound memory of riding past the old white wooden church one summer afternoon and seeing a wedding taking place. Something about that laughter and joy and the dancing light stayed with me as I worked to rebuild my life. When we were talking at the picnic table, I told Valerie and Katie this story. Katie said with certainty, "You have to be ready to really listen to the messages you get from the Creator. I think you did, and you were meant to be here with us today."
Tsawwassen is known in traditional songs as the shore beyond the shore. All those years ago, riding my bike, I knew the other shore was within reach, but I needed to go there with someone. I could not go alone. I could not go as a stranger. Now I have been shown the way.
I came to realize we are not small. We don't have to be strangers.
We can make family.
---
The featured image for this post (viewable in the BCcampus News section at the bottom of our homepage) is by mali maeder from Pexels