Not all B.C. post-secondary institutions have the same support structures in place for learning design, educational technologies, and open education. If you're an educator who designs and facilitates student learning experiences, it can be difficult — or impossible — to get the kind of help you need, when you need it. And it can be challenging to experiment with technology if it isn't already set up at your institution. If those challenges sound familiar, the technologies available through the Open Educational Technology Collaborative (OpenETC) could be what you're looking for. They are open and free, as long as you give back (time, effort, and ideas, not money) to the community.
Post by the BCcampus editorial team
The OpenETC is a group of educators, technologists, and designers who work off the sides of desks, often on evenings and weekends, to build a collaborative community that supports the B.C. post-secondary system. They call it free-range edtech, but it's much more than that. With a slogan of "Contributions, not contracts," it's clear right from the start that the OpenETC works from a different playbook.
"When I was at UBC," shared Brian Lamb, director of Learning Technology & Innovation at Thompson Rivers University, "we were fortunate to have a well-resourced set of learning technology tools and good budgets. I started weblogs and wiki-platforms there and had a dedicated team to support them. When I came to TRU, I quickly learned that this wealth of resources wasn't something that every university or college in the sector has. Our IT group wanted to be helpful, but the type of day-to-day engagement required to meet the needs that I had, they just weren't resourced for that. I realized that there were a number of other institutions in the province that just don't have the capacity to provision instances of edtech platforms. After discussing the landscape with others, we realized that we shared a similar set of needs. I also had a selfish interest in seeing how other people did things. As a technologist, when someone does something cool, the best thing to do is to go into the system and take a look at the back end, seeing how they set it up and which tricks they used.
"There were two motivating forces for starting the OpenETC," continued Brian. "One was a recognition that we needed to pool resources to do things more effectively, and the other was the desire to collaborate. We had a lot of meetings and early iterations, and we finally found some legitimate momentum when we got access to some EduCloud nodes, the BCNet cloud-hosting service. It's quite robust, providing commercial-level services with very good backups. It gave us an economical and viable platform to build on. And then we just started working together, building tools together. When we got to a critical mass, we reached out to other institutions to share what we were playing with, and people started to come in."
Clint Lalonde, project manager at BCcampus and long-time active participant in the OpenETC, said, "The model is different. It's not a service that is provided; rather, it's a cooperative. It's very much built on contributions and collaborations. The people who use the OpenETC are expected to give back to the collective. It's really a collaborative model: if you have a problem, come to us for help, but you also have to post in the forums and dig around a bit yourself. The community will try to provide support, point you in the right direction, but it's not about providing the tech and solutions; it's about developing the community to help each other. Learning as we grow. Growing as we learn."
"This approach is extremely cost-effective," said Brian. "For quite a while, we functioned completely on in-kind contributions. The tools are economical in themselves, but this collaborative model really extends that. We're incredibly grateful to BCcampus for the support they've given us over the past two years. It's really allowed us to just focus on the work with some customized enhancements and to ensure the platform is stable and secure. Technology is not neutral. Platforms and tools do have an immense effect on shaping the types of interactions and collaborations we have. Having spaces where we control the platform and environment, building and sharing it amongst ourselves, is an immensely powerful model."
Help, Not Help Tickets
While commercial organizations offer service-level agreements and contracts, the OpenETC is more focused on working together to solve problems.
"We don't have a service desk, so we don't do service tickets," said Brian. "What we have is a community discussion space where people raise their issues. With the OpenETC, it's more of a collective endeavour where we find and solve problems together. To ensure it's not just a small group of people who always end up fixing the problems, our hope is that if you use the service for a while and get more comfortable with WordPress, when someone has an issue, you can pop in and say, 'Oh, I had that issue last year. Try doing this…' When it's working well, it's truly a collaborative support framework."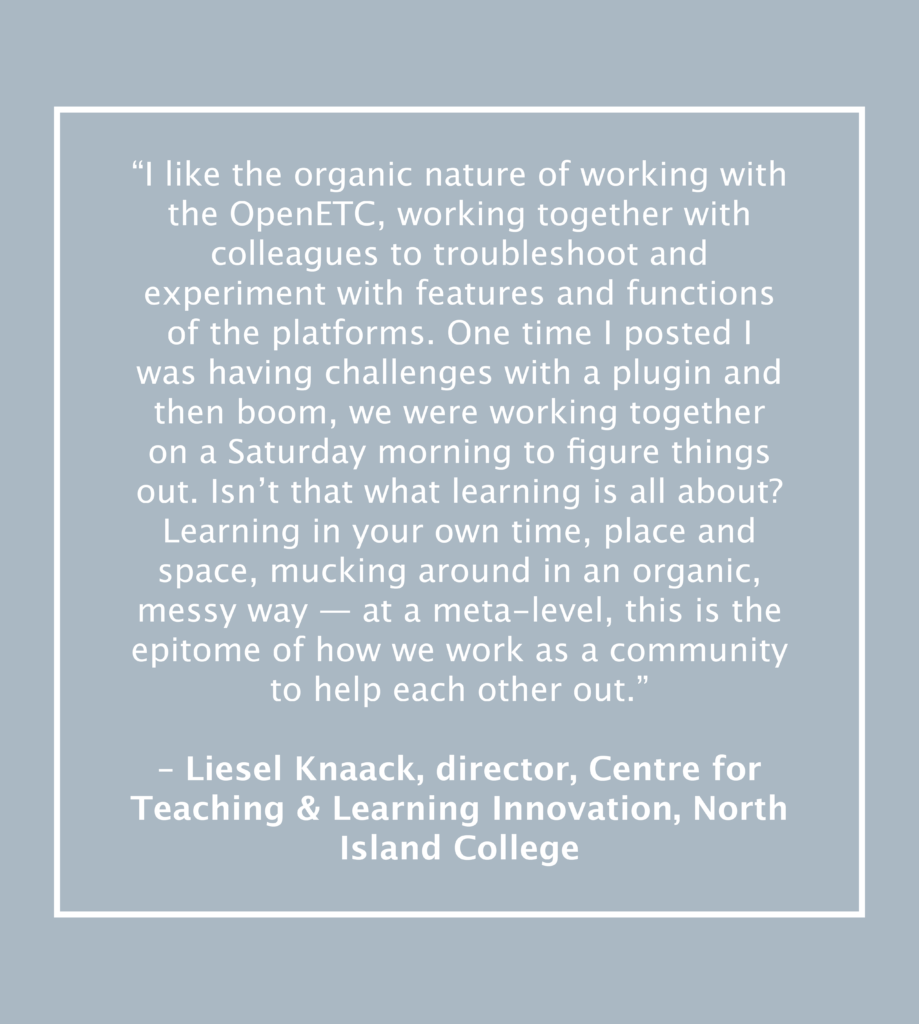 A Collaborative Community
"The joint effort from everyone in the group is such an effective tool for teaching and learning," shared Dr. Valerie Irvine, assistant professor of Educational Technology at the University of Victoria. "It's a development of digital literacies — network literacy, open literacy — of and for learners. They need to learn how to navigate these spaces, and part of that is asking, 'Where is my data? How safe is my data? How do I back up my data? How do I customize my site?' The students learn in this space because they're not boxed in by a learning management system (LMS). They get to break things, then learn how to fix them, without consequence."
Valerie continued, "The instructors who ask their learners to create and use a blog often don't have their own digital network or open literacies, and to do that in isolation is a bit challenging. In many cases, they'll opt for an ad-laden platform or another inappropriate space for their learners. Through the OpenETC, educators are connected to a community that can help foster their own learning around that and support their learners on a platform that's ad-free and hosted in B.C. by government infrastructure.
"As an educator, I see and hear the impact of reflective practice, and blogging has come up so many times from learners, saying, 'This helped my mental health.' It's not a disposable blog for one course, one assignment; it's a space where they can have a digital home, where they can grow, knowing that it won't disappear within a certain span of time. It feeds their soul. It helps them have a deeper connection with their learning, and it has — for me — an impact on their wellness that is noticeable and appreciable."
"To me," said Liesel Knaack, director of Teaching & Learning Innovation at North Island College, "it underpins the principles of open pedagogy. Students can create non-disposable assignments that live out there in the public, in an authentic way, as a project, an assignment, or a collection of blog posts, instead of being trapped behind a password and destined to disappear at the end of the LMS course. With this model, the learning can live on. This is about enabling digital literacies in all users. The platforms enable students to figure things out for themselves and work collaboratively with peers, which makes them more independent learners. For all those reasons, it's about good learning. And good learning happens more authentically this way."
"Being attached to a community," said Emily Schudel, an instructional designer at Camosun College, "connects us with fantastic support through the collaboration that's always happening. Institutionally, it's invaluable for us to have access to the OpenETC – specifically for WordPress and H5P support. I've been able to build capacity within our faculty because we don't have to rely on an in-house IT-supported version of WordPress. We don't have to jump through hoops to have a plugin, like the H5P plugin, and there's no concern from our IT group about supporting it.
"We're able to use this network of collegiality and community to support our faculty, so they have the flexibility and freedom to figure some of this stuff out on their own. I can set them up with a WordPress site, give them the H5P plugin, and have them play around with it, asking questions as needed. And I can give them the Mattermost site for the OpenETC, where they can ask their questions and know that someone will respond. I don't have to be the hub of support in our institutions."
Globally Recognized
In fall 2021, the OpenETC won an Open Infrastructure Award from the Open Education Global team, a member-based, global non-profit that supports the development and use of open education around the world. In addition, the BCcampus Open Education Challenge won an award for open pedagogy, and it was hosted and made possible by OpenETC technology.
Another award-winning project that made use of the OpenETC infrastructure was 25 Years of EdTech, a serialized audio version of a book written by Martin Weller. The podcast was hosted and produced by Clint Lalonde, with a companion podcast, Between the Chapters, produced by Laura Pasquini.
OpenETC Resources
Post-secondary educators in B.C. have access to smart resources via the OpenETC, including:
WordPress – a blogging platform with endless possible uses. The OpenETC has cloneable WordPress sites, so learning environments developed in WordPress (e.g., ePortfolios) can be shared like any other open educational resource.
SPLOTs (via WordPress) – a tool developed by the OpenETC's Alan Levine to overcome concerns about protecting student privacy and making WordPress easier to work with. If you've ever been stuck on the Hello, World! screen, you'll love to use SPLOTs.
Mattermost – often defined as an open-source alternative to Slack and Microsoft Teams, Mattermost is the main meeting place for the OpenETC. Home to answers, questions, ideas, debates, and conversations that matter.
Inspiring Innovation
The collection of experiences from local educators is best when shared, so others can see the work that's being done in a particular field or connect with educators with insight and experience within a topic of interest. The OpenETC features a catalogue of sites its members have been inspired by, such as the Fungilab, with photos taken and shared by students, and 3D Design & Printing with Core Subjects, which allows educators to explore and generate ideas to integrate 3D printing into their curricula.
BCcampus and the OpenETC
To help the OpenETC lower barriers to participation on the open web while enabling local educators to make informed decisions about the open-source resources at their fingertips, BCcampus agreed to a three-year commitment to support the community. "The OpenETC is very much aligned with what we do at BCcampus: they're community-based, sector-wide, open, innovative in the tech and the model, and accessible to everyone," shared Tracy Roberts, director of Learning + Teaching at BCcampus. "They're building a solid community of contributors and collaborators, and we'd love to see it continue to thrive and grow, with everyone giving back to the collective to create a self-sustaining model."
Get Started with the OpenETC
If you're interested in learning more about this brilliant and incredibly generous group, hop on over to their site and learn more. You'll find stories about the OpenETC in the real world, such as Emily Schudel's adventures at Camosun College, an audio clip that references Game of Thrones and LMS; or a video tour of the H5P/Pressbooks Kitchen resource.
Or check in with your teaching and learning centre to see what they've been doing within the magical realm of open edtech. (Know an Educational Technology Users Group member? They're a great source of info, too.)
Notable Quote:
"The OpenETC fills gaps in local provisions and resources, especially in rural colleges. It says something important about sector capacity and who can afford nice digital things and that shared models like this might be more affordable. – Anne-Marie Scott, deputy provost, Athabasca University
Learn More:
---
The featured image for this post (viewable in the BCcampus News section at the bottom of our homepage) is by Artem Beliaikin from Pexels