In fall 2020 BCcampus open education regional representatives were provided an opportunity to issue grants to post-secondary institutions that wanted to kick-start or expand the use of open educational resources (OER). As the common refrain seemed to be "I would if only I had the time," removing the barrier of time appeared to be the best way to meet those institutions' needs. This focus on time as a barrier resulted in BCcampus creating the Open Education Time Investment Grant. Here is another story of how one institution used it to create new materials.
Post by Carolee Clyne, open education advisor, BCcampus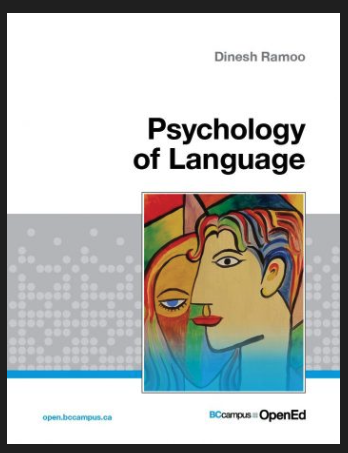 Dr. Dinesh Ramoo at Thompson Rivers University wanted to resolve a gap in OER available for the psychology of language. This topic is one of interest to many students in psychology courses. In his response to the call for proposals, he provided a strong case for the development of a new resource. Dr. Ramoo used the Open Education Time Investment Grant to create a textbook titled Psychology of Language. This book has a broad appeal to anyone interested in learning about linguistics as well.
Approaching theories and models of language development, comprehension, and production as well as bilingualism and reading, this book has information of value to everyone. All these topics are approached from a Canadian perspective and include elements from Indigenous cultures and languages of Canada. Dr. Ramoo connects local First Nations languages to these structures to provide relevant examples for learners in B.C. to explore models of language development. Providing a Canadian perspective engages the learner to explore a complex topic with a local connection. Dr. Ramoo developed Psychology of Language in response to a gap in OER and took great strides in including Indigenous knowledge in every chapter along with other languages of Canada.
After moving to a new opportunity at the College of New Caledonia, Dr. Ramoo received additional funding to develop an open online course that builds on this material. For the open online course project. Dr. Ramoo will develop course material for a 12-week semester aligned with this textbook that will provide students with the fundamentals of linguistic and psycholinguistic theory and a chance to explore the nature of language and the basic components studied by psycholinguists. Learners will also gain an understanding of language development as well as the biological basis of language. Language processes such as comprehension, reading, and speaking will be explored along with the current models of comprehension and production. The course project outputs will include a course outline, lesson plans, lecture slide templates, and H5P activities aligned with each chapter in Psychology of Language. This project is a collaboration between Dinesh Ramoo from the College of New Caledonia and Marie Bartlett from Thompson Rivers University.
Stay tuned! In the coming months, we'll look at how each Time Investment Grant helps move work in open education at various institutions from "side of desk" to "centre desk." We'll look at what each grantee encountered and achieved and where you can find the resulting resource.
Learn more:
---
The featured image for this post (viewable in the BCcampus News section at the bottom of our homepage) is by Karolina Grabowska from Pexels