The British Columbia Teaching & Learning Council (BCTLC) has announced the five recipients of the inaugural West Coast Teaching Excellence Award, recognizing the exceptional work delivered consistently by educators in publicly funded colleges, institutes, and universities in B.C. and the Yukon.
Post by the BCcampus editorial team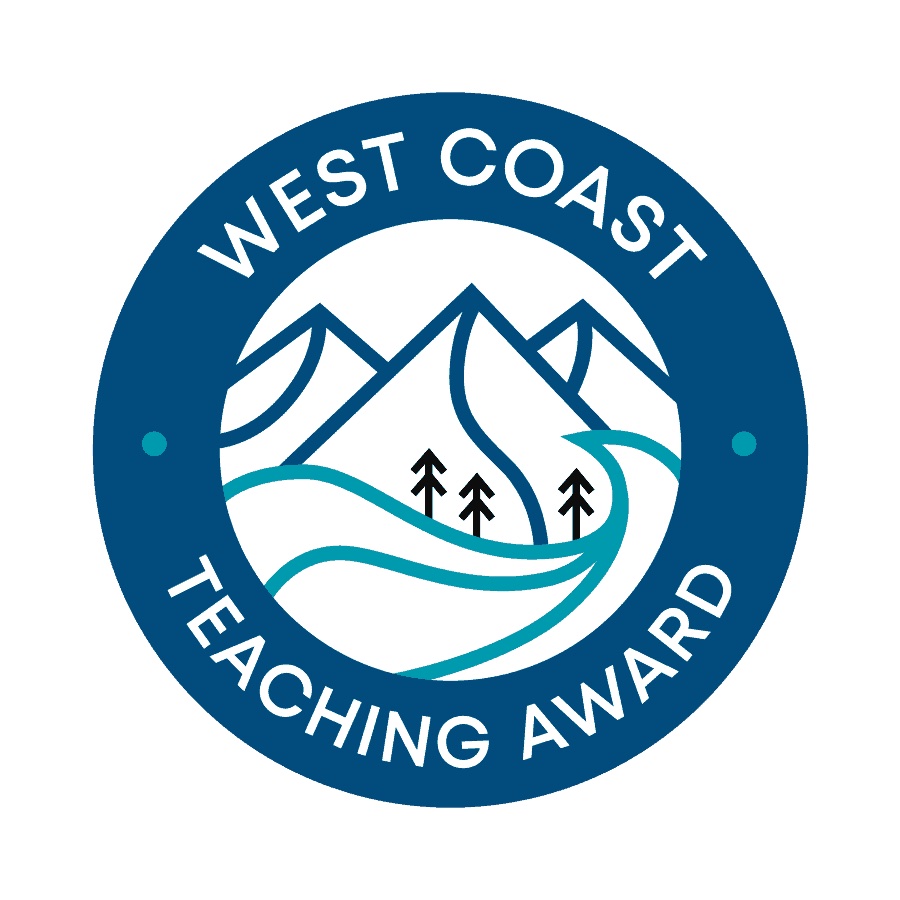 The BCTLC, a cadre of educators, faculty, instructional designers, and executives within B.C.'s public post-secondary education system, recently announced five distinguished winners of the first instance of the West Coast Teaching Excellence Award.
"It's exhilarating to see so many exceptional educators on this list," shared Tracy Roberts, director of Learning + Teaching at BCcampus. "The discussions and decisions to winnow the nominees down to just five winners must have been incredibly challenging. We are so very fortunate to support a team like the BCTLC as they shine a light on the phenomenal teaching and learning people and practices that are prevalent throughout the province."
West Coast Teaching Excellence Award
This is a significant award, granted only to educators who have demonstrated a serious commitment to teaching and learning; equity, diversity, and inclusion; evidence-based practice; and successful implementation of any of the 94 Calls to Action from the Truth and Reconciliation Commission of Canada. There's a 20-page limit for the nomination dossier, comprising six components, including letters of support from up to six groups of supporters.
2022 West Coast Teaching Excellence Award Winners
Excerpts from the media releases announcing each of the winners:
"We felt it was time that British Columbia and the Yukon recognize their talented professors with a teaching award," said Paula Hayden, co-chair of the BCTLC. "There's a national teaching award, and most provinces have some sort of recognition, but there was nothing in B.C. We wanted to ensure that our post-secondary educators were also recognized for their great work in the classroom."
Dr. Matthew Beedle, Coast Mountain College
Dr. Matthew Beedle brings a special mix to his teaching craft and research — a high level of skill, expertise, and heart along with a low level of ego and pretense. Because of this approach, Matthew helps learners actively engage through a variety of learning settings. Using his extensive experience researching and facilitating on glaciers and in the field, Matthew is a key catalyst in both bringing the college's domestic, international, and Indigenous students into life-changing, field-based learning.
Read Dr. Matthew Beedle's full bio
Dr. Awneet Sivia, University of the Fraser Valley
Dr. Sivia teaches in both the Bachelor and Master of Education programs using "embedded pedagogy" She models good teaching practice as part of the hidden curriculum to provide academic, social, and cultural experiences outside of the formal dimensions of learning. She uses active learning techniques as well as problem-based, project-based, and inquiry learning.
Read Dr. Awneet Sivia's full bio
Dr. Paola Ardiles Gamboa, Simon Fraser University
Senior lecturer Paola Ardiles is a well-respected educator at Simon Fraser University's Faculty of Health Sciences. She exemplifies community-engaged scholarship and decolonial teaching practices, and evidence-based health promotion.
Read Dr. Paola Ardiles Gamboa's full bio
Dr. Lyn Baldwin, Thompson Rivers University
Lyn Baldwin is a science educator and plant ecologist whose aim is to help her students make meaningful change in their communities. Her exceptional contributions to teaching and learning include using place-based and creative approaches to connecting students with the natural world, leading them to learn about and appreciate biodiversity, and the many ways that humans interact with plants and each other.
Read Dr. Lyn Baldwin's full bio
Larry Leung, University of British Columbia
Larry Leung has been honoured with this award for his significant contributions to teaching and learning in pharmacy education. As a non-Indigenous educator, Larry has had the privilege of collaborating with Indigenous partners and communities across B.C. in decolonization and Indigenization efforts in the Entry-to-Practice Doctor of Pharmacy program. This includes the co-creation of an elective focused on Indigenous community-based learning and a mandatory course in Indigenous health and cultural safety. His commitment to reciprocity with Indigenous partners has also led to the development and delivery of specific projects to support community priorities toward self-governance.
Nominations
If you meet the criteria outlined on the BCTLC awards page, you can nominate yourself or one of the other amazing educators you know or work with.
Notable Quote:
"We are excited to be bringing this level of recognition for great teaching to B.C. and the Yukon. All the nominees showed incredible skill in their teaching. It was difficult to choose just five." — Dr. Maureen Wideman, chair of the award adjudication committee
Learn More: