This resource provides an overview of everything you will need to know when creating an open educational resource (OER). It provides a high-level overview of things to keep in mind as you work on your project and links to resources that go into more depth so you can easily find the information you need.
Excerpt from the Getting Started: OER Publishing at BCcampus by the OER Production Team
Pressbooks
The Publishing Platform
Pressbooks is the publishing tool that BCcampus uses to create and publish open educational resources. B.C. and Yukon faculty and staff can use their institutional emails to create a free Pressbooks account at https://pressbooks.bccampus.ca.
Key Features
Here are some features of Pressbooks that make it a great tool:
Create a webbook, export it to multiple formats (PDF and EPUB), and import it into a learning management system (LMS)
Able to create accessible and responsive content.
Include text, images, video, and audio all in one spot.
Import content from multiple sources.
Create a glossary.
Incorporate interactivity through H5P activities and web annotation (Hypothes.is).
Guides and Tutorials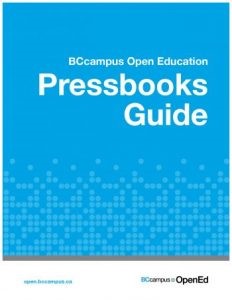 The Pressbooks Guide is a good place to start. It covers all the basics of Pressbooks and links to many additional resources. This guide is maintained by BCcampus.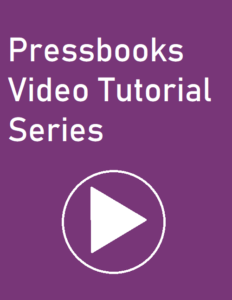 The Pressbooks Video Tutorial Series provides a complete walkthrough of everything you will need to know to get going with Pressbooks. All videos are short and organized into playlists to make it easy to find the specific information you need. These videos are maintained by BCcampus.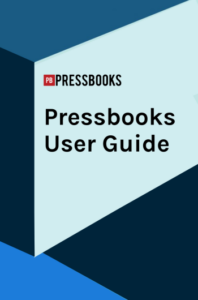 If you still can't find the answer to your question or want to dig down into tricky formatting, check out the Pressbooks User Guide, which is maintained by Pressbooks (the company). It goes into a lot more detail. However, keep in mind that not all of the information will be relevant to the BCcampus instance of Pressbooks.
Webinars
Introduction to Pressbooks
Advanced Pressbooks
Guidelines to Keep in Mind
Always insert images full size initially and then scale them down to the desired size. This ensures the image will display clearly in all export formats.
Preview your content in all formats often. This means reviewing the webbook view and exporting the PDF and EPUB files to see how things look. Sometimes something that looks good in the webbook will not work in the PDF (or will need extra CSS to make it work). If this is the case, it's better to find the problem earlier rather than later so we can figure out how to fix it.
Keep accessibility in mind as you work. This will make the project go smoother rather than trying to fix accessibility at the end. At the very least, make sure you are describing images as you go. See the chapter on Accessibility for more information.
Document the source (attribution information) of all openly licensed and public domain content you include. See the chapter on Citation and Attribution for more information.
Examples of Books Published in Pressbooks
Here are some other books published in Pressbooks to explore:
Learn more:
---
Getting Started: OER Publishing at BCcampus by the OER Production Team is licensed under a Creative Commons Attribution 4.0 International License, except where otherwise noted.
---
Feature photo by Christina Morillo: https://www.pexels.com/photo/person-typing-on-a-laptop-1181208/