Oct
1
Thu
Fall Indigenous Series – Pulling Together
Oct 1 @ 11:00 am – Nov 5 @ 12:30 pm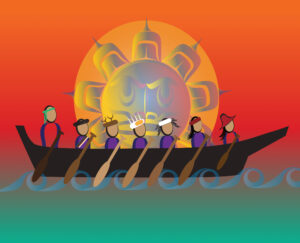 Klos Nanitsh! (Look here!)
Nesika (we) mamook kumtux (forge an understanding)
Take up the paddle and journey with Chetwood, Kahkah, Leloo and Sammon to forge an understanding of what Indigenization is in your respective role in post-secondary. (These reference the four modules we will be following in the PT Guide book specifically.)
To embrace reconciliation and to create equitable space for Indigenous peoples in our institutions as learners, colleagues and community members, we shall explore our respective roles and how we gather our knowledge and bring that wealth home to our community.
This 6-part series will assist you in understanding, from a traditional Indigenous perspective, that every season has work to be done. It will also encourage you to consider how we fit our post-secondary education, policies and protocols into the seasons to best reflect Indigenous ways of knowing and doing. This goes beyond mere territory acknowledgements; it's about creating space to collaborate on actionable ideas. Reconciliation is about Indigenous and non-Indigenous peoples coming together with reciprocal respect and travelling a journey together.
These sessions are open to all employees in post-secondary. We will be utilizing the Leaders and Administrators Guide of the Pulling Together handbook as our reference materials.
Start your journey with us this fall. We have made space in our canoe for each of you.
Jewell Gillies and Marlene Erickson will guide you on this journey.
A commitment of three-hours asynchronous study and reflection, with one synchronous session each Thursday from 11:00 AM to 12:30 PM, October 1 to November 5, is expected.
This event has a $25 non-refundable registration fee. Please note that registration will close on Friday, September 18th at 4 PM.
This notice is to inform you that this session will be recorded, archived, and made available publicly on BCcampus.ca. By participating in this session, you acknowledge that your participation in this session will be recorded and the recording will be made available openly.