Building on the success of the B.C. Open Textbook Collection, the Open Online Courses Project exists for educators offering courses at a post-secondary level. The BCcampus Open Course Collection includes open course materials relevant to B.C. post-secondary course credits, with a focus on those with high enrolment and transferability in the B.C. post-secondary system.
Unlike other OER collections, the materials in our collection are organized into complete courses such that they are easily found using B.C. institutional course codes and subject areas and are more easily adopted by educators, because our open courses have been designed to align with outcomes, activities, and assessment. Furthermore, our collection is curated by B.C. learning designers and subject matter experts regarding relevance, representation of Indigenous and anti-racist perspectives, accessibility, and our courses' ability to meet the learning outcomes of courses offered by B.C. post-secondary institutions.
Quality
Each open course will go through a course quality review conducted by an instructional designer, who will use the Course Quality Framework [PDF] developed for this purpose. This framework represents our best current thinking about essential factors for course quality, including First Peoples Principles of Learning [PDF], Universal Design for Learning (UDL) principles, accessibility, representation [PDF]. The instructional designer will work with the course developer to make any necessary changes to the course in order to pass the course quality review.
Current Courses
The first round of the call for proposals has netted so many great ideas, which have developed into the following open courses:
Coast Mountain College:

ACCT 150 – Financial Accounting I

ACCT 151 – Financial Accounting II

BENG 150 – Business Communications

MARK 150 – Business Marketing

MGMT 150 – Business Management

MATH 150 – Mathematics of Finance

Kwantlen Polytechnic University:

CMNS 1140 – Business Communications

PSYC 1200 – Introduction to Psychology II

PSYC 2300 – Applied Statistics

PSYC 2330 – Cognitive Psychology

PSYC 2385 – Social Psychology

PSYC 4700 – Culture and Psychology

Vancouver Community College:

Introduction to University Writing (non-credit)

Below BC and Coast Mountain College:

A repository of OER for virtual earth science trips
The anticipated 13 open courses in the collection from the initial call for proposals will follow the guidelines outlined by the BC Transfer Guide, and for the most part, all will be transferable. One exception is Introduction to University Writing, being developed by Vancouver Community College, as it is a non-credit course designed to enable learners to ladder into first-year English classes.
Subject Areas of Interest
BCcampus is currently seeking subject matter experts from within the B.C. post-secondary sector interested in working with BCcampus and an instructional designer to develop courses that align with agreements in the BC Transfer Guide in the following subject areas:
English 100
Microeconomics
Macroeconomics
Human Anatomy & Physiology
Science (Trades, Level One)
BCcampus continues to improve the functionality and appearance of the Open Course Collection based on feedback from users and usability testing. The most recent update included many improvements for searchability and accessibility.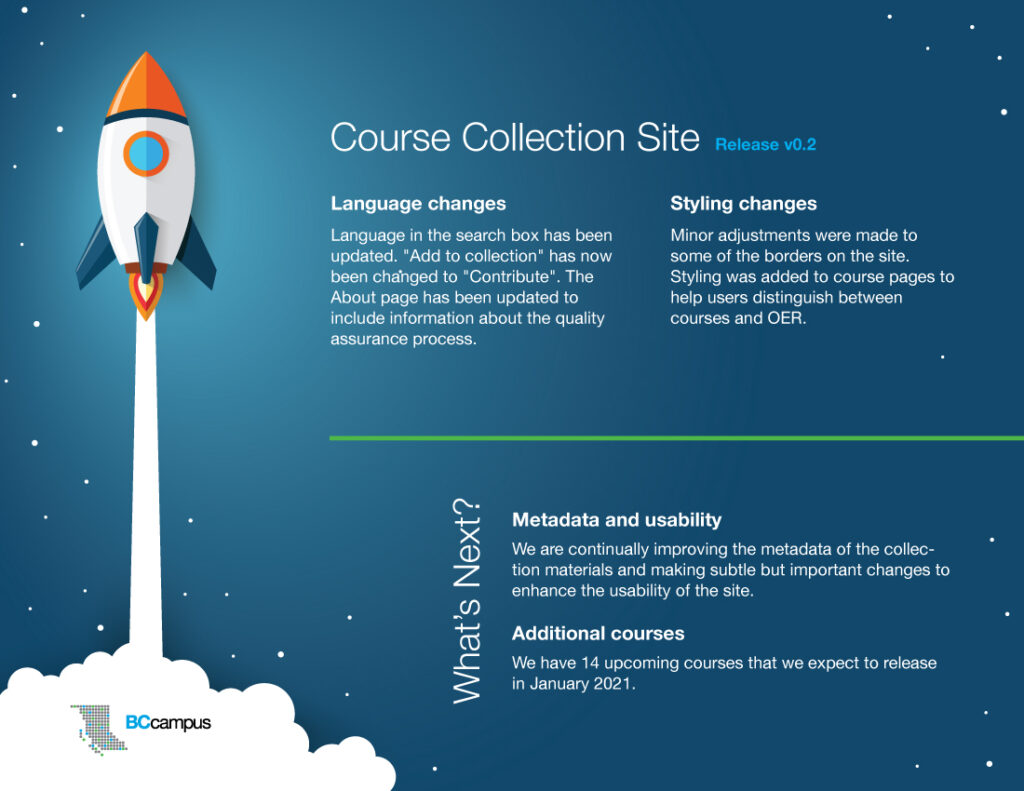 Course Collection Site Release v0.1
Learn More: