The spring ETUG (Educational Technology Users' Group) workshop, held recently in Nelson at Selkirk College, was in the words of one long-time attendee "probably the best ever."
This is by no means a comprehensive overview of the conference. More can be found at the ETUG web site, but I've tried to give a flavour with some of the highlights of the conference.
First was the opening keynote – Alan Levine's Amazing Stories of Openness which he has recreated online. His post-conference blog post echoed some of the Twitter messages posted that day in response to his presentation. He urged everyone to "do what they can to get others to join" in the Open movement: to be inviting, to use video more, but most importantly:
"Openness is an attitude: openness is like the potential energy for allowing serendipity to take place- you cannot make serendipity, it happens. It means being active in drawing people into openness and also being a participant in the space."
To complement Alan's stories and videos, conference organizers asked participants to create and upload their own videos. The crowd sourced keynote videos are here.
David Porter described Alan's presentation as "a bold demonstration of open production in the wild" in his post-conference blog post.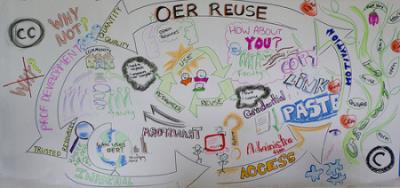 Speaking of "Open" – the photos used for this blog post are by David Porter and are used under Creative Commons License.
Michelle Laurie is a visual communicator who helped Sylvia Currie with the graphic visualization of the keynote and the OER re-use workshop. She said: "I continue to be inspired by the power of visuals to make more meaning from the work we do and the world we live in."
For my part, I wrote in my blog that the conference "reminded me why I love my job. The passion and enthusiasm of educators and technologists in the post-secondary system is inspiring and infectious." I have also posted the "pecha elevator pitch" slides I created as part of that hands-on workshop on Day 2.
One of the most inspiring and relevant presentations (for me anyway) was given by the folks from UBC's Teaching and Learning centre who gave a presentation on their wiki+blogging project. I had seen Brian Lamb first describe the project a year ago at BCNet. What a difference a year makes as the project has grown into a great success.
The closing presentation was an energetic broadcast extravaganza by some of the people behind DS106, an internet radio station started from a course taught by Jim Groom. Jason Toal has posted the closing plenary audio recording here. DS106'er Grant Potter has also posted some tracks. There's even talk of producing an ETUG radio show hosted by BCcampus' Sylvia Currie.
Stay tuned to etug.ca for more feedback from the conference, and for information about upcoming workshops. You could also subscribe to a Twitter RSS feed of the #etug hashtag to keep up to date on the community.