Theresa Southam is the Coordinator of the Teaching and Learning Institute at Selkirk College. She recently coordinated TEDxSelkirkEd in Nelson.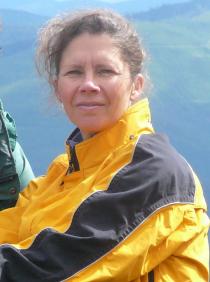 1.    Why is Selkirk Moving into the Open Learning Area?
I just attended the Ashoka University Changemakers Conference in San Diego.  In a panel there, representatives from the MIT Media Lab, Hewlett Packard, Peer 2 Peer and University of the People reemphasized that – "Any post secondary would be crazy not to try "open"!
Some reasons for Selkirk OPEN from off the top of my head:
Credit learners will benefit from interacting with our non-credit learners when they visit Selkirk OPEN;
Our instructors will learn from and be inspired by the increased interaction that Selkirk OPEN produces;
And, every College is part of a Learning Region and has an ethical responsibility to share knowledge widely.
Two recent examples:
In 2011, when Selkirk hosted the Educational Technology Users Group conference organizing committee did a call for videos discussing the Value of Openness. The submissions, from happy mutants all over the network, were fantastic.
In 2012, when Selkirk was renewing its strategic plan, we used Thoughtstream, a stakeholder engagement program that allowed everyone involved in the development process to see each others' input; we also invited over 80 participants to help us sort and theme our data.
2.  What type of courses will you launch in Fall, 2013?
Instructional Skills Workshop is a comprehensive instructor development program that is more than 25 years old programs exist in more than 100 colleges, institutes, universities, hospitals and industry training organizations around the world. Selkirk College is reintroducing the ISW but in an open format called the Workshop on Teaching and Learning. We're going OPEN with ISW because we want to invite educators from across the province to engage in discussions about innovation and best practices in teaching and learning.
Selkirk OPEN will also have several other open courses in the areas of Tourism, Digital Arts and New Media and Indigenization. We'll be examining:
How does course content change when courses are open?
How does the student experience change?
This information can help us understand the dramatic acceleration in education models that is occurring in post secondary today.
3.    What type of learner do you hope to engage/attract to Selkirk?
We'll get learners that want to learn more about certain topic areas, e.g. they want to be a teacher. What's more interesting, to me, is that we will also get professionals who want to share best practices. This is why open education is so amazing. When education is open you can have educators' collaborating to create content.  Imagine a world where content organizers like educators are not working in isolation, but in fact are collaborating to provide the best in their field. It's not just the students that benefit from open education.
4. Tell us about your recent experience coordinating TEDxSelkirkED in Nelson. Why should post -secondary institutions like BCcampus view these TED talks?
Viewing TEDx talks from BC educational institutions is a great way to scan the current state of teaching of learning in the province. We're having talks on emergent learning environments, bringing theory to practice, the learning age and imagination. These talks will demonstrate how these BIG CONCEPTS are hitting the ground in schools.
5.    For those of interested in learning more, do you have any must-read books or links to explore?
Examples of Just Enough Education
Notable quotes:
Imagine a world where content organizers like educators are not working in isolation, but in fact are collaborating to provide the best in their field. It's not just the students that benefit from open education.
Theresa Southam
Cities everywhere are grappling with big issues about cohesion, diversity, climate change and globalization. Those of us who have helped to promote the idea of the learning city have to set aside our carefully designed frameworks and toolkits and get to grips with the learning journeys that cities have embarked on, using the language they understand if we are to have something useful to say in the future.
Martin Yarnit
Canada has thrown open the doors to its postsecondary schools, achieving accessibility that is the envy of the world. But mass higher education has brought with it fears of diminishing returns from a system built for a bygone era. Multiple credentials and mounting debt have not always meant stronger employment – or better learning. For all their strengths, Canada's universities are struggling to give students and governments their money's worth.
Globe and Mail, Transforming the Ivory Tower: The case for a new post-secondary education system
To learn more about Selkirk College: