There's nothing like a registrar or admissions office during the admissions seasons. Picture thousands of transcripts coming and going in rapid-fire succession – and all are sent via Canada Post. The phone tends to ring off the hook with students and their parents calling to check status. Admission officers work to ensure transcripts and student records are managed accurately and professionally. It's time-consuming, labour-intensive and detailed-oriented work.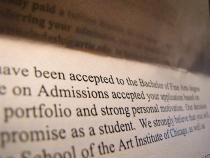 Working with post-secondary institutions to modernize their paper-based systems
Since 2009, BCcampus has been working on a three-phased electronic transcript exchange pilot program with six lower mainland post-secondary institutions on developing, testing and standardizing this new e-transcript system. Other jurisdictions, like the United States, have implemented an electronic transcript exchange program.
UBC comes on board in April  
This month, the University of British Columbia sent its first e-transcript transaction, using the BCcampus Connector System. The second phase of the program will see the transcript exchange service expand to Vancouver Island – with the third phase, expanding across the province.
For students, the adoption of a province-wide solution will mean:
Faster and easier transcript request and delivery
Reduced cost and time involved in printing and sending paper transcripts
Ease of use for senders and recipients
Ability to track transcript delivery
Speed of transfer that no manual transcript process can match
For post-secondary institutions, the adoption of a province-wide solution will mean:
Reduced costs for paper, postage, and labour.
Improved sustainability – using less paper results in less recycling, less filing, less shredding.
Easier access to student records for a faster, more stream-lined approach
Increased customer service to students
For further reading: