Open education—a lofty goal with clear benefits.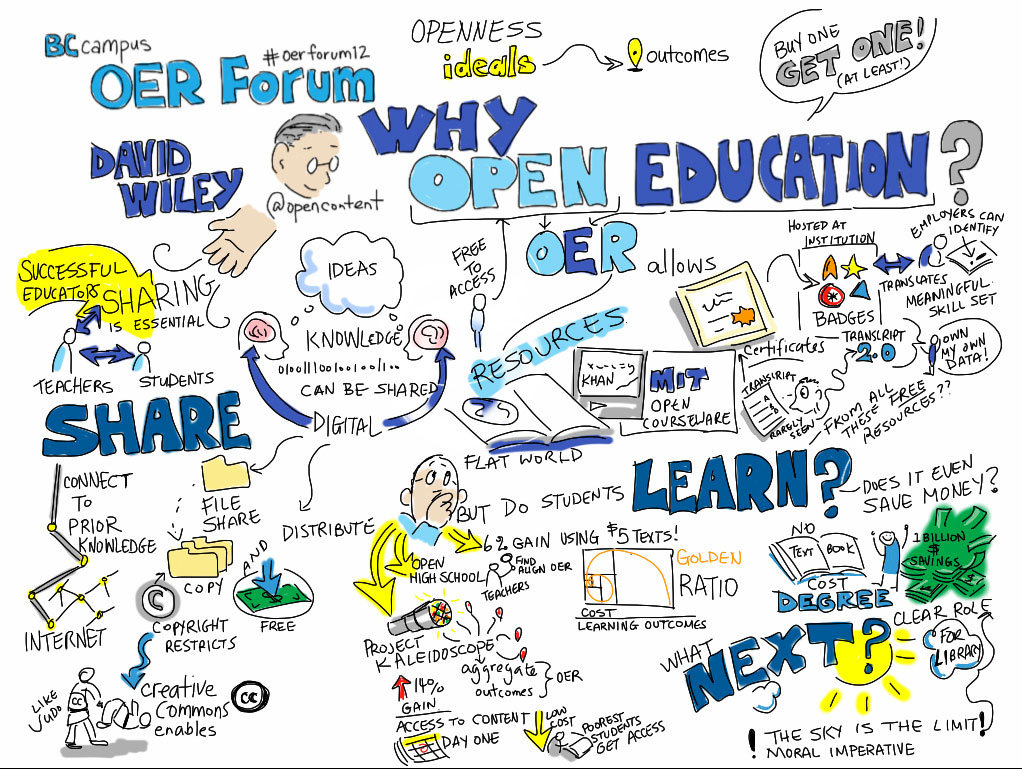 But if we're going to get there, we need to find a way to support each other on this journey. Just how to do that was the topic of a recent Education Technology Users Group webinar. These free lunchtime webinars —known as TELLs (Tuesdays with the ETUG Lunch n' Learn)—occur monthly and are open to the public.
May's TELL session was about growing an open educator community and how practitioners can support each other.
The presenters were Brian Lamb (@brlamb), the director of innovation open learning at Thompson Rivers University, and Will Engle (@infology), a teaching and learning strategist at the University of British Columbia.
We're sharing the top four ways to grow B.C.'s Open Educator Community:
1.  Learn from Leaders
During the session, Engle and Lamb described some of the projects going on at UBC and TRU.
UBC law prof Jon Festinger not only posts his lectures about video game law, but his students have administrative access so they can post their views on issues discussed in class. It wasn't his intention to turn his Law 450 course into a MOOC (Massive Open Online Course), but the results were spectacular.
"Amazing blog entries, postings about guests arising as natural norms, and student to student dialogue on content subject matter," says Festinger.
Lamb is working with TRU on an exciting new course, Art + Reconciliation, that addresses how artistic practices can engage in questions of reconciliation, most particularly in the Canadian context of residential schools and the Truth and Reconciliation Commission. It will be delivered as a MOOC.
He is also coordinating a TRU project to launch a local version of Wikipedia's platform, Media Wiki. Among other objectives, it will serve as a platform for student content, research, workshops and tutorials. "A wiki resource can become a foundation for future classes," he explains. "Student work can become course content."
For more examples, go to the open ed sandbox.
2. Delve Deep
Along with a list of free global resources, BCcampus keeps an inventory of open education resources. Projects are licensed for free sharing and uploaded to the BCcampus Shareable Online Learning Resources repository (SOL*R).
BCcampus is also leading Canada's first official open textbook project. Enter the brave new world of open textbooks, which are produced under an open copyright license, and made available online to be freely used by students, teachers and members of the public.
3. Play Nice
Open education is all about sharing and collaborating.
UBC is helping TRU to build its own instance modeled on the UBC wiki, which will also be a source of ample open content and user help documentation
BCcampus has shared services and collaborative programs.
While not strictly open education, Lamb and Engle shared some inspiring examples of collaboration that could be used in B.C.:
The Hippie Hosting Collective was started with the idea of people coming together to share resources to make it quick, cheap, and easy to run a website or app.
A Domain of One's Own began at the University of Mary Washington. Every incoming student has the opportunity to choose their own domain and receive a web hosting account with the freedom to create subdomains, install any LAMP-compatible software, setup databases, email addresses, and carve out their own space on the web that they own and control.
Commons in a Box is free software that takes the complexity out of creating a Commons site, helping organizations create a space where their members can discuss issues, collaborate on projects, and share their work. It is created by theCity University of New York and the Graduate Center, CUNY.
4. Join Us
Help us build an engaged, vibrant, open educator community.
Let us know your ideas for supporting open collaboration across institutions and communities.
What resources, practices, and support do you need to move open education where you are?
Notable quote:
There is an argument to be made that technology has not fundamentally changed us. But if the emergence of digital media is indeed a major transformation in the way we gather, process and share knowledge, then we have to ask what we are doing as educators to help prepare students for that world. – Brian Lamb, director of innovation open learning, Thompson Rivers University
Learn and Explore
Posted by BCcampus Editorial Staff