The biggest barrier to open education is a lack of knowledge—we just haven't marketed it well enough. That's according to David Porter, the executive director of BCcampus and a long-time advocate for the benefits of adapting new technology to deliver educational opportunities.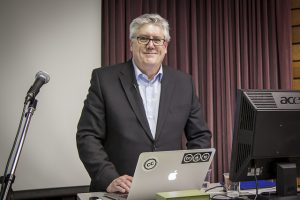 He shared his thoughts about Harnessing the resonant value in open education: Localizing openness and innovation at the 7th annual Walls Optional conference, which took place at Victoria's Camosun College in May.
While open education's biggest hurdle is overcoming the fact that many people aren't aware of its benefits, its greatest support is worldwide collaboration.
Post-secondary institutions in B.C.—who are always in competition for dollars and top-notch students—now share knowledge, and save money, by collaborating.
Examples of successful, local collaborations
Collaboration isn't easy. "Boldness is required," says Porter. "None of this happens without a proactive push."
Here are 5 essential steps to effective collaboration.
Clearly define what you can do together. Ask yourself, "What can we do together that we could not do alone?"
Keep an open mind.
Adapt to data. Commit to data-informed decision making.
Share what you learn. When you create, share your work openly so that others may use and share it too.
Pick an organization to administer the project. After all, there's a lot of data and people to manage and buy-in to build.
Notable quotes
If there were ever an opportunity for instructors in Canada to Canadianize textbooks, open resources would be the way. – David Porter, executive director, BCcampus
Education is an ecosystem, which makes it more complicated than simply the tools we use. What we need to consider as we begin to bring innovations into the education system—and this includes open education—is how it affects that ecosystem and the activities that happen within it. – David Porter, executive director, BCcampus
Click and learn
Photo Credit CC BY Camosun College
Posted by BCcampus Editorial Staff