Going into this job as Learner Services Research Assistant, I had a few specific skills that I wanted to improve on that I did not have the chance to in my previous co-op job. In my previous co-op job, I was able to see how interaction design can have such a huge impact by creating tools that enhance the quality of people's lives and after working at BCcampus for the past 8 months, I have been able to see how they do this in their own way.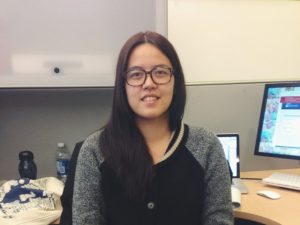 During my time at BCcampus, I have been involved with a few different projects however the majority of my time here was spent working on ApplyBC. Around the time that I started my co-op, BCcampus was just beginning to upgrade and redesign ApplyBC.ca. I was excited to be involved in such a huge project and actually be able to discuss ideas with the rest of the team about how ApplyBC could be improved. A large part of redesigning ApplyBC was the weekly meetings with the BCcampus office in Victoria.  At first, I found it a bit disorienting communicating over the phone with 4-5 people all at once but as I began to recognize their voices, I became accustomed to the rhythm of the meetings. Initially, we looked at the issues that came up in usability testing, such as users overlooking important information on the landing page. I was able to share my ideas with the team for a new page layout in the form of wireframes.
After the team had decided to move forward with the proposed layout, our designer turned the wireframes into a visually appealing design that I used to create the HTML templates.  Before starting my position at BCcampus, I only had very minor experience working with HTML and CSS – I had been reluctant to work with it in the past because it seemed as if there were always ways to get around using it. But when I began working here, I wanted to use this opportunity to expand my knowledge and skillset. With the guidance of my supervisor, I was able to tackle the challenge of learning to web code the pages that our designer created. I quite enjoyed the challenge of trying to figure out how to do certain things on my own.
The process of web testing the upgraded ApplyBC.ca application was an eye-opening experience for me. Because much of the application deals with the private information of applicants, it is of the utmost importance that the application does not fail them in this regard.  To ensure this, different types of testing were employed such as: load/stress testing, concurrency testing and test scripts.  Merry, our other co-op student, and I were the ones in charge of the test scripts that had to emulate the different scenarios that a user might go through – some scenarios were realistic and some were created to produce errors to see if these were shown correctly. Once the test scripts were completed we would send them out to other members of the team to go through and record any errors or irregularities they found.
Another project that I worked on was the guerrilla testing of CoursesBC. This was a good opportunity for me to try guerrilla testing outside of school projects where we mostly end up asking people we know to participate in the testing.
At the end of my co-op term here at BCcampus, I can proudly say I took advantage of the opportunities given to me while thoroughly enjoying the experience. I was glad to be part of a team that cares deeply about getting students in BC connected to the services that are available to them and improving those services.  I would like to thank everyone at BCcampus, especially my supervisor Dave Dumaresq, for taking the time and effort to take on co-op students like myself and giving us endless learning opportunities, knowledge and wisdom that will surely benefit us in our futures, wherever that may be.